The ultimate solution to take backup of your iPhone messages, Whatsapp Chat history, Contacts, Camera roll, Videos and much more at single platform called Apple's iCloud. Yes, Apple Gives 5GB Cloud storage free of charge on per Apple ID Account. After it to increase iCloud Storage GB you can Buy more iCloud storage on iPhone, Mac, iPad. For that, you have to pay little bit dollars through Credit card.
I believe that this article will become most helpful for the 16GB iPhone users. Mostly useful in case for example, iPhone happened damage and Apple store executive may be say that to repair damaged iPhone your data will be lost, so you must take up backup and then submit your iOS device at Apple Store to repair. If You have big data to backup, other side there is no space available into iCloud to take back up of new data. therefore instead of thinking about third-party ways, you should go with purchase iCloud storage and get expand. It's a secure, trusted and easy to Restore option for you. if you don't know how to purchase /buy more space. let's I will offer you at below with step by step guide.
Pros: You can be access your secure iCloud data anywhere around the world. Online, on Mac, PC, iPhone, iPad and other gadgets.
You can also cancel or downgrade your iCloud Storage plan whenever you wish. Good tip for iOS 10 users who are newly switched from Android to iOS.
7 Steps to Buy more iCloud Storage on iPhone, iPad – iOS 10, iOS 9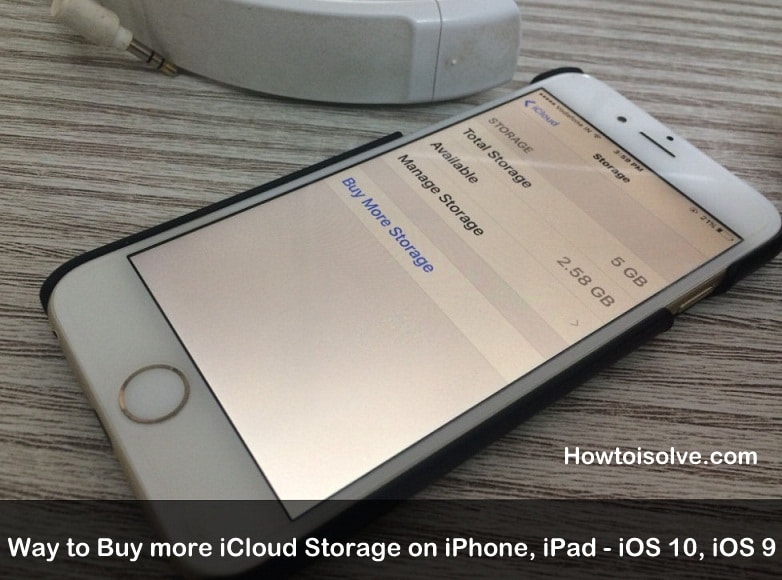 Step 1. Head Settings app on your iPhone.
Step 2. Go to iCloud.
Step 3.  Tap on Storage.
Step 4. Hit Buy More Storage. then Choose a plan to upgrade iCloud storage out of given 50GB, 200GB or 1TB.
Step 5. After choosing a plan – Tap on Buy appear top-right side on the Upgrade iCloud Storage Screen.
Step 6. You'll be prompted – Enter Apple ID and Password then tap on OK.
Step 7. Now wait until, you will get a message Purchase Complete.
That's it.
The payment would be deducted from your submitted Credit card. This plan will stay continue until you don't want to downgrade or upgrade. The next payment cycle wise fees will be cut automatically.
Hope, the above idea would be most helpful for you. liked it? Share it. Submit a caption in the comment box behalf of the post to Buy more iCloud Storage on iPhone, iPad, iPod Touch.