🗓️
November 7, 2023
By ✍️
Jaysukh patel
In this blog post, we have covered all about Why is Face ID not working on my iPhone? Is it the biggest issue that disables the primary functionality of your iPhone? Although Apple is giving a Passcode screen for the wrong face ID attempt but not the solution to use iPhone 14 easily. Face ID is a Quick authentication & security system for all privacy. Apple build strong lock now works with third-party apps in the darkroom, Mack up and more situations are getting screen "Enter Passcode Your Passcode is required to enable Face ID" for Face ID not working problems.
To eliminate this problem, users have left Face ID and disabled Face ID and use Passcode on the lock screen and many other places. So don't panic; let's try to fix Face ID problems on iPhone.
Note: After Screen Replacement, you need to check your Face ID on the first test. Because the repairer needs to change the connection and setup for Face Detection front camera.
Complete Solutions to Fix Face ID Not Working
Latest Info:- Apple Says iPhone's iOS 15 Includes Improved Face ID Anti-Spoofing Models to improve the security of facial recognition (for iPhone X and later and iPad Pro Face ID) and Other Vulnerability Fixes.
Note: To use Face ID on iPhone and iPad Pro, We have completed our Face ID setup on iPhone/iPad. If not Setup yet, Go to the Settings app on iPhone/iPad > Face ID & Passcode > Setup Face ID [If Face ID is removed or not setup on new iPhone]
Full Body Cover or Screen Protector accumulate smudges that over any of the cameras? Clean up the Face ID sensor and Try to fix it.
After iOS Update version, some iPhone users helped him to fix the FaceID issues.
Go to the Apple Support center and run diagnostics, they replaced it free of charge.
Hard Reboot iPhone getting me out stuck Face ID.
Users Experience:

Had the exact same thing happen to me. When I tried to reset my face id it wouldn't let me. Apple replaced it with a new one under warranty. replace the phone with a new unit. Book an Appointment at apple Genius bar.
I just got back from the Genius Bar. Run diagnostics, the hardware checked out just fine. Wiped the phone completely and restored it from iCloud, it's all working just fine again.

More Solutions are just below,
After the iOS 16 update Face ID not recognizing my face and showing an error 'move the iPhone a little higher/lower'.
This is an issue in iOS 16; for that new software update iOS 16.6 is available, check for updates and install the latest version to fix an issue. If the problem persists, then follow this tutorial.
---
#1 Make Sure Face ID is enabled for Unlock, iTunes & App Store, Apple Pay.
Face ID settings for Different use often forgotten by iPhone users; that's why you are unable to use Face ID for unlocking. Here are the settings for Face ID.
Step 1: Go to the Settings app > Face ID & Passcode.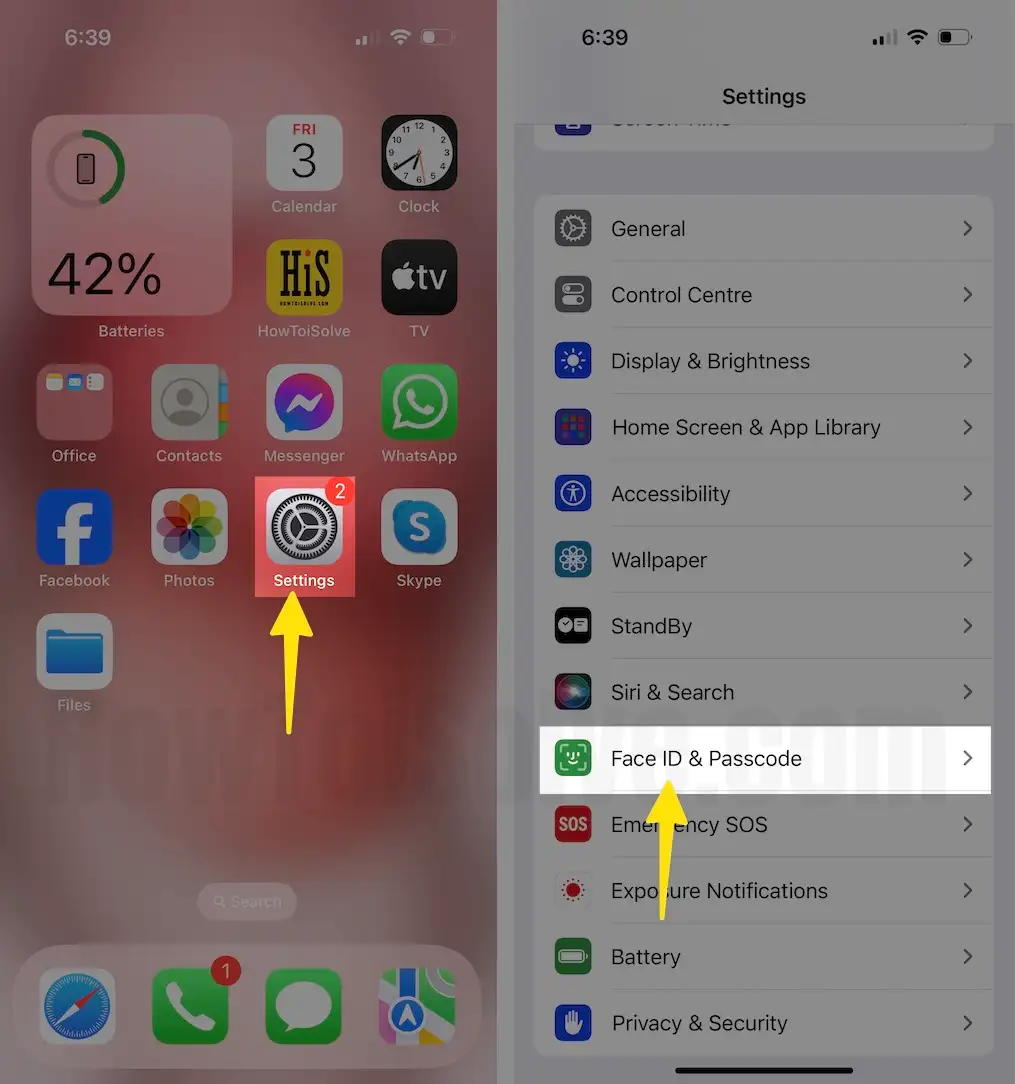 Step 2: Under Use FACE ID FOR section, Enable it for Unlock iPhone, iTunes & App Store, Auto Fill Password on Safari, Third-Party Apps that use your Face ID for unlocking the device [Banking and Other apps mostly use Face ID].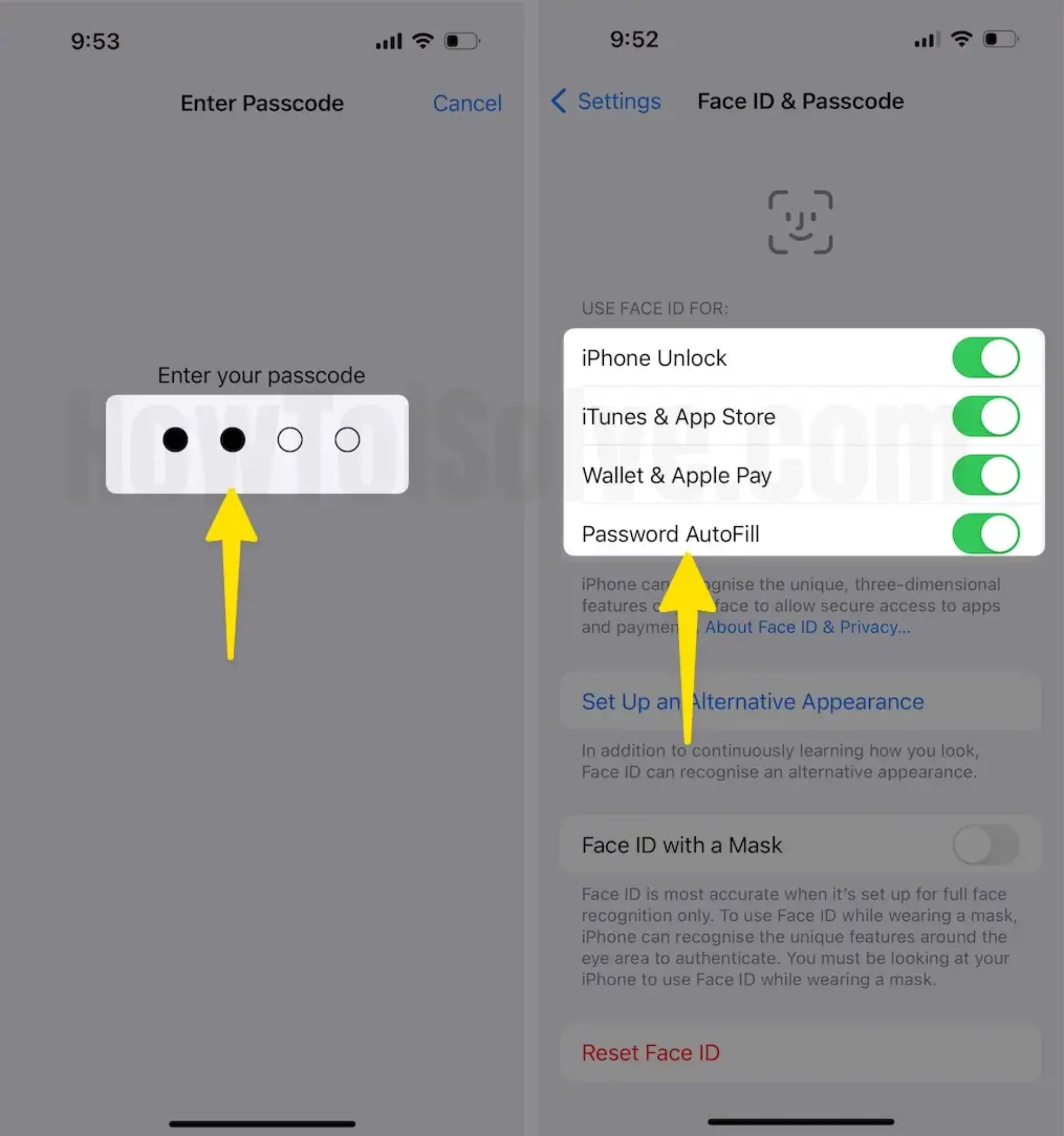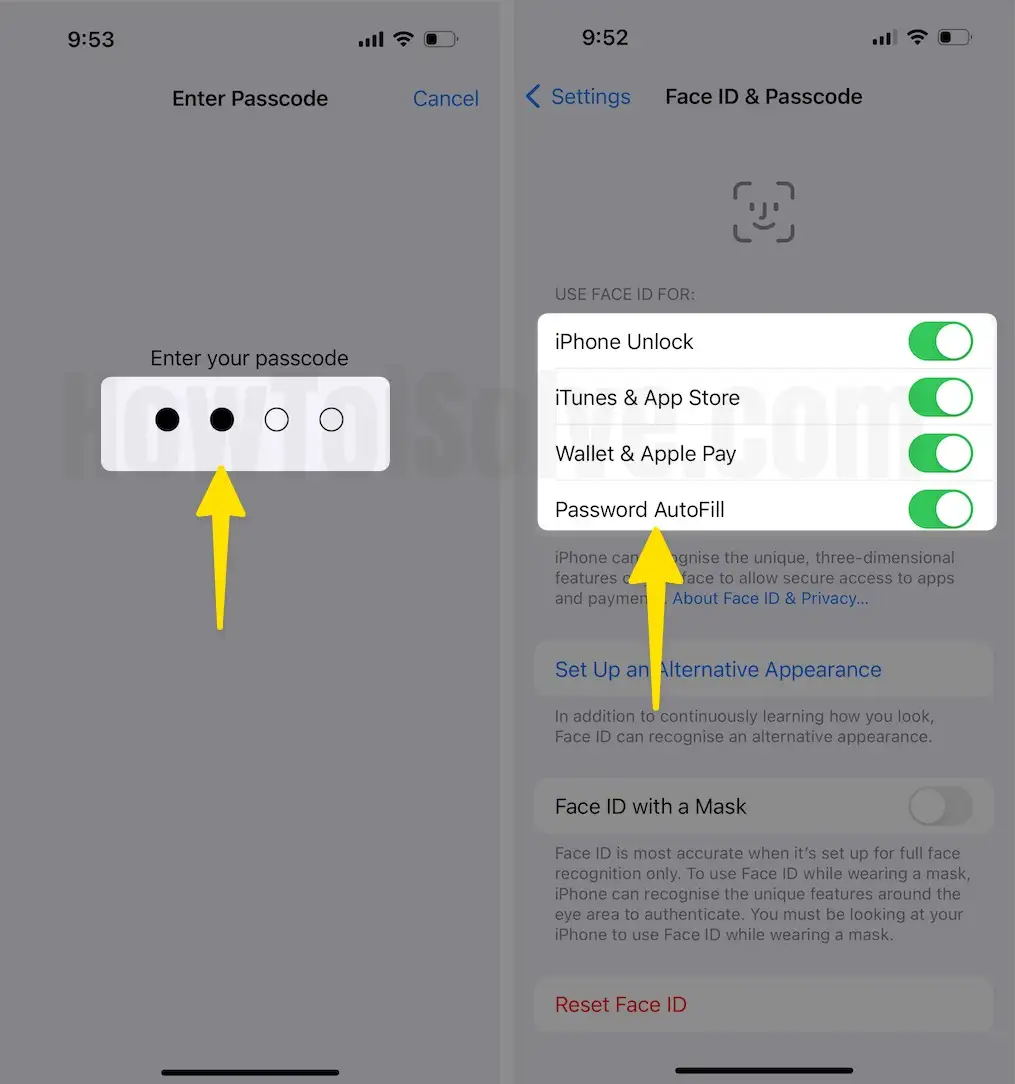 #2- Reboot Your iPhone
if you are enduring a popup message "Face ID is not Available, Try Setting up Face ID later" and alert after continuously trying to scan your Face.
To Hard Reboot: Quickly press and release the volume up and down button one by one; now only press and hold the iPhone's side button until you see the Apple logo on the screen.
Turn it on using the side button and press it once.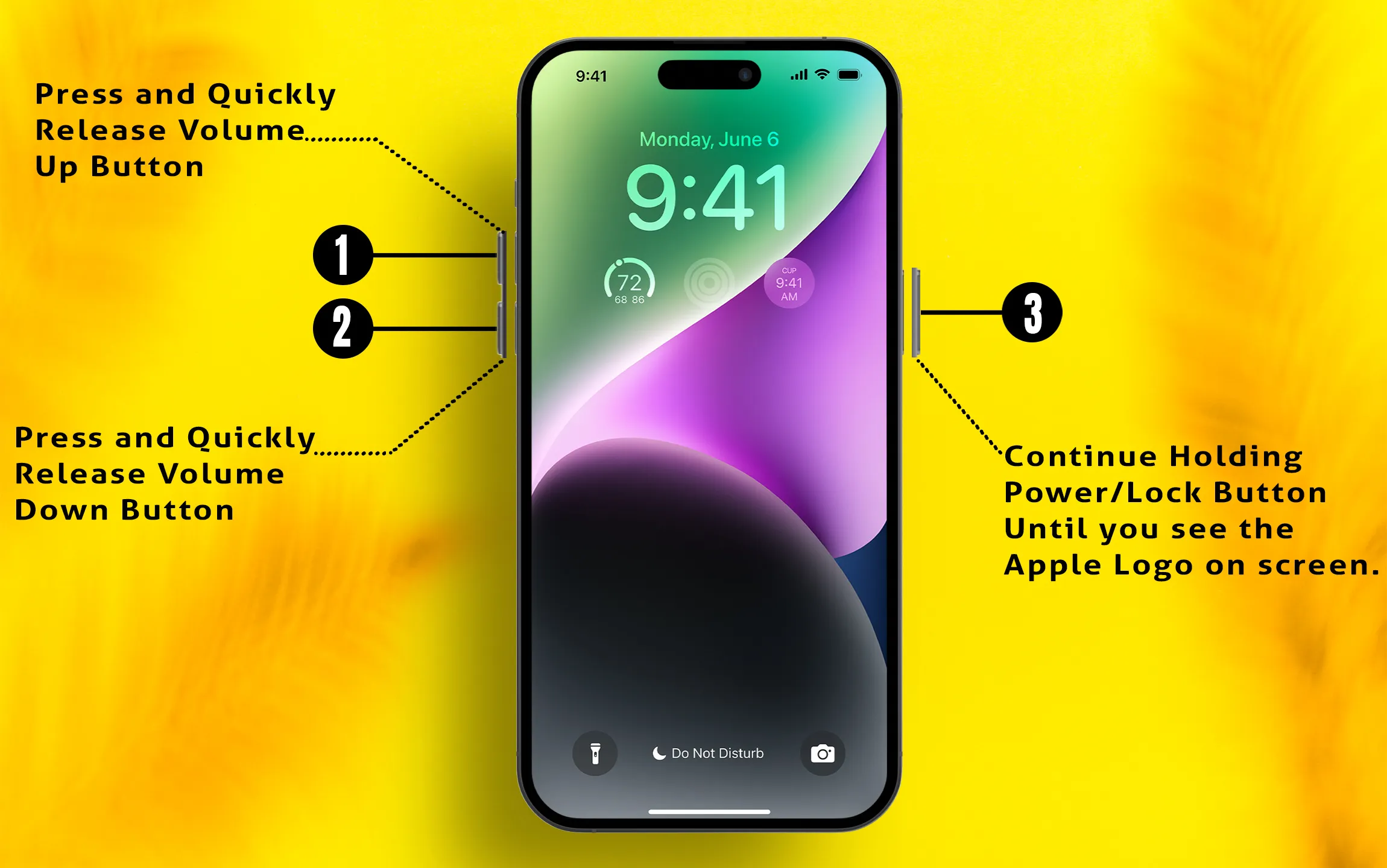 To Restart: Press and hold the side button only until you see the "Slide to power off" screen.
---
#3- Reset Face ID to repair Face ID Stopped Working
Erase all Face ID settings from your iPhone;
Launch the Settings app on iPhone > Face ID & Passcode [Enter Passcode] > Scroll Down and Tap on "Reset Face ID."
Also, Check Face ID Attention settings,Enable toggle for "Require Attention for Face ID."And Enable toggle "Attention Aware Features."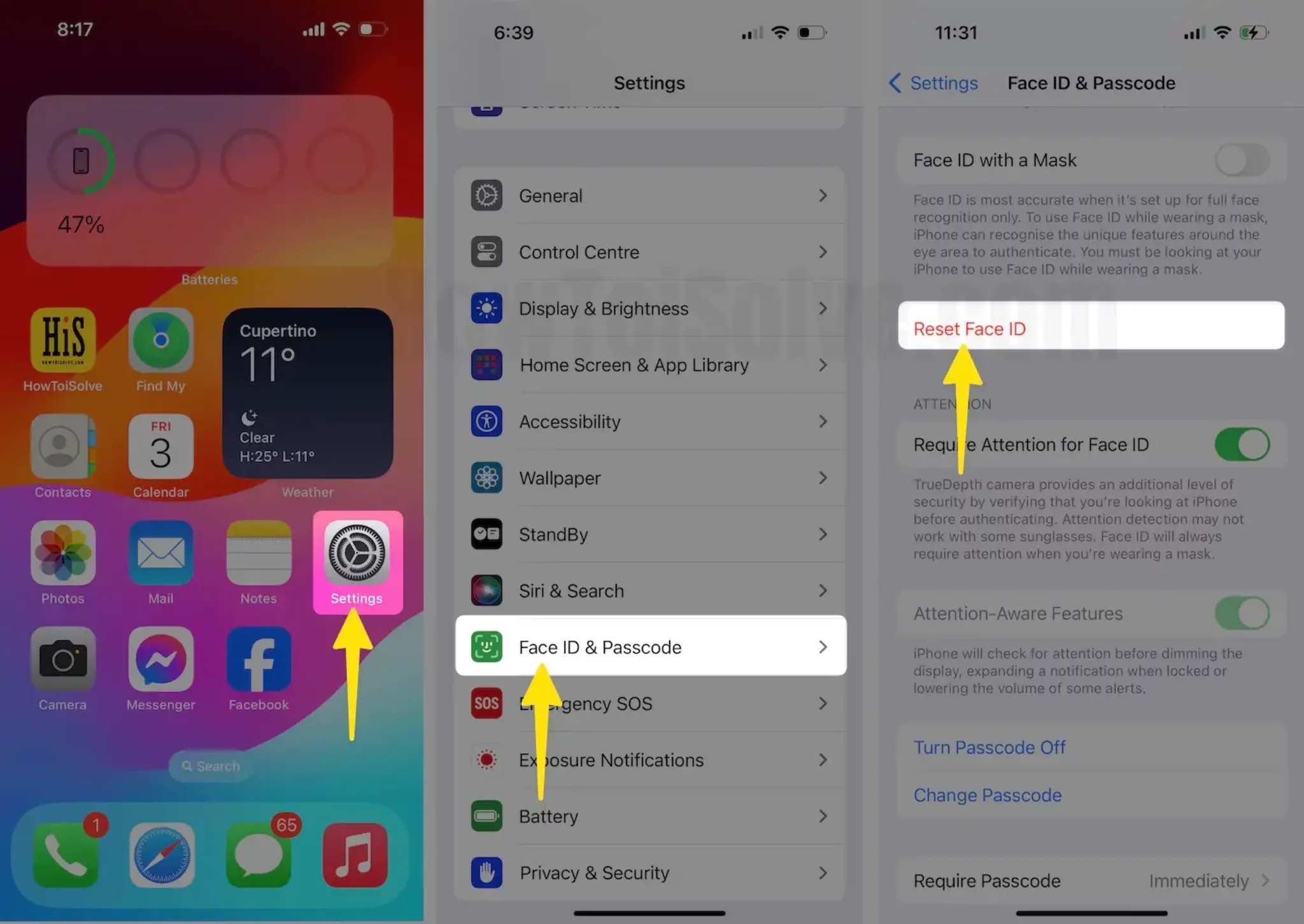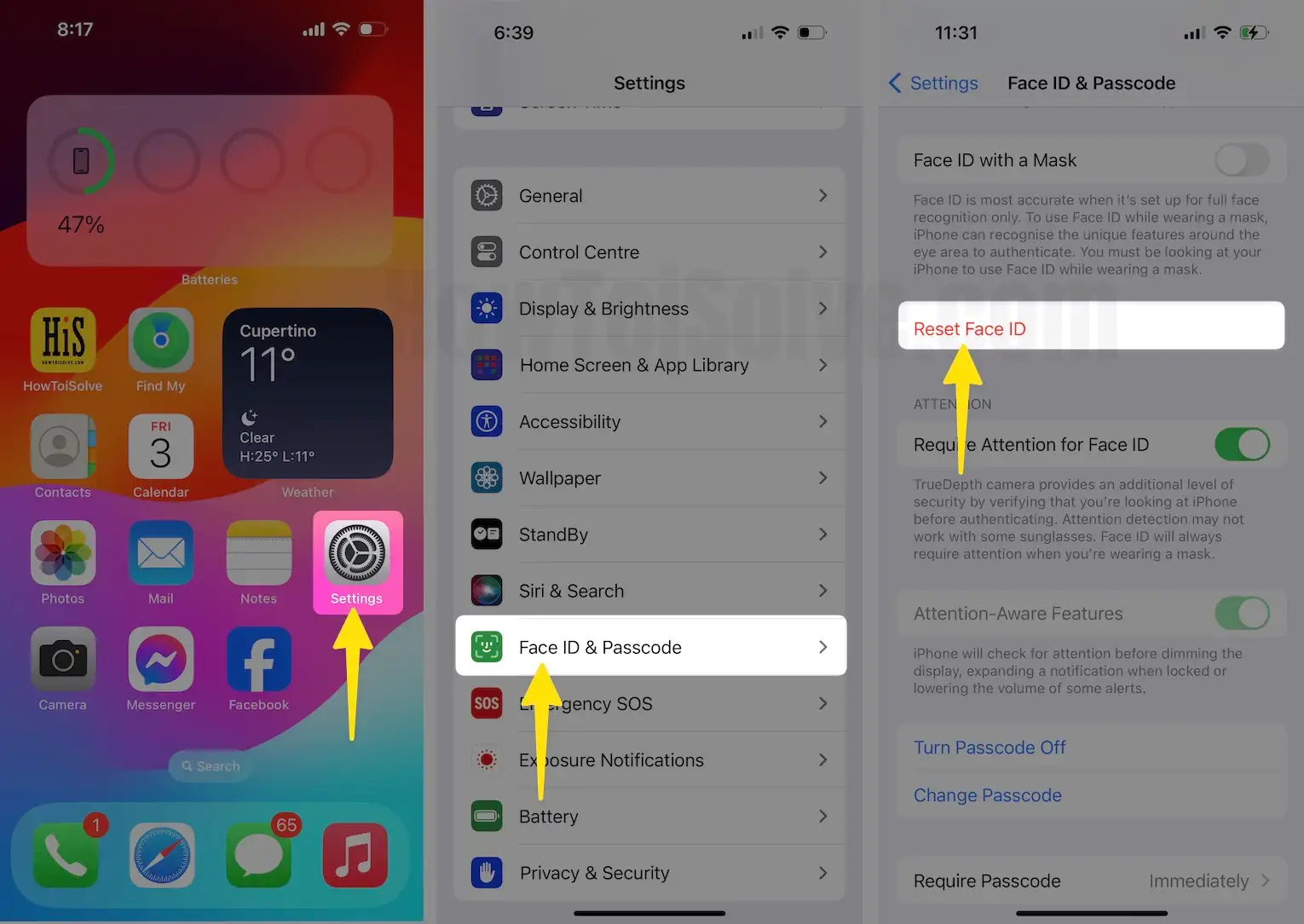 Fix: iPhone won't unlock using Apple Watch When Wearing Mask on Face.
---
#4- Keep the ideal Distance Between the Face and iPhone
Facial recoganization works under distance conditions. Otherwise, Face ID detection failed automatically. So keep away 25 to 50 CM away from your Face.
Face ID Disabled! These are the Reasons
iPhone has not been unlocked for the last 48 hours.
iPhone is just turned on, restarted, or rebooted.
Remote lock command is given to the device
Find unsuccessful attempts to match a face.
---
#5- Keep your Face only in the scanning area
Make sure no face around you while you authenticate Face ID. For example, you are in a public area or shopping mall & Store.
---
#6- Face ID won't work with App Store, Apple Pay, and iPhone Unlock
We can Disable/Enable Face ID for App Store app download, Apple Pay, and iPhone unlocks. Enable Settings for Face ID,
Go to Settings > Scroll to Face ID & Passcode > Enable Face ID for different services on iPhone.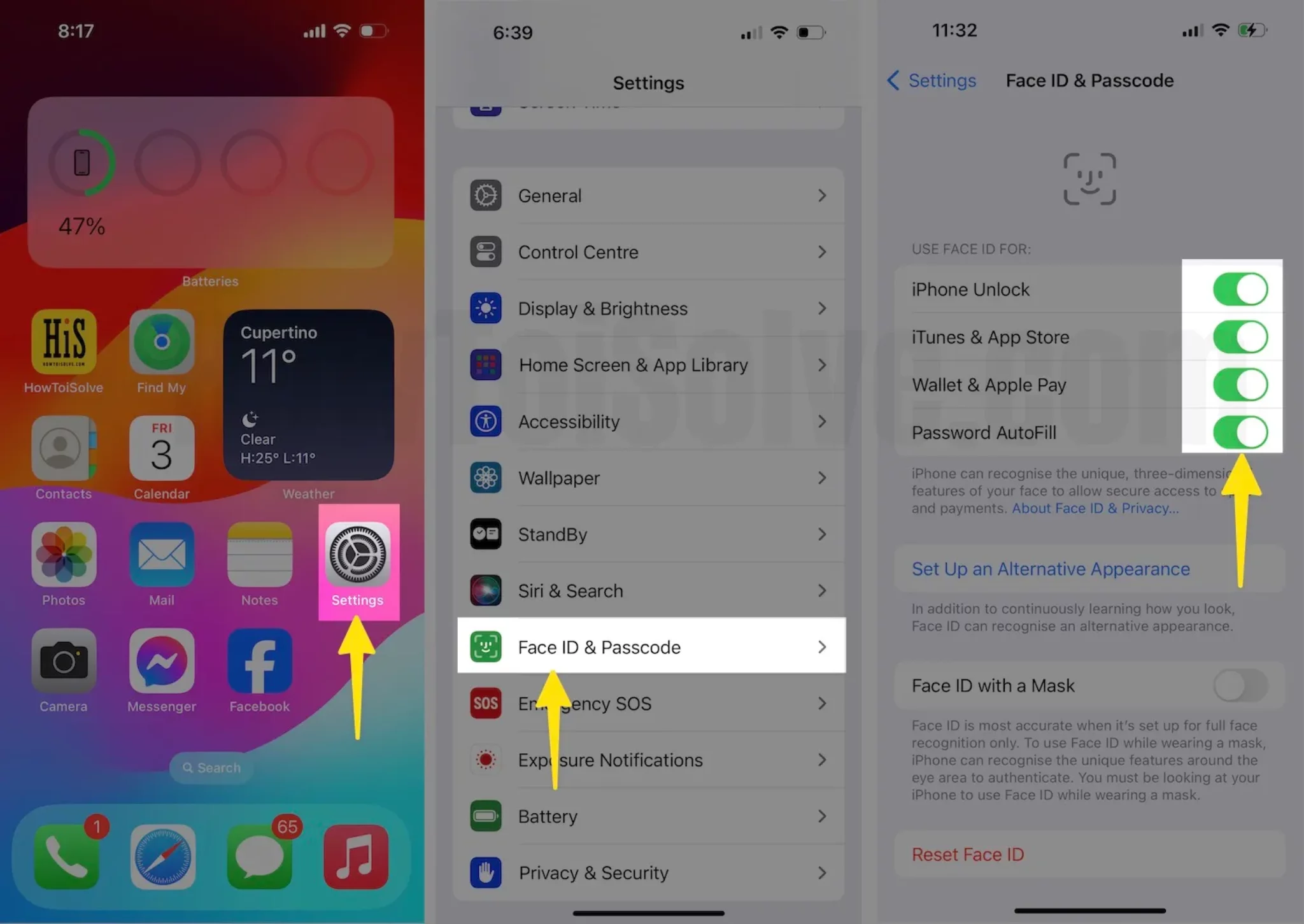 ---
#7- Clean the Camera portion of the iPhone
Clean your iPhone's camera using Wet Cloth. (iPhone X is water resistance, so we can do it) and remove oily chemicals, Dust from the camera.
---
#8- Face ID camera Damaged
This is a serious case that you never try to fix yourself because apple added too many cameras & sensors at a small iPhone notch area. Instead, contact online Apple support via Phone call, Chat, and Online Helping Tutorial or nearest apple store to get help from the Genius bar under the right information and issues.
We strongly recommend diagnosing your new iPhone or under warranty iPhone/iPad Pro at the Apple support center. Or Book an appointment before you visit the apple store nearby you because hardware damage is under warranty in apple terms and conditions. I am sure you will get the best solution for your problem.
Note: It might be heavy ornaments, Jewelry, and Cap covering your Face. Remove it and identify this is the real problem or not.
---
#9- Remove Face ID and Add/Setup Face ID Again
The setup is too old and has not saved your Face correctly. Remove old Faces and Add in a new setup.
Step 1: Launch the Settings on iPhone. Next, Find Face ID & Passcode.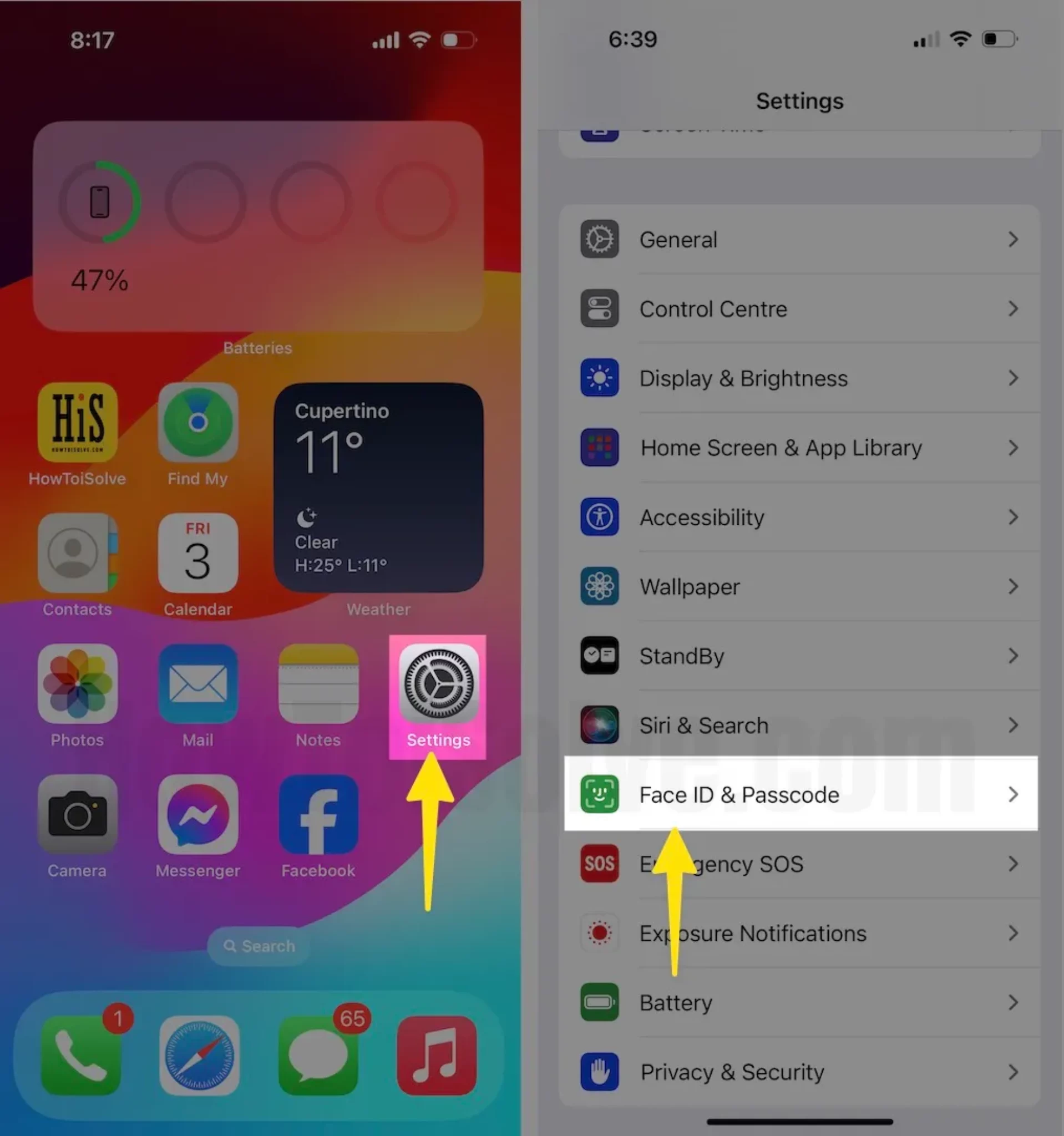 Step 2: Tap on Reset Face ID to Delete Face ID on your iPhone. and Setup Face ID again with the Option "Set Up Face ID".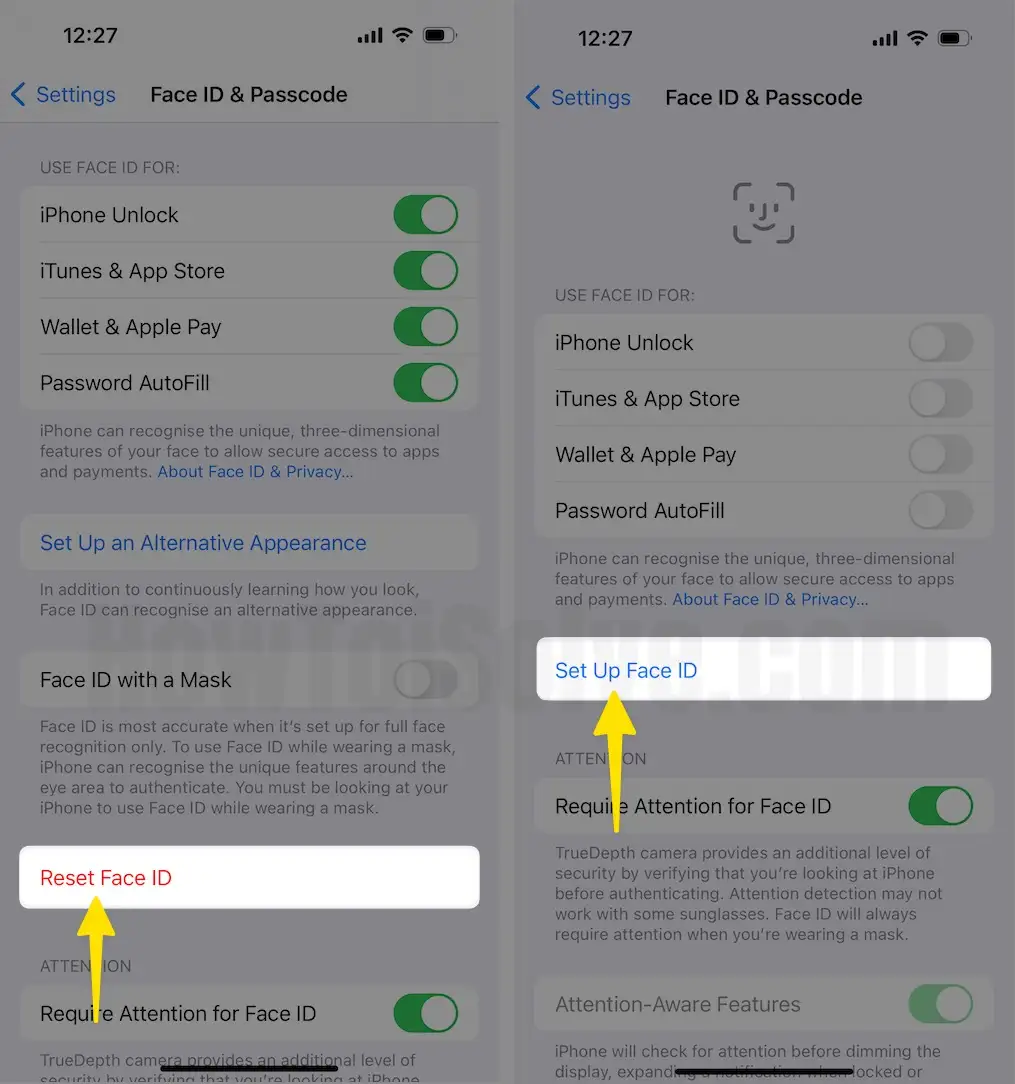 Step 3: Get Started to En-roll your Face on your iPhone as Face ID.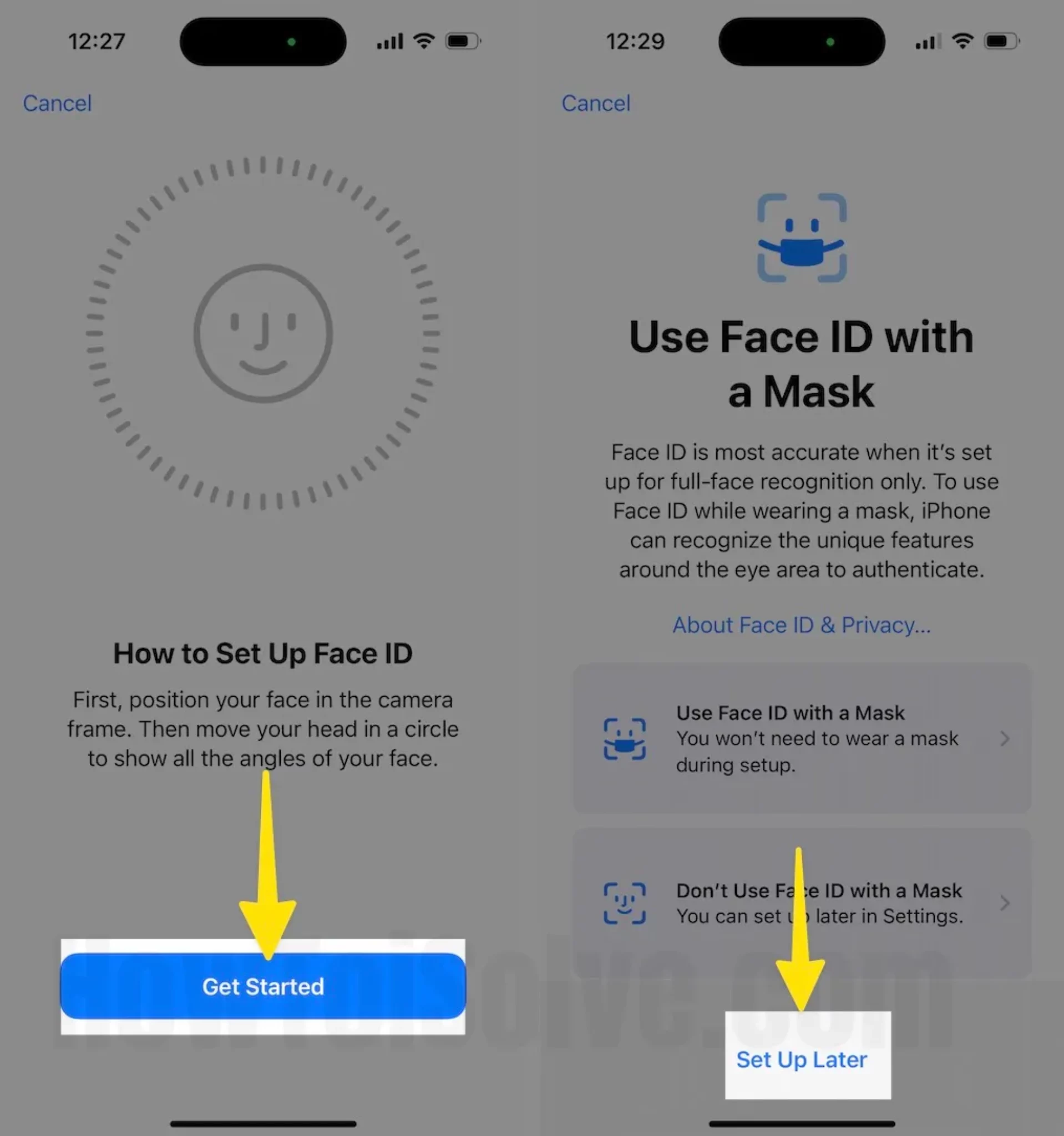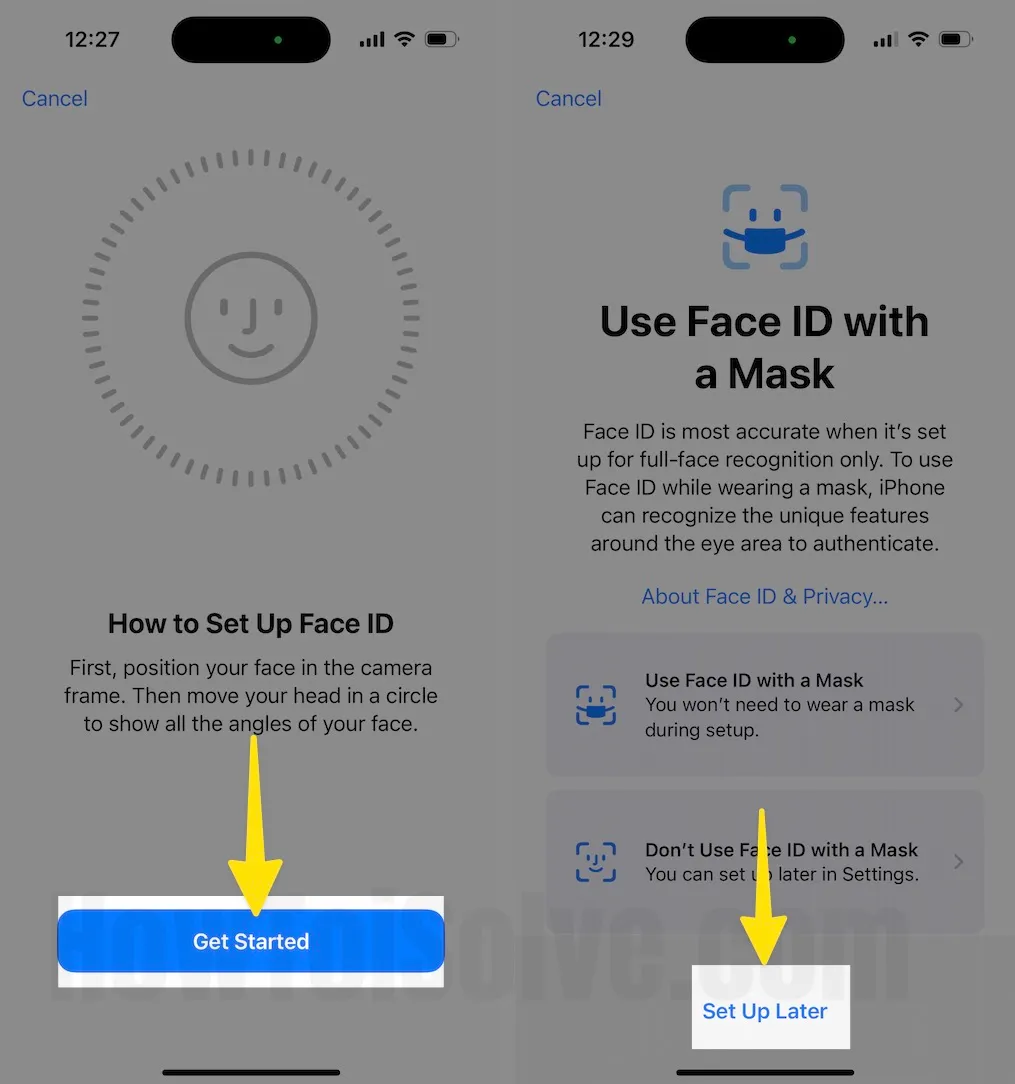 in iOS 12, The company Apple. inc offers to Add Multiple Face IDs on your iPhone X
---
#10- Choose Right Screen Protector
Normally Screen protector will not cover the front camera, Sensor, and Speaker. So choose the Best Screen protectors for iPhone X from a valuable manufacturer.
Are you trying on a new iPhone? Remove the thin plastic cover first.
Step 1: Launch the "Settings" app. and Tap on "General".
Step 2: Select Software Update, Tap on Download & Install.
---
#11- Reset all Settings help you to fix Face ID Stopped Working
Full guide on how to reset All Settings on your iPhone.
Step 1: Launch the "Settings" app. and Tap on "General".
Step 2: Scroll Down and tap "Transfer or Reset iPhone" > Tap "Reset"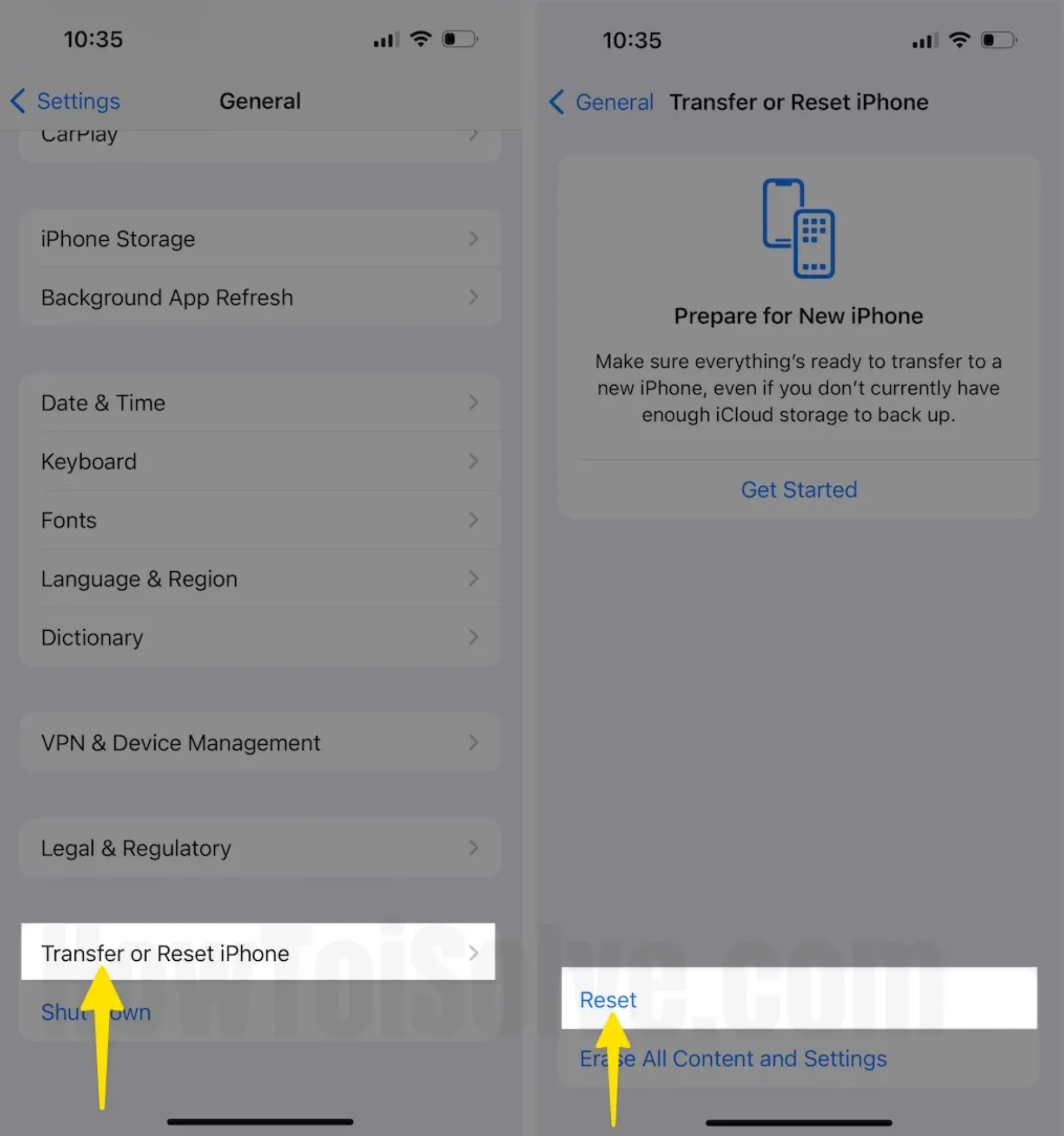 Step 3: Select "Reset All Settings" For security reasons, you will be asked to Enter the iPhone Passcode. > Tap Confirm Reset All Settings.

After that iPhone will reboot.
This option will remove Face ID and other important settings.
Also, go with a third-party iPhone repair service near you. You can call at your home, office, or any other address to get estimated damage value if your iPhone is not under warranty coverage. Finally, check Apple iPhone Warranty status online.
Above all are the fix and Troubleshooting tips on fixing Face ID can't unlock iPhone and iPad Pro or Face ID not working on iPhone, sometimes.
Face ID not working 'move iPhone lower
Face ID showed an error to move iPhone lower or higher, earlier; it was working fine, but all of sudden, Face ID not working and asking to move iPhone lower, that's the issue we have seen around the forums. While, to be honest, this isn't a much bigger problem, by updating iPhone to the latest software and restarting the device, you can get it fixed. And in the worst case, you might have to contact the Apple Technicians.
To restart iPhone with Face ID, press and quickly release the Volume Up button, press and quickly release the Volume Down button and then press and hold the Side button until the Apple logo appears.
To update iPhone, open the Settings App > General > Software Update. Before doing that, make sure your iPhone is connected to the Wi-Fi.
Contact Apple Support: Visit the Apple Website and contact them, or you can visit the nearest Apple Store by making Genius Bar Appointment.
Face ID With the Mask Not Working
Right after the pandemic, iPhone users start raising questions on how to use Face ID with Mask. A few months later, Apple rolled out a new update that allowed us to unlock iPhone with Face ID with a mask. Here's a trick to set up a Face ID with a mask on iPhone.
This feature is available in iOS 15.4 or later on iPhone 12 & later models. Get more about Face ID with Mask-supported iPhone.
Go to the Settings App.
Tap Face ID & Passcode.
Swipe down and tap Reset Face ID.
Tap Set Up Face ID.
Disable Require Attention for Face ID.
Register your Face ID by covering your half Face with Mask.
Your half nose and mouth should be visible; otherwise, iPhone will show an error and won't complete the setup.
Once the Face ID is set up, try to unlock iPhone after wearing a mask.
Face ID Setup Not Working/Face ID is not available; try again later
Can't set up Face ID or Face ID is not available on iPhone, iPad? This could happen due to a software glitch or dirt on the Camera. Therefore, before troubleshooting the device, it's better to clean the camera first and then set up the Face ID again.
In other cases, you can restart the iPhone and update it to the latest software; it might fix the issue after doing both of these workarounds.
Face ID not working after water (Face ID not working after a drop in water)
Well, if your iPhone came in contact with water, then there's hardly you can do anything about it. Unfortunately, water damage doesn't come under. Though, keep the iPhone in a dry place, try to clean it out, and wait for some time. If the Face ID circuits are exposed to the water, Face ID will surely work, and you might have to pay to get Face ID functionality back.
In such situations contacting Apple Technician is best since these are very delicate parts and tend to damage easily.
Face ID Not Working on Some Apps
Apart from unlocking iPhone, Face ID also secures many programs and applications. Like iTunes & App Store, Password AutoFill, and many Other Apps can be secured by Face ID. By default, these settings are turned off; you have to manually enable Face ID for apps from the Face ID and Passcode settings.
Open the Settings App.
Tap Face ID & Passcode.
Tap Other Apps.
Make sure Face ID is enabled for the app that is not working with Face ID currently.
Still, is Face ID not working for some apps? Then Reset your Face ID, and register a new Face ID. In the same Face ID & Passcode menu, tap Reset Face ID. Once done, register a new Face ID.