🗓️
November 2, 2022
By ✍️
Jaysukh patel
Generally, People are close or Delete Skype account for specific reasons like not able to retrieve login credential, Can't able to change profile details, having Information steal by someone, Frustrated with Skype. Otherwise, Skype is the best platform for online chat, Personal/ Group or Conformance Audio/ Video calls and chat. During the whole process, you must check the first submitted payment details. Connected own your Microsoft account.
Using this way, we can permanently delete Skype account, after that nothing to do. Just like Delete Snapchat account.
Note: Skype app does not have the option to delete or Close account from settings. So you must go with Mac Browser or iOS browser.
Next, I will see how to block/ Remove Skype contacts or iPad. That's helping tutorial for all.
Steps to delete Skype account using iPhone, iPad, or Mac
On iPhone/iPad
To Delete Skype Account on iPhone, iPad
Open Skype app for iPhone, iPad.
Go to Chat Screen > Tap on Your Profile in top center.
Scroll Down and Find Account and Profile > Settings > Account & Profile.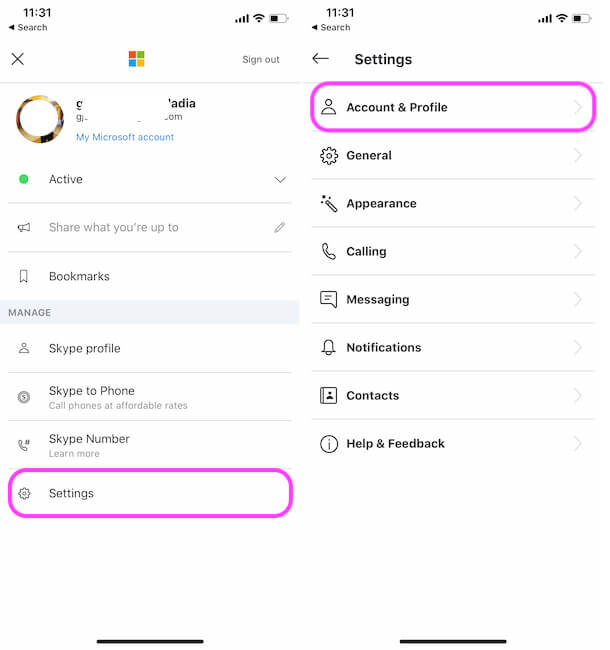 (For Sign out: Scroll down to the bottom of profile page > Sign Out)> Close your account.
You will be redirected to the Microsoft login screen, Sign in with your Skype account.
Verify yourself and Done.
How to Delete Skype Account On Mac
Apple Mac operating system is quite different than Microsoft windows and so that it's App user interface also changes. Similarly, Skype also looking to differ on Mac. Let's learn here how to delete a skype account on your Apple macOS Catalina or earlier running on MacBook Pro, MacBook Air or iMac & MacMini.
Step 1: Go the Skype account (skype.com) page in the browser, Login to Your Skype Username and Password. Also, we can search Old Skype address on this page and go for Delete Old Skype account permanently.
Step 2: On Account setting page, Scroll down on the page and find Settings and Preferences section, then go to Account settings.
There you can see linked Microsoft account if you are connected already. First, unlink it, that might be typical if your account connected with two Microsoft account. (On unlink request you will lose all synced contact on your Skype account)
Step 3: On your cancellation request you should stop reappear payment in billing or subscription.
Step 4: Next, Steps over here by clicking on Cancel Subscription. Then Click on "Thanks but no thanks, I still want to cancel".
For more help on the process of canceling Skype account that might be useful below the official source,
Cancel Close Skype account request
After your final closing request to Skype, you have enough time (30 days) to roll back yourself and reappear on Skype.
Within 30 days you can get all data from Skype-like contacts, Chat history and purchase history.
Are you logged in Skype on other devices?
With just single command, we can remotely log out Skype account on all devices (iPhone, iPad, Mac). Just send /remotelogout text chat message to anyone in your Contacts list.
Related useful tips:
Need more helps to close or deleting your Skype account, we are happy to help you!