Last Updated on May 23, 2023
Are you looking for old messages and some attachments on your Mac? Then don't worry; there is a simple way to get messages and attachments of past iMessage conversations on Mac. iMessage files stored on Mac in All MacOS versions (MacOS Ventura, Monterey, Mojave, MacOS High Sierra). The backup of iMessage is stored locally on Mac by default, not on Apple servers unless you take backup to your Cloud storage.
Every text message and video, photo, or any other media is synced automatically and stored on the following path,
~/Library/Messages/Attachments

~/Library/Messages/
By default, Apple Doesn't allow permission to access or view the saved iMessage history or logfile from your System. Here's a simple guide to accessing the System Log of your Mac's iMessage.
Where are imessage Photos Stored on Mac computer?
1→ Open Finder using spotlight search.
2→ Next, Go > Go to the folder from the top menu.
3→ Use the Message Attachment Path, and Hit the Return key.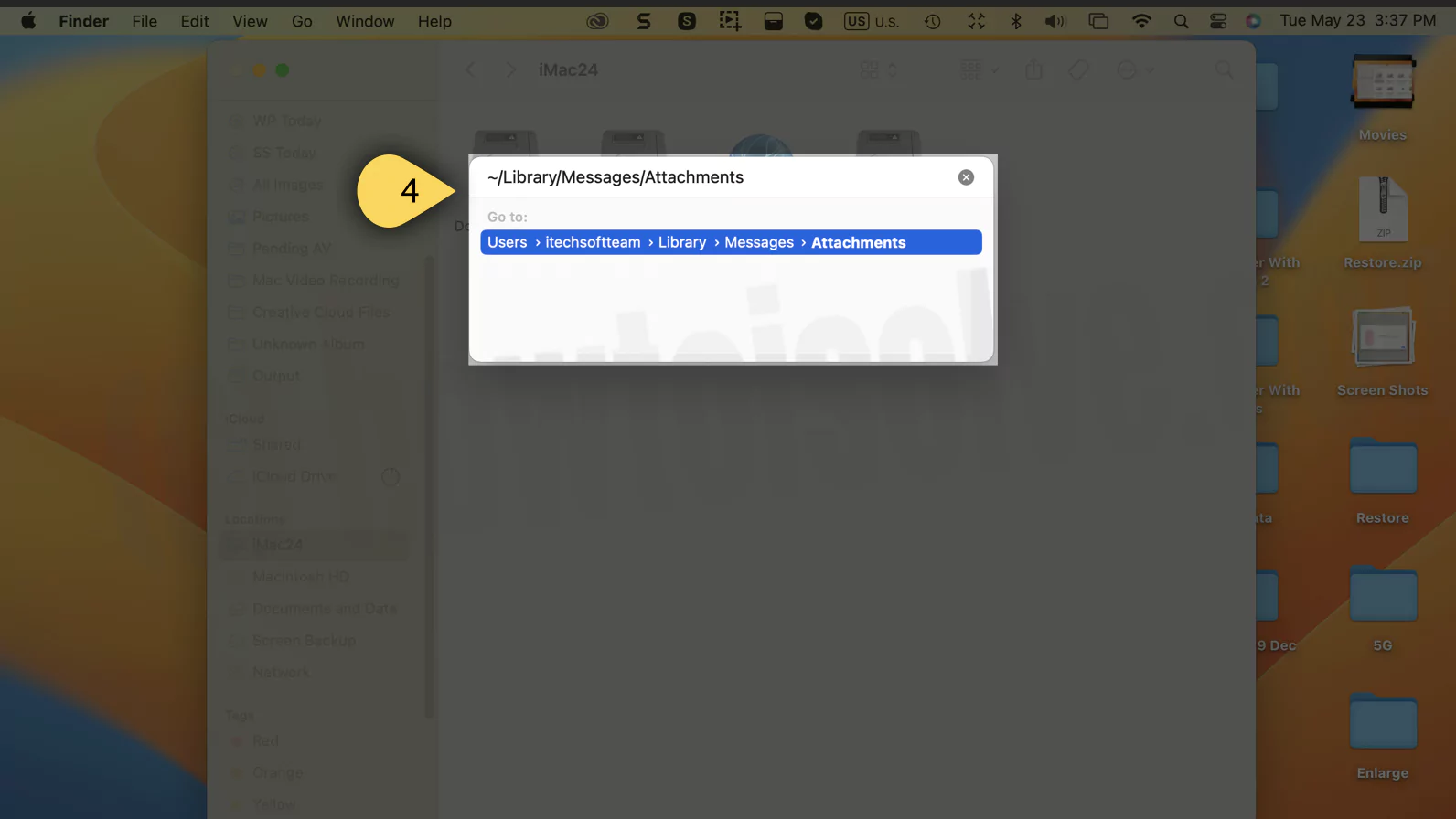 4→ Find out the List of folders that are auto-generated appears on the Mac screen.
5→ To Easily Find the Saved Images, Change the folder layout into the List the Folder. And Expand to Find it.
6→ See the Where are imessage photos stored on Mac? and Select Photo and Press the Space key to view the photo in Quick Look. Suppose the old iMessage History or Photos are not showing here, then find or restore Your Mac from the old Time Machine Backup. Here's the method that learns how to get back missing files or folders from this folder only.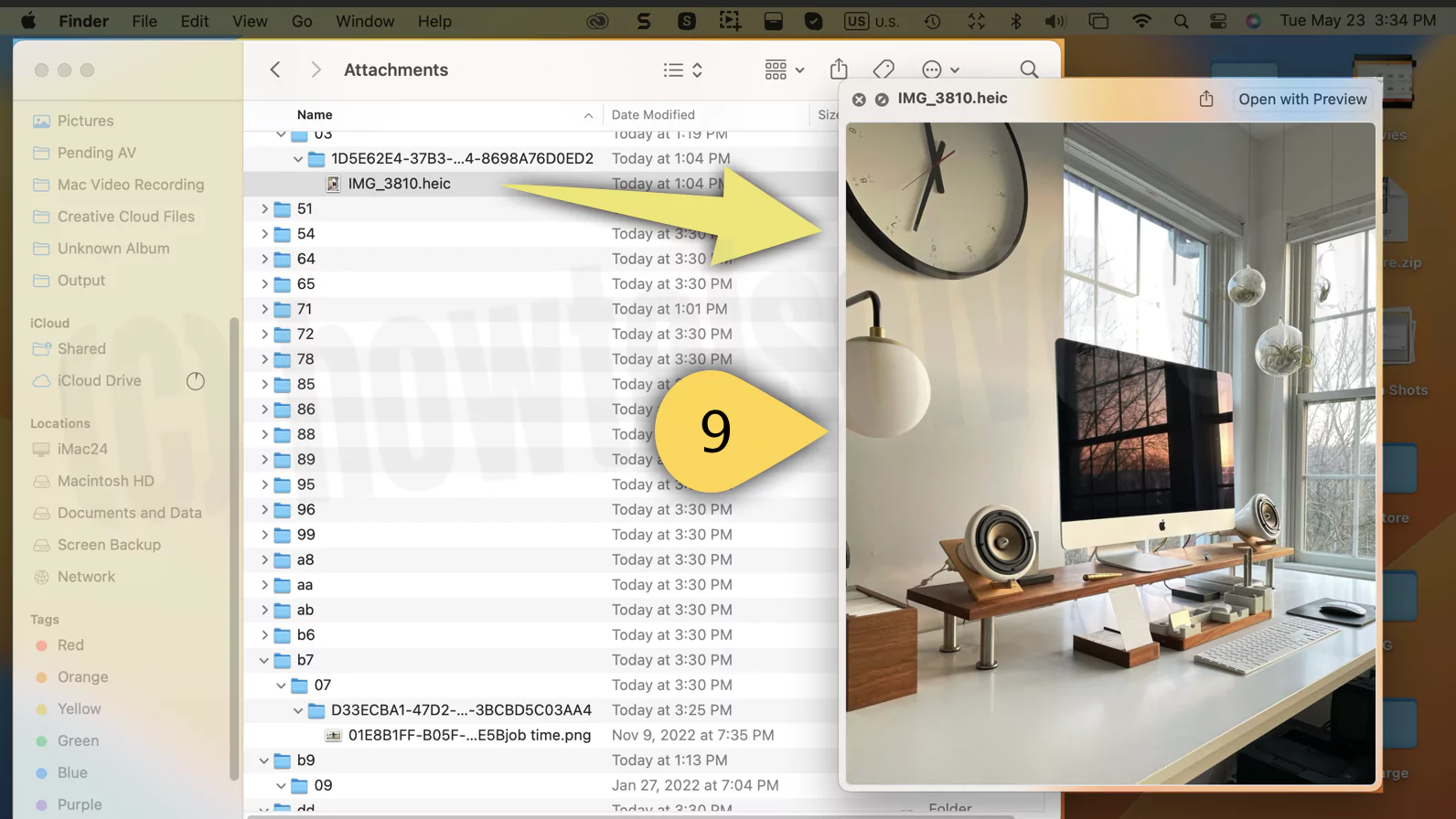 Keep in mind that both the Archives folder and Attachments folder works differently. The attachments folder stores the videos and images you exchanged in iMessage with your friend. On the other side, the archives folder stores the messages that you have saved or closed the conversation in iMessage. Besides, the chat.db keeps all the data of iMessage's current and old message histories. Follow the below steps,
1→ Open Finder, and Go > Go to Folder from the top menu.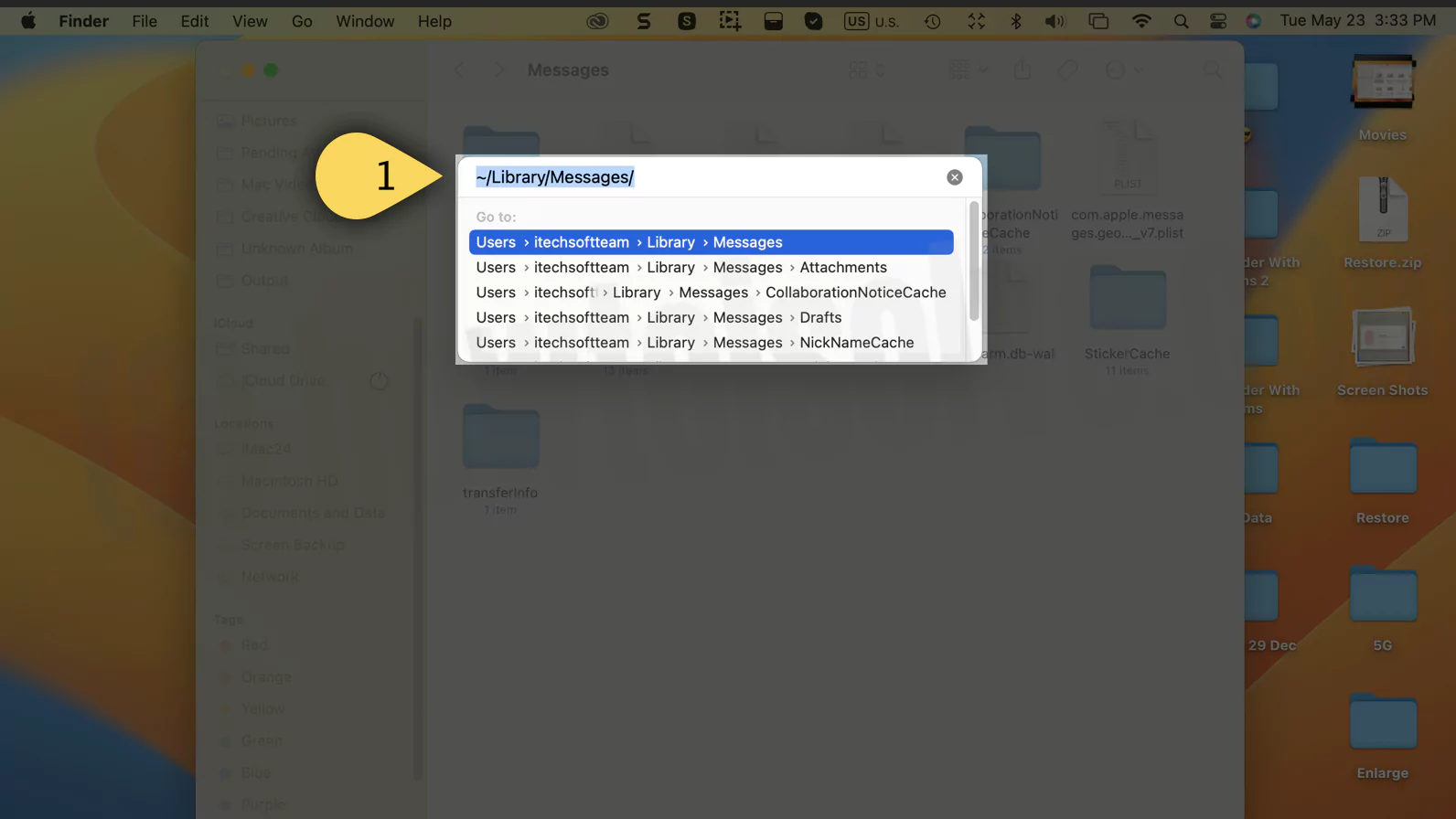 2→ See all Folders with Attachments folder (Photos, Tickets, and more..), chat.db file is also available in the same folder.
To Quickly Get How much data is saved in each folder, (Option + Click or Right click on the blank space in the finder and Click on "Show View Options")
Select "Show items info" and see the Total Saved folders inside each folder. Here's my Mac stored 41 items under the attachments folder.
That's it.
Where is the iMessage log file stored on Mac?
Step #1: Launch "Finder."
Step #2: From the top menu, Go > "Go to Folder."
Step #3: Enter the Messages folder location file. Next, click on "Messages" and the Archive folder.
~/Library/Messages/
You will find two folders: Archive and the other is Attachments, and also, you will see "chat.db" labeled database. Use SQL Software to open .db file on your Mac.
The alternate method to find saved log files of iMessage conversation is using the Command line. Run this command on the Finder profile.
Only For Earlier macOS,
You can even retrieve your messages from the saved chats, which are located in the following path.
Step #1: Launch "Finder."
Step #2: Click on the "Go menu."
Step #3: Next, open "Go to Folder."
Step #4: Enter the following path in Go to Folder,
~/Library/Containers/com.apple.ichat/Data/Library/Messages/Archive
If you do not find your iMessage Archive and Attachments, then read on,
If you need to use or track old iMessage conversations in the future, you can set default settings for all Messages conversations. That is automatically saved on Drive if closed.
Probably there are chances that your Mac isn't allowed to store the iMessage log files because you haven't enabled that option. So take a look and allow Mac to store archives and attachments.
Only For Earlier macOS,
Step #1: Launch the "Messages" app.
Step #2: Then, click on "Messages" and then open "Preferences."
Step #3: Click on the "General" tab.
Step #4: Next to the Application, enable the "Save history when conversations are closed."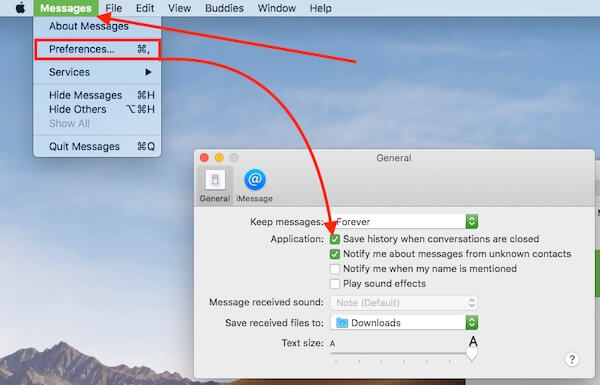 If you like this post, Share it with your friends. This is an excellent tutorial if you lost the Messages app on Mac or are Interrupted after the update or for whatever reason. You can use this backup folder to restore live or ideal conversations for future use.