I have seen many iPhone users are complaining about the battery widget not showing on iPhone, battery widget not showing on Airpods, battery widget not working, and more. When I updated my iPhone X a few days, it worked well, and all of a sudden the same problem caught my iPhone too. It is very simple to fix the battery widget not showing on iPhone/iPad. Sometimes it is resolved by a simple restart, and sometimes you have to perform a few steps.
Let's get straight toward the solution and hope your iPhone's battery widget works properly. also, iOS 16 Update allows to Show Battery Percentage on iPhone lock screen.
Follow to Fix Battery Widget Missing
After Restore, Reset All Settings, Setup New iPhone Naver shows the Battery Widget under the Widgets' panel. You must connect At least one bluetooth device to activate bluetooth to activate the bluetooth widget. check my video tutorial in [solution 1], which I prepared for the user who is unable to find the Battery widget under the Inactive Widget list or Active widget list.
A device should be turned on to get updated Battery percentage or missing then check it first.
Step #1: Activate Bluetooth Widget
For the New iPhone or iPad user Battery Widget not will show under the Widget panel. To Activate This Widget your iPhone/iPad must be connected with one Bluetooth accessory that might be Apple Pencil, Airpods, Headphone, Bluetooth Speaker, or Apple Watch. [Not Required in iOS Update] Go pair and check it, follow the below steps. (Battery Widget will be removed after reset all settings, Factory Reset, upgrade to new iOS/iPadOS in sometimes)
None bluetooth device users can show battery percentage like this: Swipe control center from the top-right edge of the iPhone screen and here's iPhone, iPad's Battery percentage only.
Launch the Settings app > Tap Bluetooth.
Keep the Bluetooth device turn on and near to find here in the bluetooth device list.
Tap on the Bluetooth device name. Wair for few seconds, Once it Connected.

And Go back and check the iPhone/iPad Widget panel in edit mode. The battery widget is inactive, tap on the plus sign to make it active, and show it under the Widgets panel of iPhone/iPad.
Before getting started following steps, Try to pair your Bluetooth device to your iPhone. Then after try to check its battery percentage in the batteries widget.
Turn your bluetooth device and put it into pairing mode, after that, turn iPhone or iPad Bluetooth toggle turn on to connect the desired device such as Apple Pencil, Bluetooth Keyboard, Airpods, Bluetooth headphones, etc.
Now time to check the widgets list and find the batteries widget. hope is located.
Step #2: Add Battery Widget on iPhone, iPad
We have different customization settings for add the Battery widget on the iPhone Today widget or Home screen with different layout of Battery Widget,
To Add on the Home screen,
Touch and Hold on Black space of your iPhone screen, Now your iPhone will move into Edit mode.
Now, Tap on the Plus icon at the top right corner of the Screen, Browse the Battery widget from the list. Also, Select the Different Battery widget style and Size. Finally, Tap on Add Widgets Option.
And See the Battery widget is added on the Home screen, Tap on Done to save changes.
That's it.
To Add in Today Widget Screen,
Swipe your finger on the iPhone home screen to left, from the first home screen. See the Today widget screen, Last option on the Edit button tap on it.
Now, At Top left corner of the iPhone screen, Tap on the Plus icon and select the Battery option.
Select Yours from the Different Battery widget style and size, Widget will be added to today's widget screen. Tap on Done,
That's it.
Video to Add batteries widget on iPhone Home screen
Add Battery Percentage to iPhone Lock Screen: iPhone itself, Apple Watch or AirPods
Apple's new Lock screen customization feature allows iPhone users to Show Battery Percentage on the iPhone lock screen permanently in iOS 17. We can also enable Battery Percentage for Other Paired Apple Devices like Apple Watch, and AirPods. See the video also,
---
Airpods 2 User: Airpods 2 has a Siri feature, So we can know the battery percentage of your Airpods using Siri command. Just To check the battery, hold the AirPods next to your iPhone or ask Siri "How's the battery on my AirPods?". Airpods will answer any time with the exact percentage of battery level.
---
Check Battery Percentage on Device:
For Apple Watch: Swipe up the finger to see the apple watch control center from home or Watch Face screen.
For iPhone: You can also Enable Battery Percentage on iPhone top to see in the status bar at a glance
For AirPods: Ways to Check a Charge Status of AirPods. You must need iPhone, Mac that connected to it.
For Mac: Enable Battery Percentage on Mac.
For iPhone 11, 11 Pro, 11 pro-Max, XS Max, XR, XS, X,8, 8 Plus
Step #1: Press and release the Volume Up key.
Step #2: Press and release the Volume Down key.
Step #3: Lastly, hold down the Side key and release it when you encounter the Apple logo on the screen.
For Apple iPhone 7/7 Plus
Step #1: Hold down the Volume Down key and power key until the Apple logo appears on the screen.
For iPhone 6S/SE or earlier and iPad
Step #1: Press and hold the sleep/wake button along with the Home button and release it when you see the Apple logo.
Once the iPhone reboots go and check if the battery widget is working as usual or not. Still, the battery widget is not showing on the iPad then check out the next solution.
Solution 3: Reset All Settings
By mistake, if you have made some settings on iPhone which might be affecting the battery widget then it can be resolved by resetting all settings.
Steps to Reset All Settings
Go to the "Settings" app > Tap "General" > Find and open tap "Transfer or Reset iPhone" > Tap "Reset" > Lastly tap on "Reset All Settings" > For security reasons, you will be asked to enter the iPhone Passcode.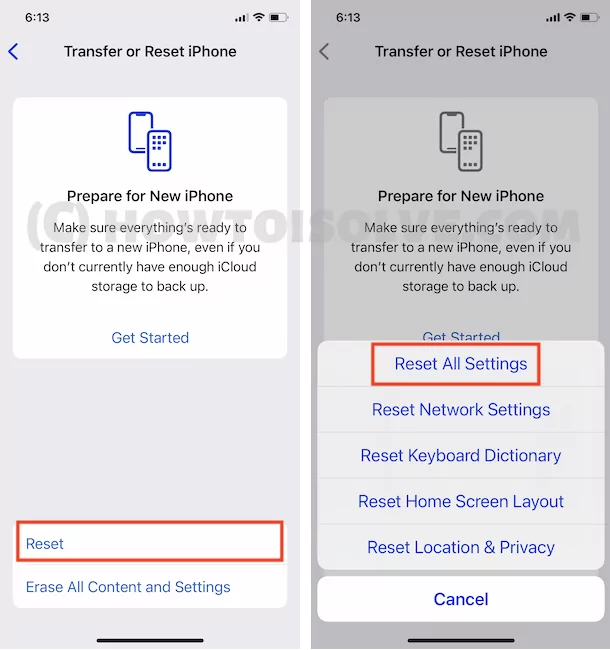 >Tap Confirm Reset All Settings. > After that iPhone will reboot.
Solution 4: Update the iPhone
None of the above works for your iPhone battery widget not showing on the latest iOS then wait for the updates. Meanwhile, you can check if an update is available or not.
Step #1: Go to "Settings" and tap "General."
Step #2: Tap "Software Update" and then Download and Install.
Missing Batteries Widget and hard reboot as well as given solution not working for you, then maybe Apple bug and it will fix soon. you should send a report to Apple using its Feedback App with the title of Missing Batteries Widget on my iPhone [Write Model name and iOS version].
If you like this article, Like and Follow my social pages on Facebook, Twitter. To get more updates in the future. Also, Submit problems and tips that you recommend for the exact fix.