Getting your iPhone stuck on Use Shared password from other iPhone. Here are the Quick helping points for fix WiFi Password Sharing not working in iOS 12/iOS 11 on iPhone and iPad. Also, I have found the message with "Password Not Shared" and problem in sharing Wi-Fi password with error code – 6722 and Report a bug. See my screen below, also get rid of other errors any time using troubleshooting steps.
You don't know the WiFi password and Wants to add your other Apple device into the same network using Password sharing from iPhone, iPad (installed iOS 12 or iOS 11) and Mac (With MacOS Mojave or High Sierra).
we are happy to help you, submit this Form, if your solution is not covered in this article.
Are your Facing HomePod Error -6722 During Setup? Go with this HomePod troubleshooting tips. And Check in How to reset HomePod, Disable RouFirewallirwall to fix an error.
Steps for fix Unable To Share Password whenever WiFi Password Sharing Not Working on iPhone, iPad 
Unable to connect WiFi using password sharing automatically, your iOS device connected to WiFi network and Wants to share your Network with Other iOS 12 device without knowing or share the password. This feature is the great and quick way to turn on Wi-Fi on other device or As a Guest.
Fix 1: Restart iPhone:
Reboot or Restart iPhone that does want to retrieve the password from the connected device into the network.
Restart Press Sleep/ Wake button until you see the slide to log off on screen.
Force Restart: Press Sleep/ Wake button + (iPhone 5S/6/6S Press & Hold home button, iPhone 7/ 7 Plus Press Volume down button). Until you see the apple logo on the screen.
Also Check: WiFi Not Working – Verify and Fix it.
Fix 2: Reset Network Settings
Reset this setting only effect on your saved WiFi password, easily find new network as of finding near to your device. To Reset Network Settings,
Go to the Settings > General > Reset > Reset Network Settings
Fix 3: Turn on screen wake up
If you set sleep time for the small interval then keep your eye on iPhone screen. And Wake up screen for the time on retrieving password on iPhone from other iDevice or Mac.
Keep retrieve password screen on your iPhone, iPad.
Fix 4: Update iOS At least iOS 12 Must required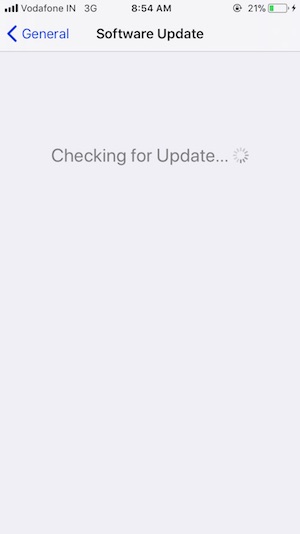 Check Update for the upcoming new upgrade. Every update comes with few updates on bug fix and Error. Recently apple gives the update for the Bluetooth fix.
Fix 5: Disable and Enable WiFi from Settings
Manually disable WiFi password from settings, Go to the Settings > WiFi > Disable WiFi & Re-Enable WiFi.
Also, Use Control center WiFi Shortcut for turn on or Turn off.
Fix 6: On Mac: Not Working, Unable to share WiFi password
Mac Device required MacOS Mojave/ High Sierra. Also, Your Mac Running in the Same Wi-Fi network. Get notification like this and Click on the Share button. Otherwise dismiss the notification message easily if you don't know won't.
Still doesn't work then restart Mac Device (iMac, MacBook, MacBook Air, MacBook Pro…)
Fix 7: Backup And Restore the iOS Device
Remove all types of Bugs and Software issue by refreshing your iOS version with latest one.
For the Security, you need to take full iPhone backup of the iOS device on iCloud or iTunes.
After that Download Latest ipsw file and Restore it using iTunes. Learn more about restore iPhone.
Premium Support is Free Now
We are happy to help you! Follow the next Step if Your Solution is not in this article, Submit this form without Sign Up, We will revert back to you via Personal Mail. In Form, Please Use the Description field to Mention our reference Webpage URL which you visited and Describe your problem in detail if possible. We covered your iPhone 11 Pro, iPhone 11 Pro Max, iPhone 11, iPhone 8(Plus), iPhone 7(Plus), iPhone 6S(Plus), iPhone 6(Plus), iPhone SE, iPhone 5S, iPhone 5, iPad All Generation, iPad Pro All Models, MacOS Catalina or Earlier MacOS for iMac, Mac Mini, MacBook Pro, WatchOS 6 & Earlier on Apple Watch 5/4/3/2/1, Apple TV. You can also mention iOS/iPadOS/MacOS. To be Continued...
Let's share your Experience with us on how this tutorial help in fix WiFi Password Sharing Not Working or unable to retrieve password in iOS 12/iOS 11 or MacOS Mojave or high Sierra.
Jaysukh Patel is the founder of howtoisolve. Also self Professional Developer, Techno lover mainly for iPhone, iPad, iPod Touch and iOS, Jaysukh is one of responsible person in his family.
Contact On: [email protected] [OR] [email protected]