Last Updated on Oct 7, 2022
Getting your iPhone stuck on Use Shared password from other iPhones. Here are the Quick helping points for fix WiFi Password Sharing not working in iOS 16 on iPhone and iPad. Also, I have found the message with "Password Not Shared" and problem in sharing the Wi-Fi password with error code – 6722 and Report a bug. See my screen below, learn what to do when your iPhone won't share WiFi passwords using troubleshooting steps.
You don't know the WiFi password and Want to add your other Apple device into the same network using Password sharing from iPhone, iPad (installed latest iOS), and Mac (With latest MacOS).
Are your Facing HomePod Error -6722 During Setup? Go with this HomePod troubleshooting tips. And Check in How to reset HomePod, Disable RouFirewallirwall to fix an error.
Steps for fix Unable To Share Password whenever WiFi Password Sharing Not Working on iPhone, iPad
Unable to connect WiFi using password sharing automatically, your iOS device connected to the WiFi network and Wants to share your Network with Other iOS devices without knowing or share the password. This feature is a great and quick way to turn on Wi-Fi on other devices or As a Guest.
Why can't I share a WiFi password with another iPhone?
Sharing the Wi-Fi password is pretty simple if you follow the rules to do it. If the iPhone share wifi password doesn't work, then there can be software glitches or you might not be following the steps properly. Therefore before finding solutions to the problem, make sure to read what are the requirements to share the Wi-Fi password and how to share the Wi-Fi password on iPhone.
Pre-requisites to Share Wi-Fi Password Across Devices
Keep both Sending and Receiving Device Closer
Update the iPhone, iPad, and Mac, to the latest version, whichever device you are using to share the Wi-Fi Password.
Enable Bluetooth & Wi-Fi on both devices.
Turn Off Personal Hotspot, on both devices.
Use your Apple ID to sign in to iCloud.
Make sure to save your email address on receivers' contact and you should also save the email address of other person's in your contacts.
How to Share Wi-Fi Password on iPhone, iPad
This is the correct procedure to share Wi-Fi Password on iPhone, iPad. For once, make sure you are going in the right direction, by preferring the below guide.
Connect the iOS device to the Wi-Fi from which you want to share the password. Make sure this iPhone stays awake, don't lock it.
On the other iOS device: Now go to the Settings > Wi-Fi > tap on the Wi-Fi network to connect.
When you tap on the password field, the device from which you are sharing the Wi-Fi password will show pop-up asking you to share the Wi-Fi Password, tap Share Password.
If, share WiFi password iPhone not working iOS 15 and mac Big Sur, then continue to troubleshoot and fix the iPhone won't share the Wi-Fi password.
My iPhone Won't Share WiFi Passwords! Here's The Real Fix
Fix 1: Restart iPhone:
Reboot or Restart iPhone that does want to retrieve the password from the connected device into the network.
For iPhone 8 or later,
Press and quickly release the Volume Up button.
Press and quickly release the Volume Down button.
Press and hold the Power button until the screen goes dark.
iPhone 7 or 7 Plus,
Press and quickly release the Volume Down button and Side button until the black screen appears on the iPhone.
For iPhone 6S or earlier,
Press and hold the Home button and Sleep/Wake button until the Apple logo appears.
Also Check: WiFi Not Working – Verify and Fix it.
Fix 2: Reset Network Settings
If iPhone shows password not shared there was a problem sharing your wifi password, try Reset this settings, it will only affect your saved WiFi password, easily find a new network as of finding near to your device. To Reset Network Settings,
Go to the Settings > Tap General > Scroll the screen till the end to get Reset option > Tap Reset Network Settings> Follow on-screen instructions and Confirm Reset network settings.
Fix 3: Keep Turn Your Phone screen wake up [it doesn't work with locked screen Phone]
If you set sleep time for the small interval then keep your eye on the iPhone screen. And Wake up screen for the time on retrieving password on iPhone from other iDevice or Mac.
Keep retrieve the password screen on your iPhone, iPad.
Fix 4: Update iOS firmware (At least iOS 12 or later Must Required)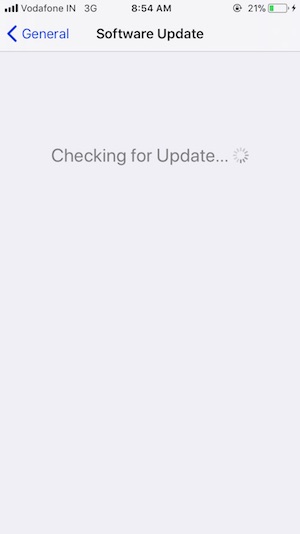 Check Update for the upcoming new upgrade. Every update comes with few updates on bug fix and Error. Recently apple gives the update for the Bluetooth fix.
Steps to update Software on your iOS and ipadOS – Go to Settings App – Scroll the screen tap General – Tap Software Update– wait a while and your screen will show you update.
Get here – what should I do getting unable to check for update error
Fix 5: Disable and Enable WiFi from Settings
Manually disable WiFi password from settings,
Go to the Settings > Tap on WiFi > Now Disable WiFi toggle & Re-Enable WiFi.
Also, You can use the Control center to use as a WiFi Shortcut for turn on or Turn off.
Fix 6: On Mac: Not Working, Unable to share WiFi password
in case of you getting an error, there was a problem sharing your wifi password mac. Mac Device required MacOS Big Sur, macOS Mojave, or Mac High Sierra. Also, Your Mac Running in the same Wi-Fi network. Get notification like this and Click on the Share button. Otherwise, dismiss the notification message easily if you don't know won't.
Still doesn't work then restart Mac Device (iMac, MacBook, MacBook Air, MacBook Pro…)
Fix 7: Backup And Restore the iOS Device
Remove all types of Bugs and Software issues by refreshing your iOS version with the latest one.
For the Security, you need to take full iPhone backup of the iOS device on iCloud or iTunes.
After that Download the Latest ipsw file and Restore it using iTunes. Learn more about restoring the iPhone.
Let's share your experience with us on how this tutorial help in fix WiFi Password Sharing Not Working or unable to retrieve the password in iOS 16 or macOS Ventura, Big Sur, Mojave, or High Sierra.