Last Updated on Aug 8, 2023
macOS Ventura update was released for Apple Silicon and Intel Mac users. Several users noticed a loss of dual monitor functionality after upgrading to macOS 13 Ventura from macOS 12 Monterey. We know that dual display support is important for users working with heavy work, for example, graphics designers, Programmers, and others. Sometimes both display screens flicker on and off repeatedly when the second monitor is connected to the Thunderbolt port. Another issue with External Display is Resolutions.
Don't bother; here I'm going to share with you important troubleshooting that maybe fix your Mac Ventura external monitor not working problem. on any mac, Apple's Silicon M2, M1-series, M1 Pro (MacBook Pro), M1 Max (MacBook Pro & Mac Studio), M1 ultra (Mac Studio), M2 chip of 2022 (MacBook Pro & MacBook Air) Or Intel chip Mac computer. Let's follow it step-by-step.
MacBook Pro/Air Not Detecting External Display/Monitor
Clue #1. Disconnect the cable if Both screens flicker repeatedly
Remove all cables from both computers and reconnect again. Next, connect both displays. If problems occurred due to broken cable or port, this will fix Mac OS Ventura's eternal monitor issue. In case of an issue is not related to the power cord, please go to the next workaround.
Note:- for those guys who have a second display cable not working – they should try a different cable, Or try to use Thunderbolt 4, Thunderbolt 3, or USB-C port adapter.
Clue #2. Display showing blank screen or not detected blurry on your Mac
Check the given below setting on your display;
Diagnose External Display issue
1 – Detect your display
Go to the Apple menu – choose sleep – your Mac will get to sleep mode– after a few seconds press on the mouse or any key of the keyboard to wake your Mac machine.
With this, you can see an image of the connected external display.
2- Make Sure Mirror Displays is Enabled
Steps for macOS Ventura & Up version:
Go to the Apple logo – System Settings > Displays > Press the 'Option' Key and Click on 'Detect Displays'.
Steps for macOS Monterey & Down version
Go to Apple menu – choose system preferences– go to displays – click on click on arrangement section – make sure Mirror displays is enabled.
Note: – For Apple Silicon M1 Mac– Only Restart works as an SMC and RPAM & NVARM.
3- macOS Display Resolution Problem
Plugging and unplugging an external monitor is easy with your Mac to stop mirroring. But the cause is resolution, Mac display resolution got affected and Has to change all time from System settings.
Here's the solution for a problem like this, Setup optimation for External display from Display settings. Assign both Displays for Main and Secondary display one by one.
On macOS Ventura:-
1→ Go to the Apple Logo from the top menu > System Settings.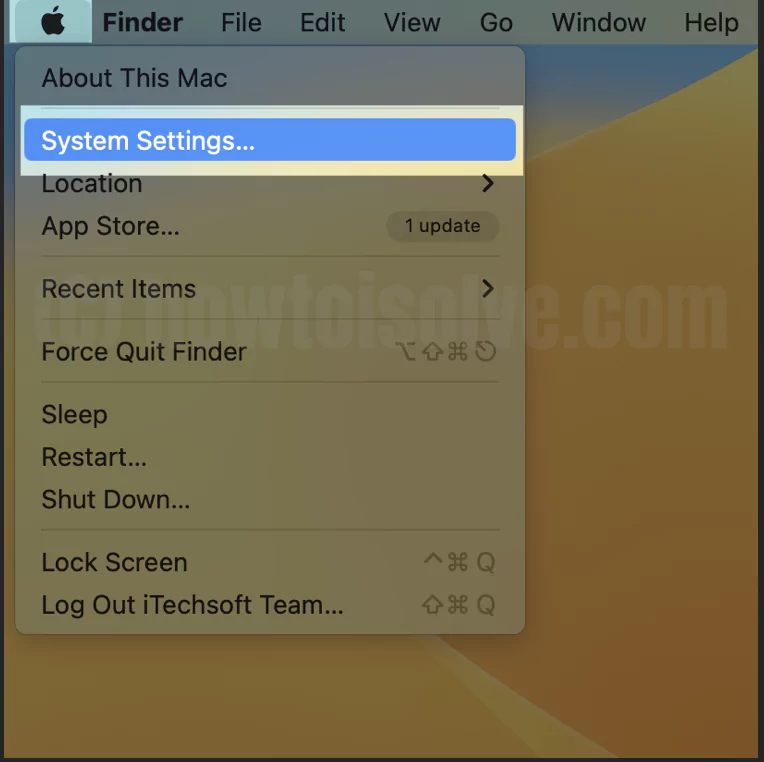 2→ Now, Click on Displays > See Display Settings for External display.
macOS Monterey:-
Go to the Apple Logo from the top Mac menu > System Preferences.
Click on Display > Display Settings.
Mac display is use as Main Display and the External display Use as the Extended display.
Also, check the Resolution option for both displays: "Default for Display," and "Scaled."
Tap on done to apply the change. Now, while you plug or unplug the device the resolution will be set according to the configuration you set up earlier. That's it.
3- Reset SMC on your Mac
the SMC has a role in controlling thermal and power management on Mac machines. Resetting SMC on your Mac, it boost your Mac speed and resolves some hard issue on your Mac. So to fix the external monitor or display not working, let's get here reset SMC on Mac computer. [guide for only intel mac users]
4- Reset PRAM/NVARM
Skip this step for M1 Mac [Need Restart]. Here's a complete guide to reset PRAM and NVRAM on an Apple mac computer.
5- Restart your Mac in Safe mode
would like to go with a safe mode solution to fix the external display not detecting issues after the monetary update. Follow how to restart your Mac in safe mode.
5.2- Keep Your Mac Software Upto Date
You should check your Mac software update. Recently, the Mac software update is macOS; please install it and try to connect the second monitor. If your mac cannot install the latest macOS, please refer to this solution that fix cannot install the latest macOS.
6- Re-install macOS
A complete guide for re-install macOS.
If none of the above solutions are suited to fix your Mac's latest installed macOS update, without wasting time, I suggest you go back to the previous version of macOS. If you don't have an emergency and can hold off till the next three to four weeks, wait for the upcoming macOS udpate.
7- Downgrade macOS 12.XX to macOS 12 Monterey or Ventura
here's a full informative guide that will teach you how to return to previous macOS firmware from the latest one. For Downgrade macOS Sonoma to Ventura or Downgrade macOS Ventura to Monterey.
you guys, don't miss to leave your feedback and share with us what clue worked for your Mac to detect external monitor on macOS Ventura or Monterey.