🗓️
September 26, 2023
By ✍️
Jaysukh patel
This is the most common problem Mac users are facing right now on Mac, Macbook, iMac, or Mac mini running on macOS Sonoma, macOS Ventura, or Earlier. I am one of them, and I fixed this problem on myself after long efforts to improve it. Unfortunately, I also experienced it, and it seems that the report in apple for this error doesn't look fixed and helpful. You must follow all the proper methods for auto-fix problems on "Pages quit Unexpectedly," "Pages keep crashing," "after update page won't open" Pages crashes when opening document. In contrast, we open a new page or open existing saved pages on a system before.
Pages are the most powerful app in macOS for access documents in any format without any third-party extension or third-party software.
Also, get the fix: Messages Quits on Opening on Mac Update
Alternate solutions on Pages Quit Unexpectedly on Mac
Method 1: Clear Preference Cache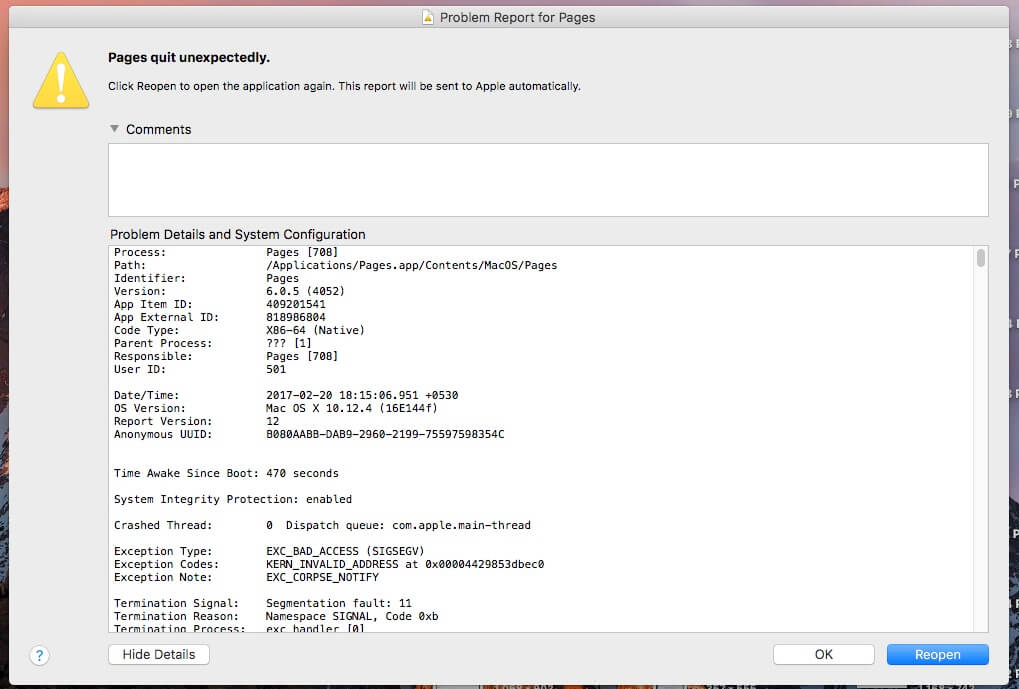 Launch Finder on Mac, Press Option key from keyboard and Click on Go from finder menu,
If you press the option key, then you can see the library option in the dropdown menu option.
Next, click on "Library" then See the Library files saved on your Mac system.
Under the Library folder go to the Preference folder > Right click on "com.apple.iwork.pages.plist" > Move to trash.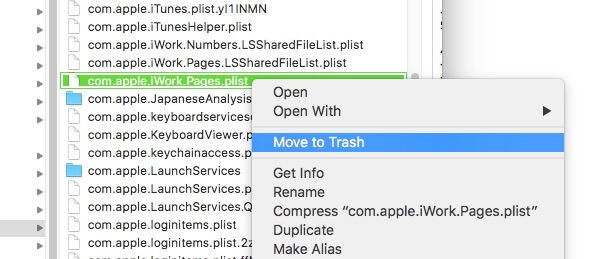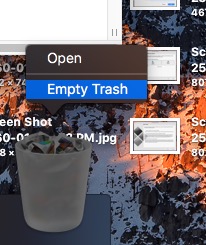 Method 2: Delete Cache files from Mac and Rebuilt
Remove older page cache saved on your Drive and Re-generate a new copy of the cache file. Follow the below path and find the cache folder and move all the cache data to the bin.
Open Finder on Mac. And Go to Top Mac Menu, Go > Go to Finder
Enter the Cache path and Go. /library/caches
Select all fonder and Right-click on the selection, Then select Move to bin.
Try after Restart your Mac. From top mac menu, Apple logo > Restart.
That's it.
Also, Read- Top Best Apple Pages for Mac Tips and Tricks
Method 3: Delete Pages app and Reinstall from the Mac App Store
Rebuilt the Pages folder on your Mac system root; this trick is beneficial for getting the permanent solution if your pages have incompatibility macOS Version issues or a Corrupted file system. Delete pages app from mac, Doesn't delete Pages files that you saved on your Mac. So don't worry, But you can take a backup of all those files before uninstalling them from Mac.
First force quite pages on Mac, By right click on Recent Page icon or From Activity monitor. To Delete an app, Open Finder on Mac > Applications > Right Click on Pages app > Move to Bin. Enter that Mac Login password to Uninstall or Remove old pages app. for more help, read out this article on apps that won't uninstall from Mac.
To Download on Mac: Open App Store on Mac > Search Pages from App Search box > Tap on Cloud icon to Redownload on Mac.
That's it.
Method 4: Open Pages Online and Work on it
You know that Apple Givens online support for Pages, Numbers, and Keynote [Cloud for iWork]. So if there is an issue with MacOS or Number Update, then we can Upload and Open it on iCloud Drive or From Browser icloud.com – That's interesting to fix the problem and Work on Pages without westing your time.
Open icloud.com on any mac/pc computer browser and logging with your apple id and password.
Now, click on Pages > here's the page's dashboard.
Start uploading Pages file on the iCloud drive by click on the Cloud icon with the upper arrow icon. To Create a new Pages document, Click on the Plus sign.
That's it. Now your all of your work is accessible on iPhone/iPad's Pages app [Download Pages from app store].
Otherwise, Share the pages document in Mail, MS Office, or Other Social apps that support Pages. [Right click on Page document see all the sharing options] This is the quick, helpful and interesting middle of the ocean tips.
Method 5: Clear data under Cache
Find Library folder same as explained in method 1 > Caches > Remove "com.apple.iwork.pages.plist"
Method 6: Remove third-party add-on
Suppose you installed any third-party extension or tools on your Pages. Remove all.
💡Secret Tips: Apple Pages Tips and Tricks for Mac
Recover Unsaved Pages Documents on Mac
If you are looking for the solution for pages, quit unexpectedly and recover a document that's deleted text from a page. Still, we have too many possibilities to Get back all lost items or Work from Pages that are closed and unsaved.
Without any Software, Let's Quickly Check how to Recover pages document that's quit unexpectedly.
1. Restore Unsaved Pages from Temporary Folder in Finder
MacOS Save all apps and Document's Temporary file that's autosave. First, move to this "TemporaryItems" folder using the terminal command.
Open Terminal on Mac from Spotlight Search or Launchpad on Mac.
Type "open $TMPDIR" Without Comma in Terminal and Hit return to run commend.
You will see one Finder with, all Temp directory. See the screen below.
Open TemporaryItems folder and Find your Recent pages document. Open it and check your work. if there is something you lost, Quickly save it from Pages Top Menu > File > Save option.
If this solution is not working, then try the next one.
2. Restore Unsaved Pages from AutoSave
Mac generates several copies of Document that's unsaved and for recovery purpose. We can access it under the Recents option in File.
Open Document on mac > Go to File from top menu > Open Recent > Choose one and save the document.
3. For Delete Document from mac, Recover from Bin
Have you accidentally deleted the Document or Folder from Mac? Still, we have a chance to get back from Bin [Delete] folder.
See the Recycle bin icon in your Mac Dock and open it > Search Document that you deleted > Choose Copy or Put Back.
And paste where you want and save.
4. Does Page Autosave, Turn it on from Mac Preferences settings
We can change these settings for all document apps on Mac from mac system preferences settings. Follow the below steps to turn on AutoSave mode and Increase the chance of recovery.
macOS Ventura & Later
Go to the Apple Logo from the top menu > System Settings > Desktop & Dock > Ask to keep changes when closing documents and Turn off the toggle.
macOS Monterey & Earlier
Click on Apple logo from top Mac menu > System Preferences > General > Uncheck "Ask to keep changes when closing documents," and AutoSave turn on.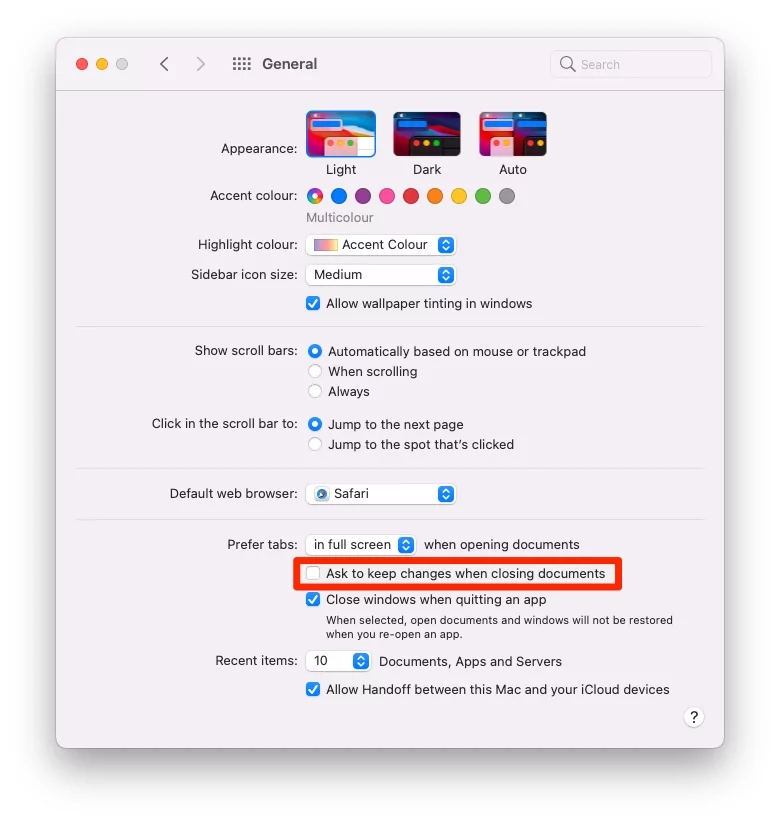 5. Browse all auto Save Version and Restore last saved & updated
Open Pages document on Mac from top Mac menu, File > Revert to > Browse all Version.
Tips: Enable the "Ask to keep changes when closing document" option from Pages settings.
---
Method 7: Update macOS or Pages in the App store
Spent some time updating your system, which helps to fix all the problems while you try to open or start new.
Click on Apple Logo () From Top Mac Menu.
Next, click on the System Preferences option.
Now, Software Update > Download and Install Latest Software on Mac.
That's it.
If your mac installed Beta MacOS Version, try to switch on the Public Final Version of macOS. Then, remove Beta Profile from Mac and Wait for the next public update. If you shouldn't wait for the next update, then back up your Mac on Time Machine and Clean install with the latest macOS. I hope this fix and use like Your Friend's Mac.
Open Mac App Store and Check for Pending Update for Page: Download and install New Page Update. I hope this will fix it.
Apple will send regular updates on device performance and improve user experience on most of all Apple devices.
Make sure are you trying to open the correct supported file format on pages.
Repoart a Feedback!
For Developer macOS, Mac users can use the Feedback Assistant app for the Technical issue and submit a report with a new ticket. Open Feedback Assistant app from Launchpad > Create a New Report.
Select your Problem with App and Types and Send with an Error message. That's Real helpful.
That's it. Also, You can contact Apple support online and Book Appointment at apple genius bar for a solution.
💡Also Read: Hidden Best Pages Tips and Tricks for Mac
I hope you found here the proper troubleshooting techniques on Pages Quit unexpectedly or pages won't open on Mac, pages keep crashing after updating macOS pages not working. Try to help someone fix a problem like this.