🗓️
September 19, 2023
By ✍️
Jaysukh patel
Let's go ahead and get started to fix the issue Gboard App not working on iPhone, iPod touch or Apple tablet. The Google keyboard app is free for Apple's iOS devices (iPhone, iPad, and iPod Touch). An app has pretty beautiful features which are almost all users would like to use on the iOS default typing keyboard. In short, Gboard app keyboard users don't require app switching when typing and searching Google.
I hope, you have an installed Gboard app because you are looking for a resolved tutorial. Since you are well known for Involved features such as emojis, GIFs, Glide Typing, and Google Search bar on Keyboard. We are using Google's Gboard app that works with most of the apps and can use it anywhere like Messages, Mail, YouTube, other third-party apps like Whatsapp, FB Messenger, etc. Even though, if you having an issue while you are trying to send GIF images, emojis or during typing. Don't worry. Here we offer you accurate fixes, hope this would help you.
What's new in iOS 15.3? (Jan 26th, 2022)

iOS 15.3 was released with some bring new features, enhancements, security patches, and bug fixes. iOS 15.3 should patch up an issue with the Apple Safari browser that leaked users browsing history and Google ID. Keep your Device Updated.
Ongoing issue with GBoard app on iPhone Becuase of Bug [Update]

– Dictation – Voice Search not working
– GIF Search not Working
– Some Languages Not Working
– Emoji Not Showing
– No Option to Disable auto Space, after choosing from a recommended word.
– Three Vertical Dots missing

For this solution, you have to wait for the next update or check the latest update on your iPhone's app store.
Follow Potential Fixes to Get The Ride-on Gboard App not Working on iPhone
Fix #1. Force quite an open App and launch again
Just press the home button a couple of times to get a multitasking screen and then close an app that working on the Gboard app. after that, open that app again and try back. Sometimes this clue could be resolved the issue.
If you've iPhone 13[Pro, Max], 11 Pro Max, XS Max, iPhone XS, X, 8 Plus, 6S/6S Plus or iPhone 7/ 7 Plus, then you can force quite an app using 3D touch, just to the left side on the screen press amount of pressure, Thanks will get multitasking screen and swipe an app upside to force close.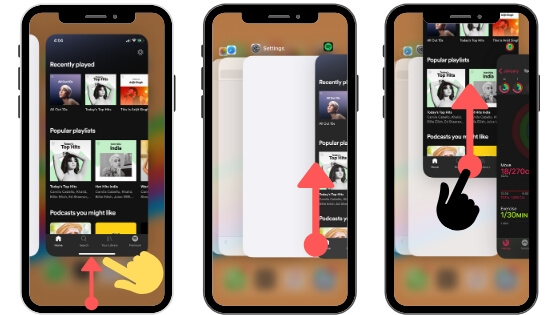 Note – Force Close App on iPhone 11 Pro Max, XS Max, XS, XR, X
Fix #2. Restart iPhone, iPad or iPod
Even the above way doesn't work in your case, then Restart your Apple iOS device. in case, Gboard keyboard not appears under the Keyboard settings then Restart your iOS device. Even this worked in my case.
Here Restart iPhone. If the same issue persists, then keep continuing to solve Gboard note working after iOS update.
Fix #3. Uninstall Gboard App and then Install Gboard App again on your iPhone
To uninstall the Gboard keyboard app,
Go to Settings App – Navigate General – Tap on Keyboard – Keyboards – now hit on Edit right-top side corner on the screen – let's Touch on the red button beside of Gboard app – and tap on Delete.
That's it.
Now install the Gboard app again on your iPhone. Many times users reported an issue that after updating iOS, several apps crash or take loads to launch. So at that time above described fixes are the best solutions.
Fix #4. If Gboard GIF Not Working After Update App
Many Google keyboard app users addressed the issue of Gboard gif not working on Whatsapp. Those guys should make sure that the Allow Keyboard access is enabled and have sufficient internet speed.
How to Turn to Allow Full Access On for Gboard App
Settings → Tap on General → scroll down the screen tap on Keyboard (appear between Date & Time and Language & Region)
Now tap on Keyboards → Tap on Gboard
Turn Toggle Allow Full Access On.
That's it.
Now, try to use the Gboard Gif keyboard. I hope you would enjoy it.
Gboard sends an update to their iOS users, in the added some new supports like simplified Chinese with four layouts, improved Voice input, and made the app faster to run. So might if none of the ways worked in your case, then you will have to wait until the bug fix update. Thanks for reading to us!! Stay tuned to get more latest posts.
Update Gboard App on iPhone
Keep your iOS version and Apps updated with the latest Version. Open App Store on iPhone > Find the Search Tab > Type GBoard App to Find app > Tap on Update option to download the latest version of the Gboard keyboard app.
Please Note: in the past update Gboard added Voice to text, Google Doodles, new iOS 15 Emoji, 15 new languages support, and more.
Some Gboard Function not Working on iPhone
In the Recent App Update, GIF Keyboard is not opening on the GBoard iOS keyboard. For that, you have to Wait for the next update or Report the app developer.
How do get my Gboard to work on my iPhone?
Gboard Keyboard in iOS Device and iPadOS works with all the Apps Where you need to type or Chat with Free Emoji and Translated text. Here are the steps for using Gboard Keyboard in place with iOS Keyboard. Follow the steps below,
Open Chat app or Mail where you use the Gboard app. Now, Tap on the Glob icon in Keyboard layout at the bottom left corner of the screen.
Now, Select Gboard Keyboard and Switch to Gboard Keyboard on your iPhone.
Next, Use Google Translate, GIF. Any Use correctly with Inbuilt search box.
That's it.
Disable Border around the Keys on GBoard Keyboard
Follow the settings below to turn on Bubble or Border around the keys on GBoard keyboard layout on iOS device.
Touch and Hold on Golb icon from GBoard Keyboard. to See the Settings option.
Tap on Theme > Tap on Selected Theme to edit the Theme settings > Disable to Border around the Key for GBoard Key > Done to save the changes.
That's it.
Get here: Trick to Use Google keyboard on iPhone, iPad. Alternatively, you can also use these third-party iOS keyboards.
Leave a reply in the below comment box for the above topic of the Gboard App not Working on the iPhone. You also find us on Facebook and follow us on Twitter.