Last Updated on Aug 31, 2023
The macOS Menu Bar is one of the most excellent ways to have quick access to any features (choose commands, perform tasks, check status) and applications craved in the device. But over time you might feel that your Menu Bar got cluttered and there is no space to add a new Icon to it. As of now and forever, you can Show And Hide Fullscreen Menu Bar, no matter whatever the macOS version!. 
Fortunately, along with this feature, you can Remove, Add, and Rearrange Icon in the Menu Bar macOS 13 Ventura (all settings are replaced at a new location than it was in earlier macOS Monterey & earlier). But where the users usually get stuck is don't know how to customize Menu Bar icons on the latest Mac Operating System. Here in this article, we have created a complete guide to get your question solved.
Complete Guide to Customize Menu Bar icons On Mac?
Remember that you will not be allowed to hide, show, and rearrange the Control Center and Date & Time in the Menu Bar on your Mac computer. At the same point, you can only hide and show Siri Icon but are not allowed to rearrange them. 
I hope this will be helpful for all Apple's Silicon M1-series, M1 Pro (MacBook Pro), M1 Max (MacBook Pro & Mac Studio), M1 ultra (Mac Studio), M2 chip of 2022 (MacBook Pro & MacBook Air) Or Intel chip Mac computer
How To Remove the Systems icon From The Menu Bar?
There are a bunch of icons in the Menu Bar which are not useful at all. At the same point, having the non-used icon didn't allow you to add the new icon as there is no such space remaining in the Menu bar. Willing to hide unnecessary icons from the Menu Bar, simply follow the given below steps. This way is mostly utilized when hold the command key and dragging them out of the menu bar not working.
Step. 1→ Head to the Apple Logo > Choose System Settings…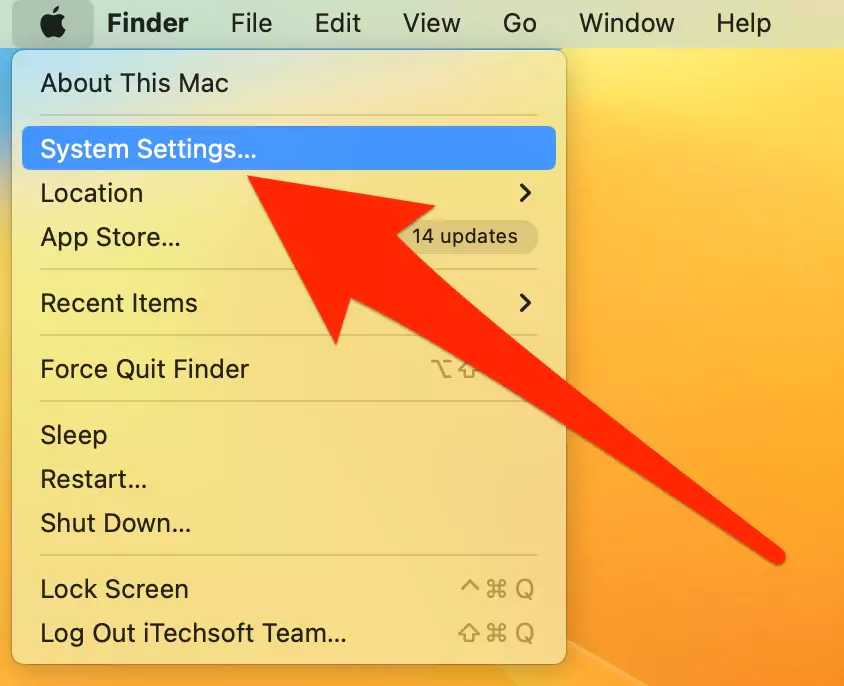 Step. 2→ Choose the Control Center.
Step. 3→ Here Under the Control Center Modules section, the list of icons will appear on the right side of the screen, if there are unused icons simply change it from Show In Menu Bar to Don't Show In Menu Bar for Wi-Fi, Bluetooth, AirDrop, Focus, Screen Mirroring, Display, Sound, Now Playing, All-New Stage Manager in macOS Ventura. Also helpful to remove one drive, screen sharing, Creative cloud, and other third-party apps from the menu bar mac.
[Extra tips:– Some Shortcut we can Keep on board with the Option "Show when active" like Focus, Screen Mirroring, Display, Sound, and Now Playing].
Scroll to Find More, Spotlight, Siri, Time Machine, VPN icon to Menu Bar on Mac.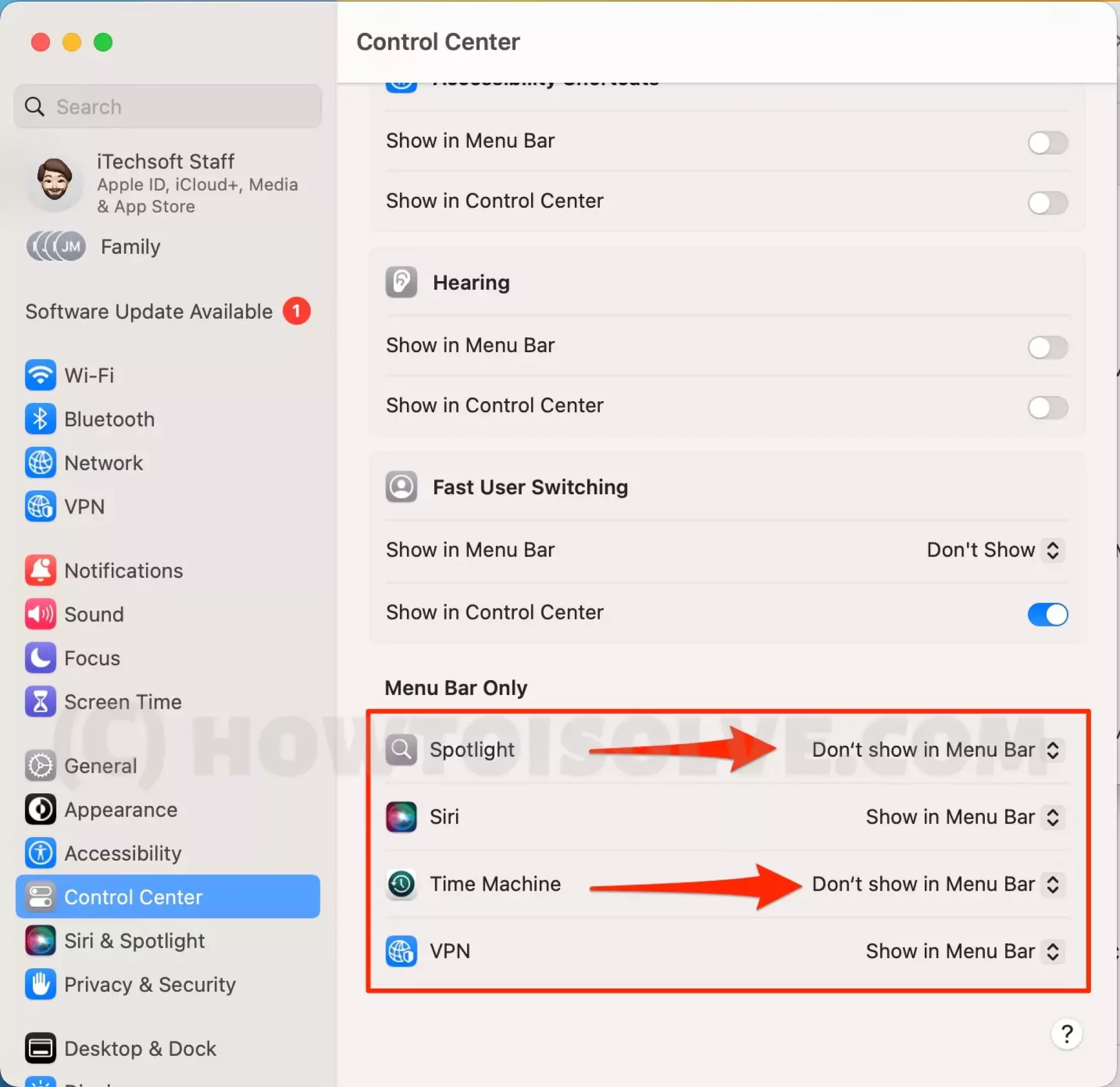 That's how you can remove the icon on the Menu Bar, and that's how you can efficiently use the Menu Bar on your Mac machine.
Some macOS users encounter issues, for example, some apps will show the icon even unchecked/disabled it in specific app preference settings on Mac Computer; There are two possible reasons:

1) The preference file is damaged, Or
2) That None-Apple application is buggy.

The first problem can be resolved using the Uninstall & reinstall App in macOS after that restart your Mac computer.

But if you are facing the second number of problems, it will not automatically fix the App's source code error. For that, please get in touch with the third-party App developer and send them feedback about the app bug behavior.
How To Add Systems Icon on the Mac Menu Bar?
Adding the most used Icons in the Menu Bar, makes you work speedily and efficiently. So, after removing the unused icon, it's time to add the new System iCon (Apple Apps/ Third-party apps) on macOS 13 Ventura Menu Bar. Here are the steps to do so.
Step. 1→ Navigate to the Apple Logo > Choose System Settings...
Step. 2→ Select the Control Center setting that appears left sidebar.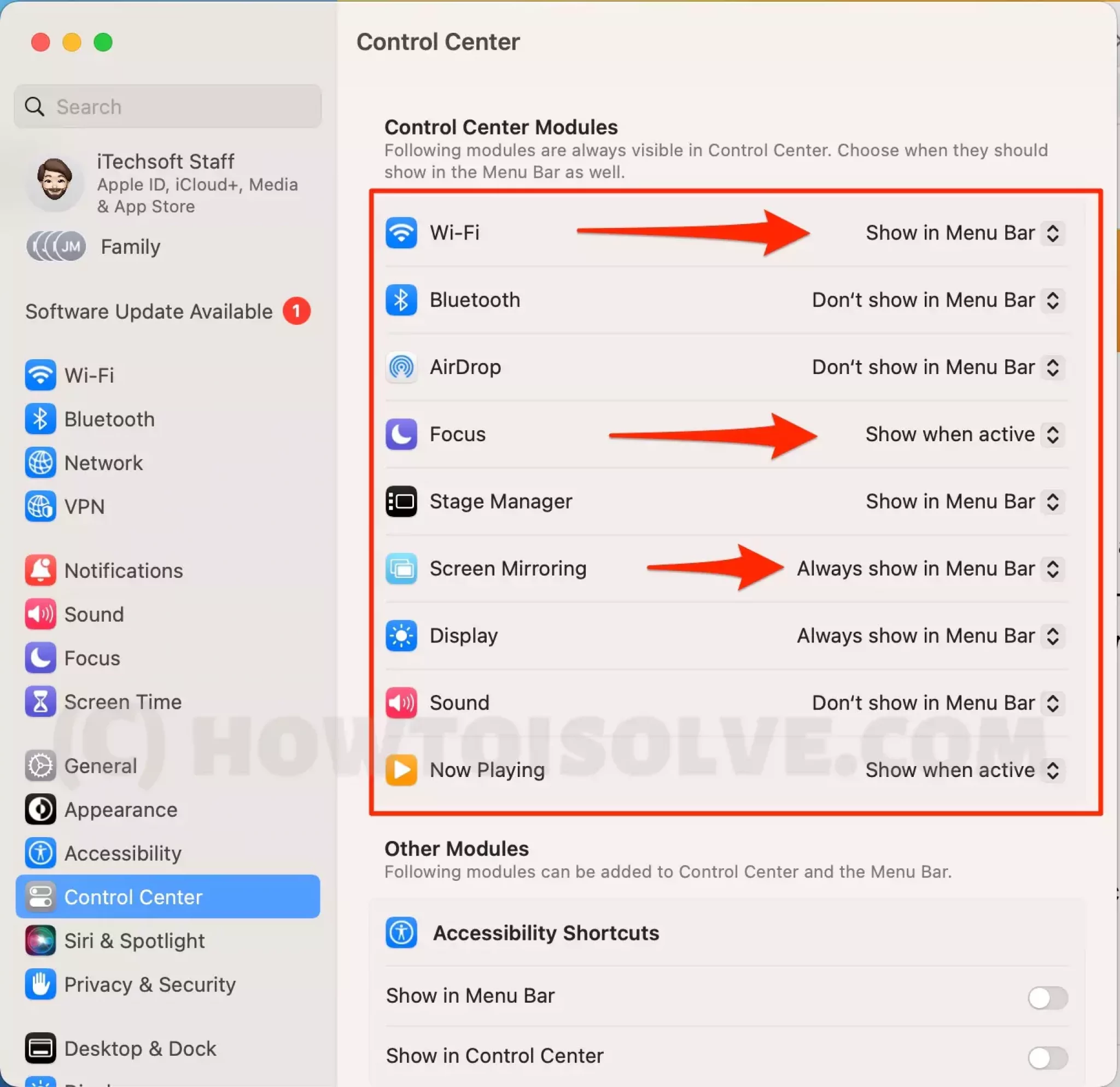 Step. 3→ After that, the page with a list of Icons appears on the right side of the screen. Select the desired one and change it from Don't Show In Menu Bar to Show In Menu Bar. or Select "Show when active" will be seen while using.
I hope this way found useful to remove the Menu bar icon that is no longer use and wanted to remove it. The next steps will learn you to add the new icon in the Menu Bar of macOS 13 Ventura.
How To Rearrange icons In the Menu Bar in macOS?
After adding and removing Apple or non-apple menu bar icons, it's time to re-arrange the messy Menu Bar, so that they are easily accessible and visible to you. Here are the steps to do so.
Step. 1→ Press the Command (⌘) Button.
Step. 2→ Move your mouse cursor over the desired Icon you are willing to re-arrange
Step. 3→ Instantly, press the Left Button on the mouse and drag the Icon towards the desired position on the Menu Bar. 
Hint – Fix Command Key Not Working on Mac Keyboard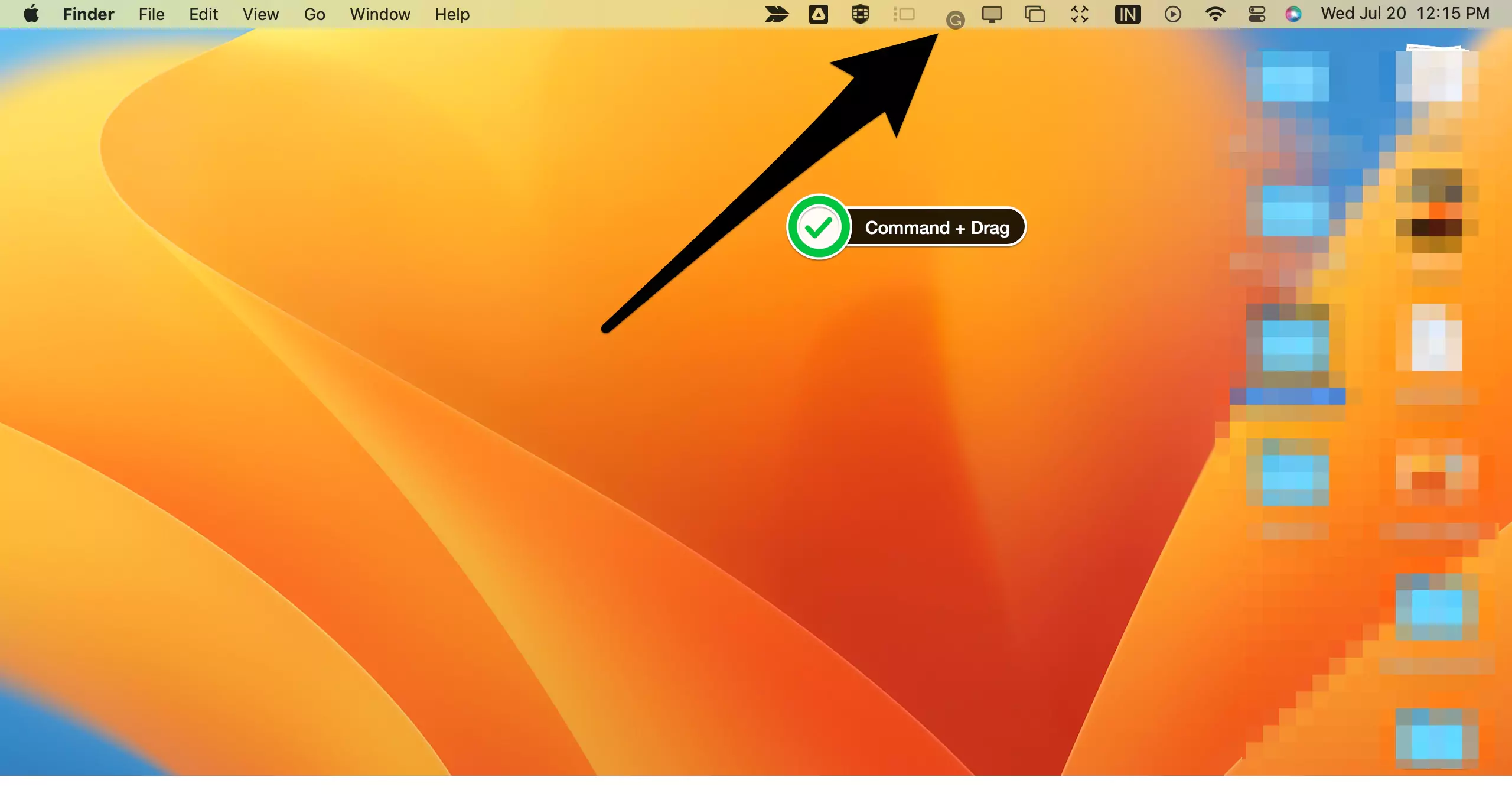 Step. 4→ Right after that, let out the Mouse Button.
So by following these simple steps you can rearrange the mac menu bar icons.
Bonus Tips: How To Add Menu Bar Extras
There are various reasons which some options remain hidden in the System Preferences. Fortunately, some of the users still find those collections of menulet right in the System Folder. For example, Eject.menu
If you are not familiar with how to access those menulets, go through below below-mentioned steps.
Step. 1→ Navigate to the Finder Option from the Menu Bar.
Step. 2→ Choose Go > Go To Folder…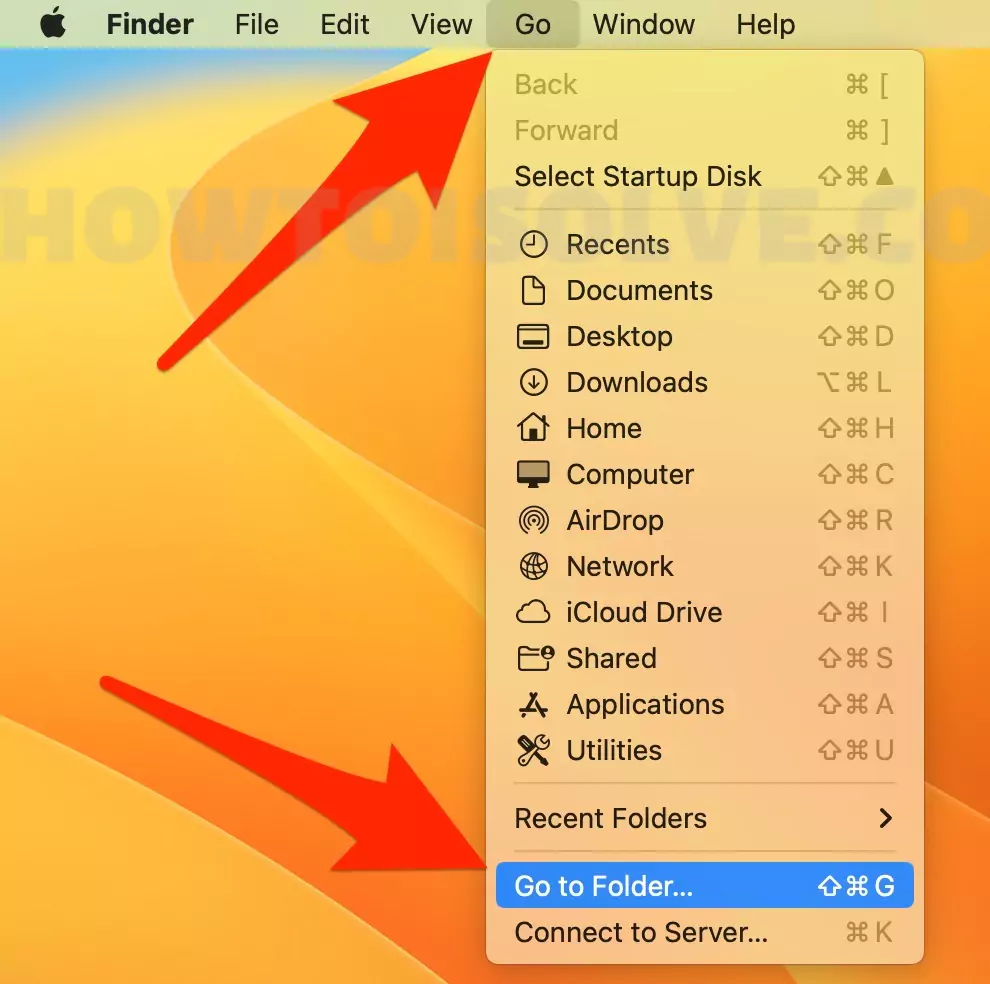 Step. 3→ Head to the /System/Library/CoreServices/Menu Extras.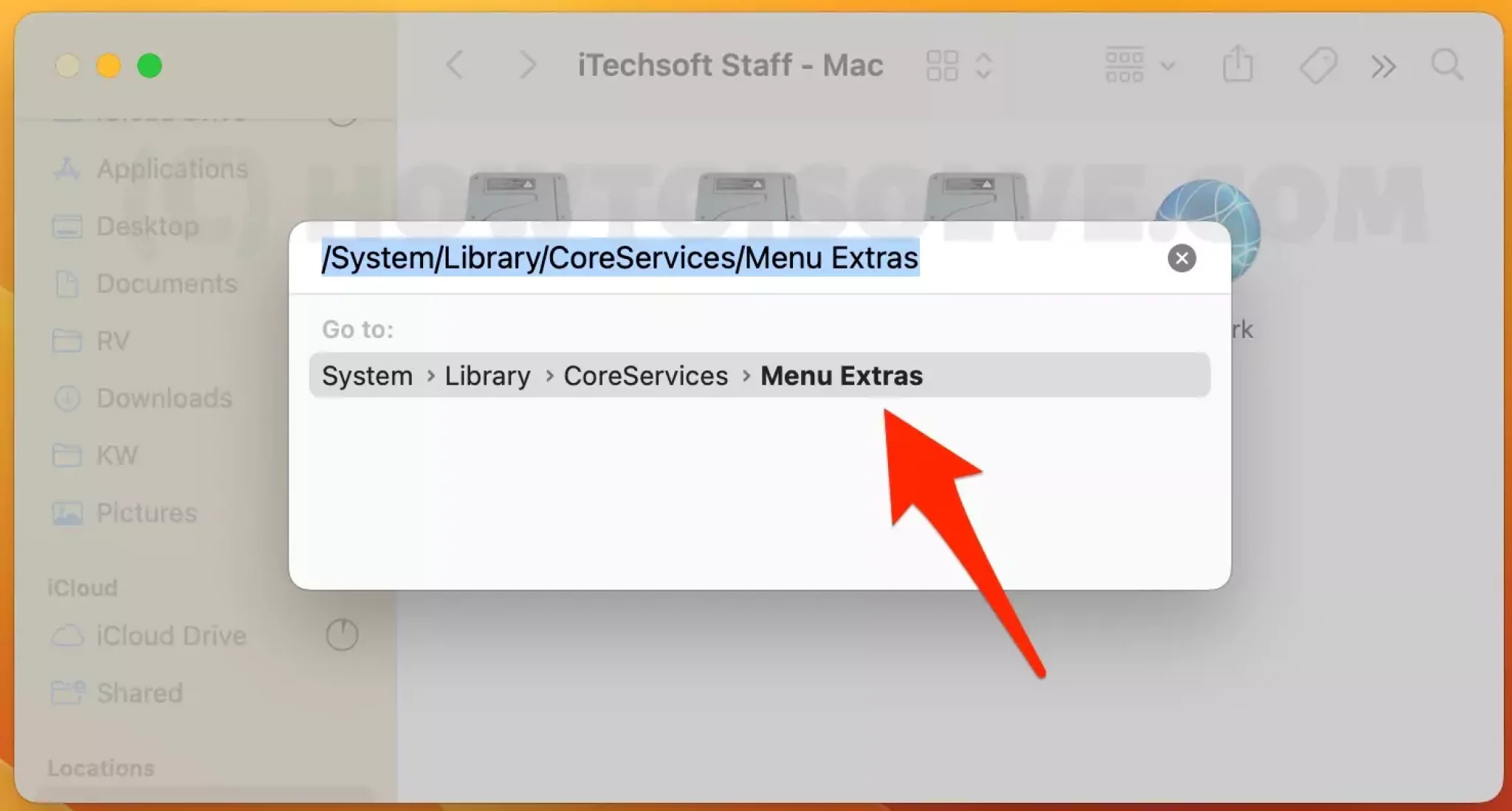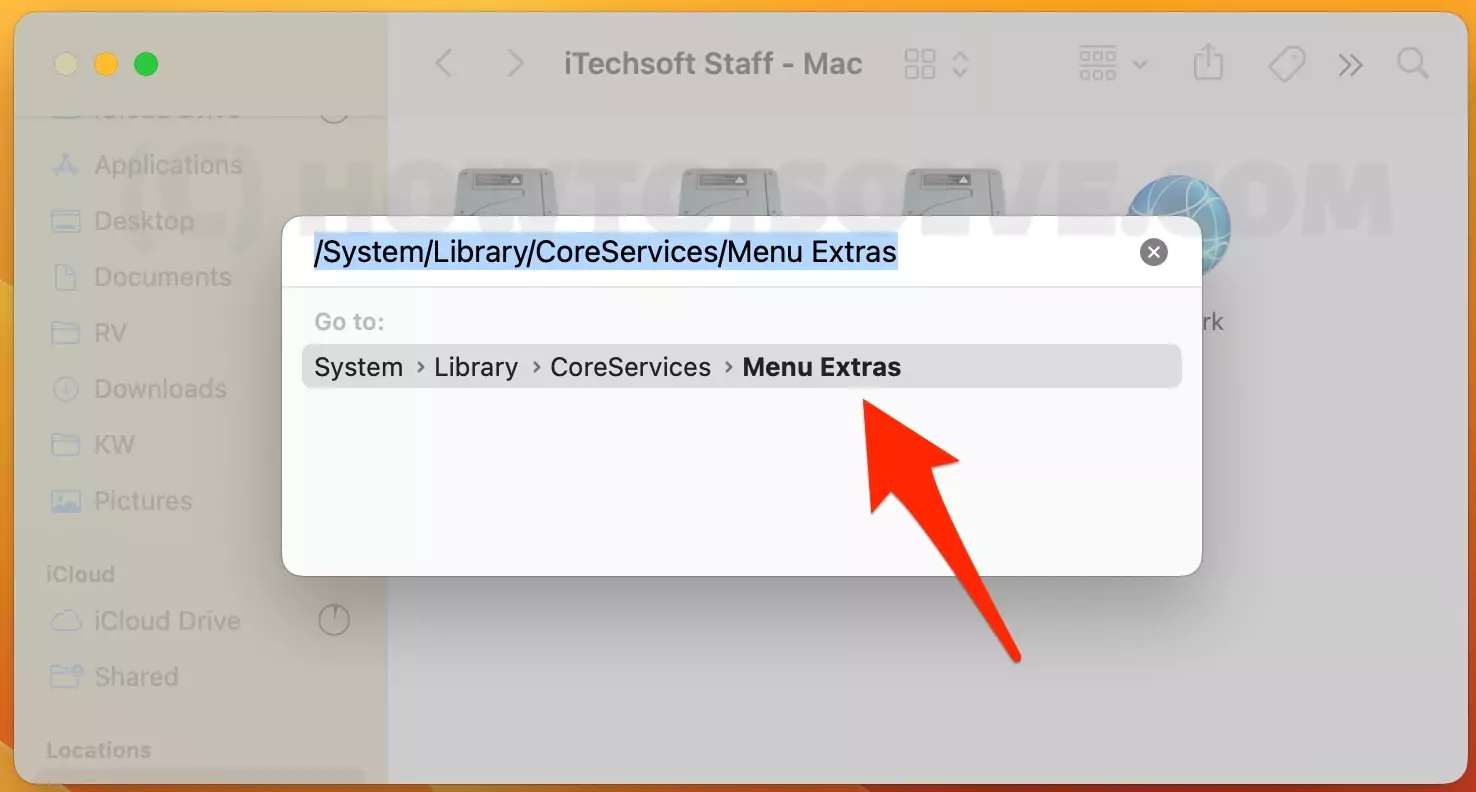 Here in this folder, there are multiple menulet from which some of them are not easily inaccessible and some of them accessible such as Eject.menu If You Use Optical Drive (Like, Apple Superdrive Alternatives), Or Ink.menu If You Connect A Graphic Tablet To Your Mac or else VPN.menu. To add them to Menu Bar, simply double-click on any of the options that look useful to you.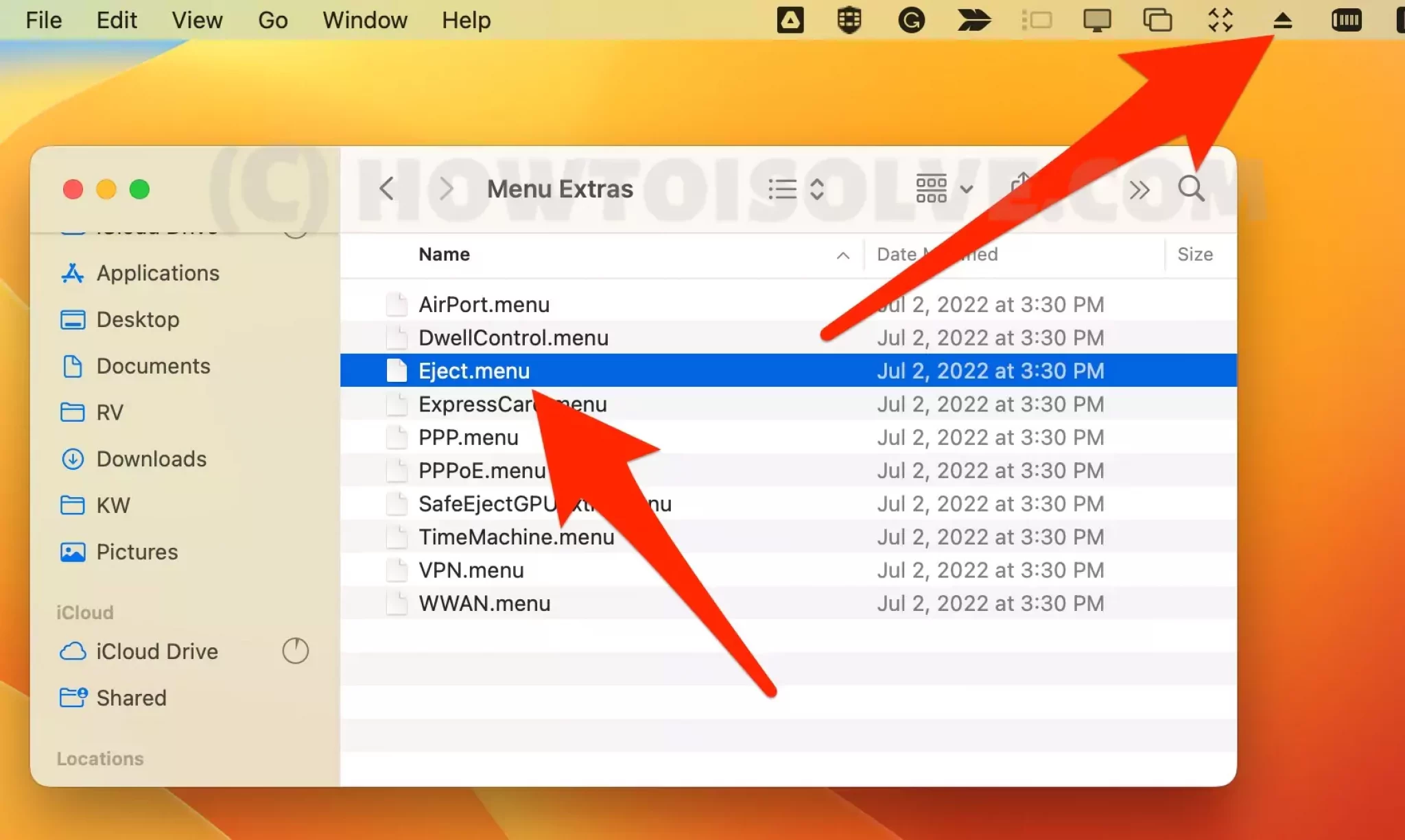 But, How to Remove unwanted icons from the menu bar forcefully,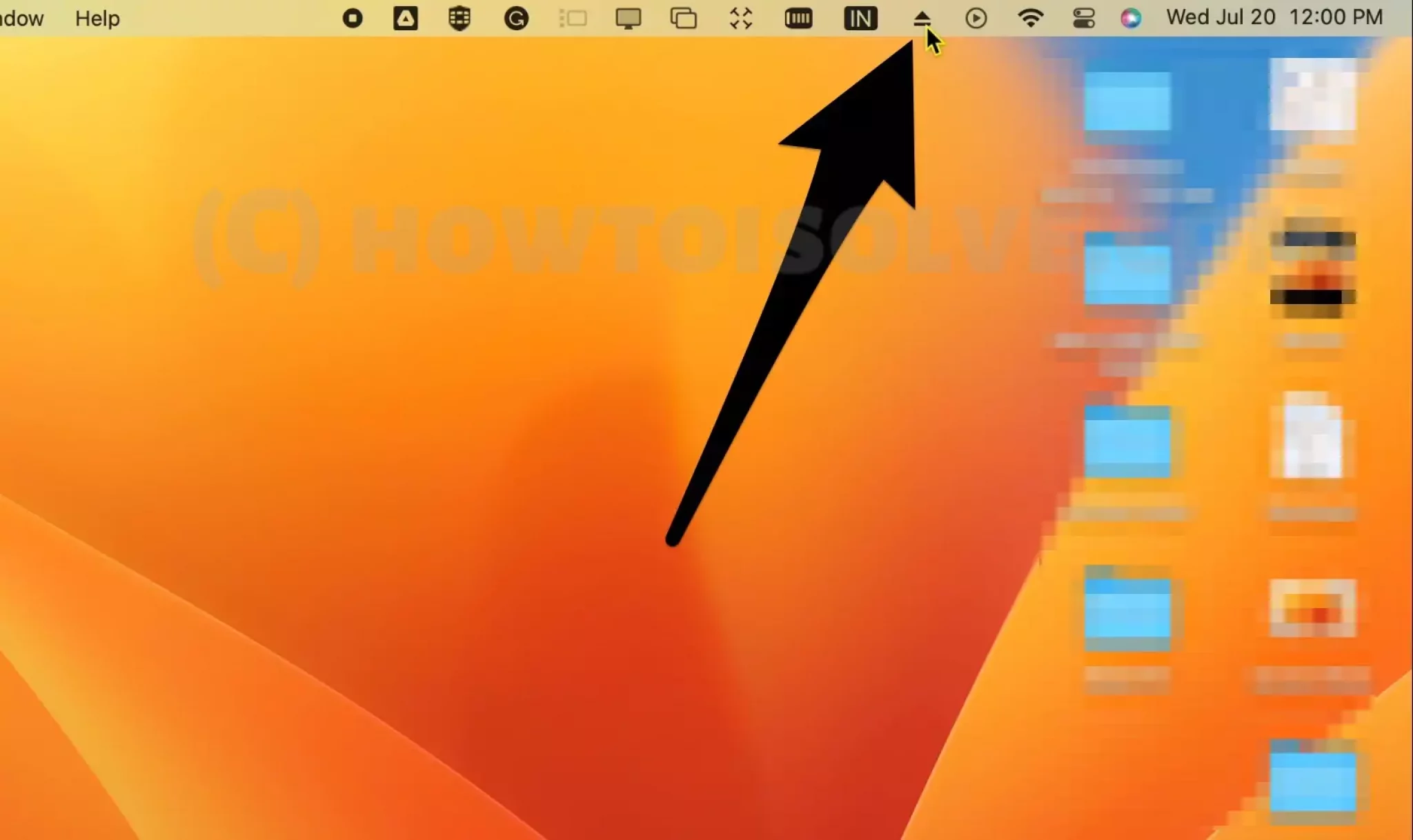 And if you are willing to let out those Menu Extras, simply use the Command (⌘) + Click on the icon that want to remove and drag it down in the desktop window until appearing "X" mark.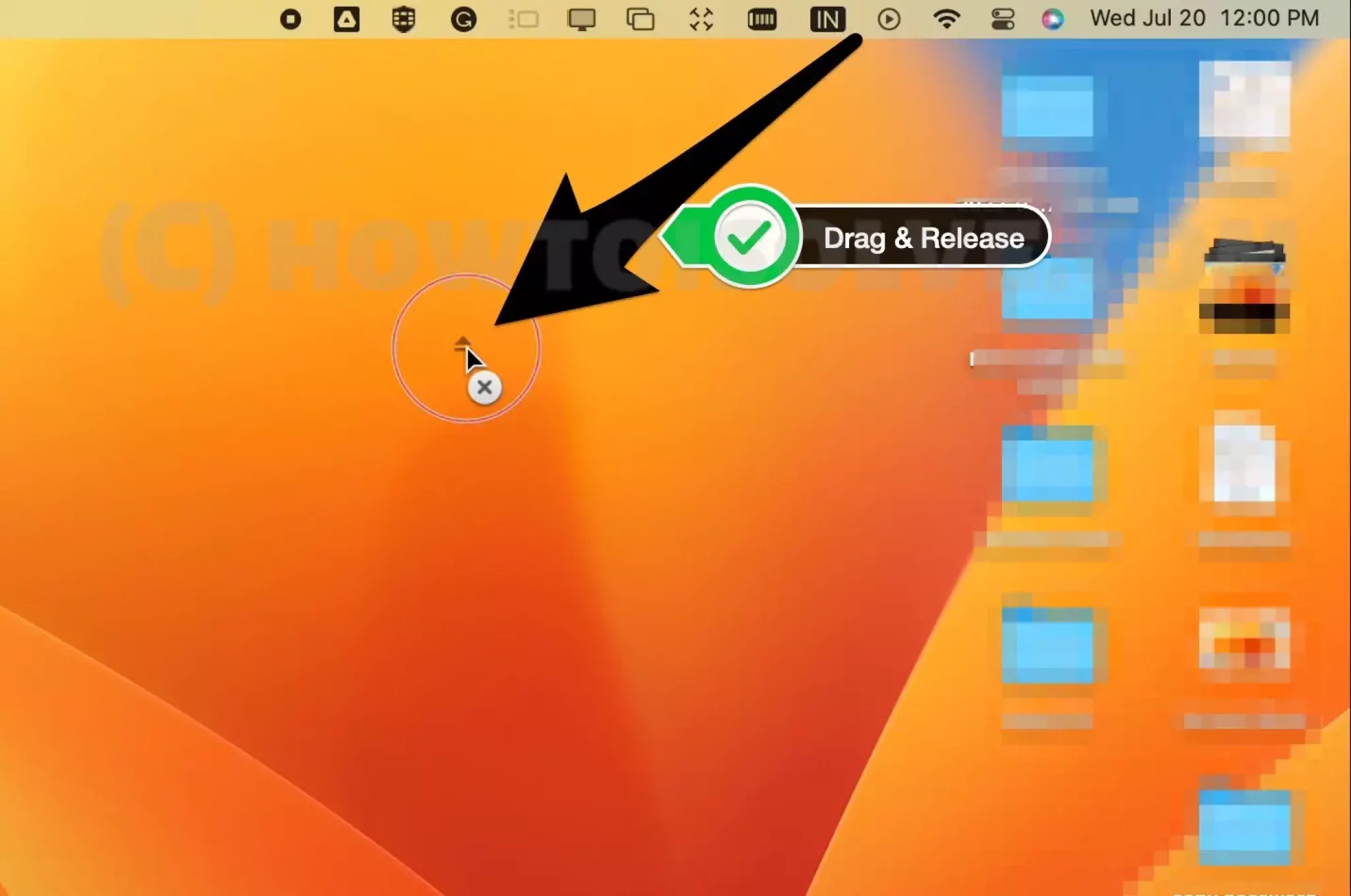 if you are not unable to remove any menu bar icons on your MacBook Pro, it happens because of sometimes due to bugs the icon just goes back to the menu bar where it was located. As I have mentioned above, not all menu bar apps icons can be removed. Only some apps support that.
Alternatively, you should try these third-party menu bar apps on macOS App Store called "Bartender", "Vanilla", "Dozer", and "Hidden Bar". Some apps are free to use and some of them you will have to purchase. here's the All about Bartender menu bar app on your Mac.
Note: Some Apps icon don't move with the trick of 'cmd' and dragging, For example, Scrambler, Google Music Manager, and Google Drive. Seems it happens to every other non-Apple software icon. Please use the third-Party apps that are mentioned above to manage the macOS Menu bar.
PERSONALISED YOUR MAC MENU BAR!
As we have mentioned, the steps to make the Mac Menu Bar personalized on your own ways to work efficiently and effectively. The bad news is that you cannot customize the Date & Time and Control Center icon. 
FAQs
1. How To Add The Icons Of Feature In The Menu Bar When In Used On macOS 13 Ventura?
For more convenience and comfort you add the Icons of various features like Focus, Screen Mirroring, Display, Sound, and Now Playing in the Menu Bar only when used. To do so, set the option to Show When Active present next to them.
2. My Mac Menu Bar is Not Responding, What To Do?
It's the most common problem faced by many Mac users, fortunately, you can fix the problem by simply restarting the device, booting up the device to Safe Mode, clearing out Menu bar extras, and many other troubleshooting steps.
3. How To Restart Menu Bar On Mac?
First off all navigate to the Launch Pad > Other Folder > Activity Monitor > Under the Memory Tab, search for "SystemUIServer" > Select the Cancel (X) Option present on the left side of the screen > Force Quit.

4. Unable To Hide, Show or Rearrange Control Center On Mac Menu Bar?
As we all know the Control Center on the Mac offers handy access to a variety of features like Display Brightness, Wi-Fi, Bluetooth, and many more things. That's the reason Apple doesn't allow Hide, Show & Rearrange the Control Center from the Menu Bar.
5. Unable to Hide, Show, & Rearrange Date & Time On Mac Menu Bar?
Date & Time on the Mac Menu Bar receive real-time notifications and also contains a variety of Widgets. Due to that reason, Apple doesn't allow Hide, Show & Rearrange Data & Time from the Menu Bar.
6. How to Remove the Google Drive Menu bar on Mac?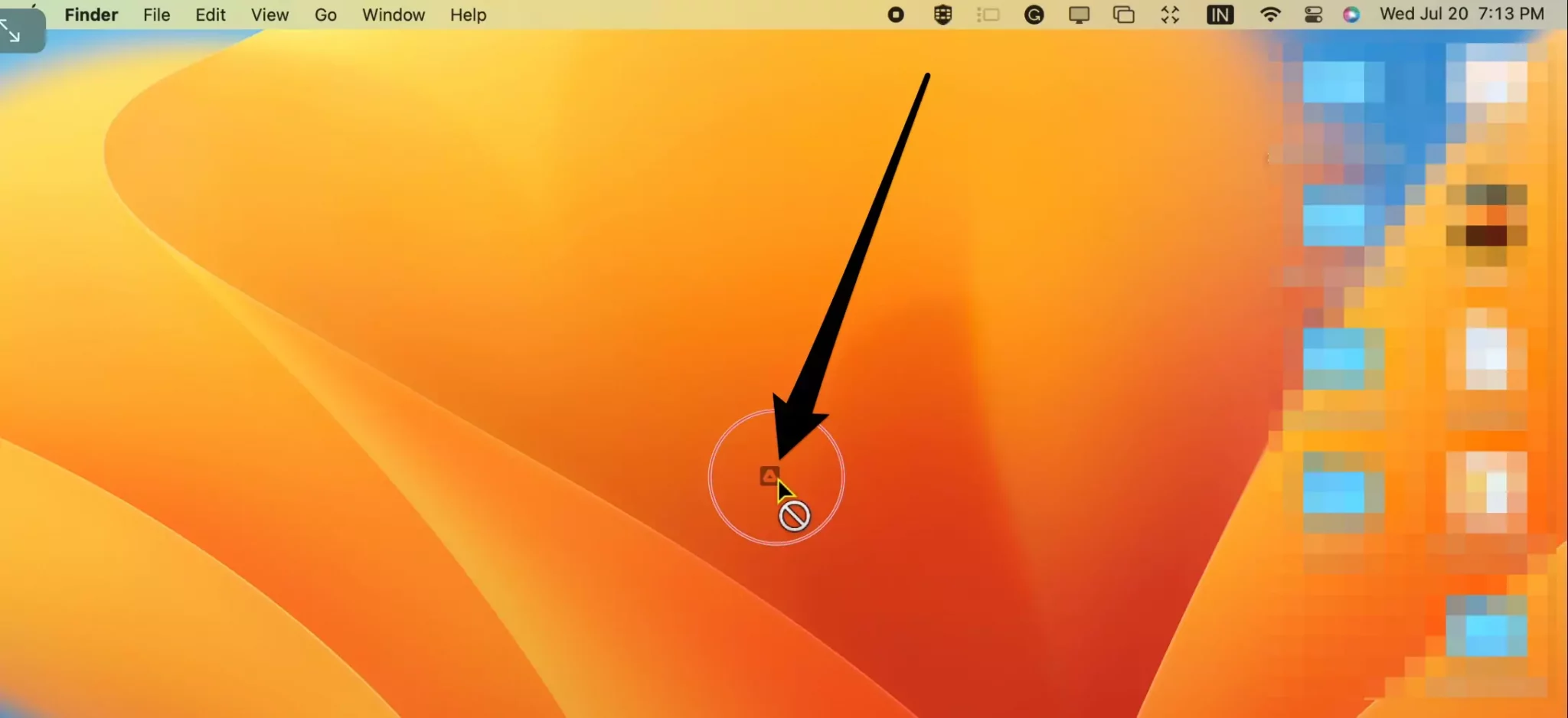 Let's Hold the command key and drag the Google Drive icon to the desktop screen from the menu bar using a mouse or trackpad. in the end, release the mouse click to remove the GD icon.
If the above steps won't work to remove the google drive icon on your Mac computer, then alternatively you can go with the given below steps;
Step #1. Head to the Google Drive icon on top Mac menu bar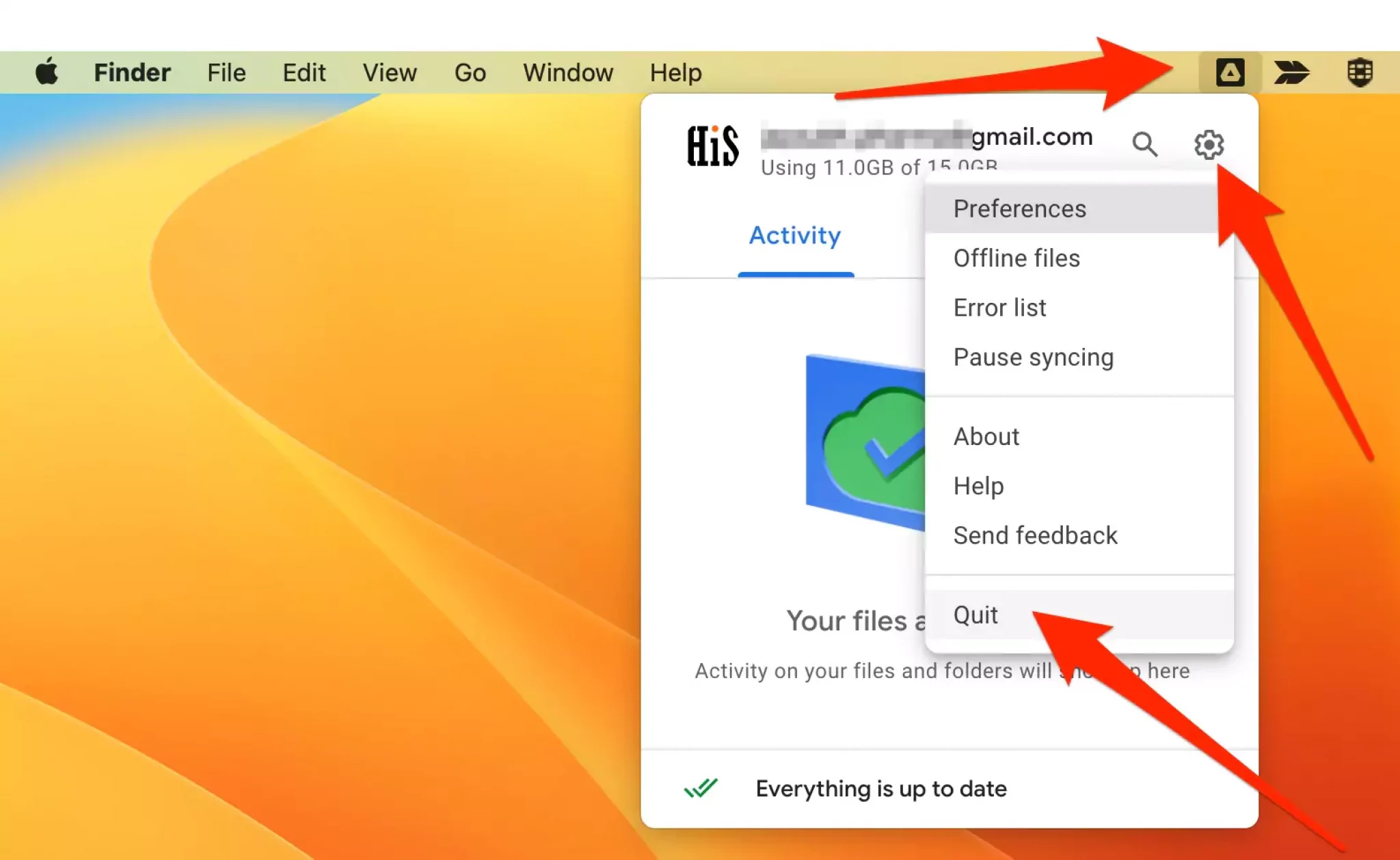 Step #2. Click on the Setting gear icon
Step #3. A Pop-up will appear, choose Quit
Now, wait for a while. No more Google drive icon showing on the mac menu bar.
That's it!
Now what to do to find Google Drive?
Just Open Google drive Using Spotlight Search > to do so.
Open Spotlight search using Command + Space bar > Type Google Drive into the Search bar and click on it! Wait for a few seconds.
Voila! I Hope this found so useful.
7. How to Remove Shortcuts App menu bar icon on Mac
Hold the command key on the keyboard and then drag the shortcuts App icon off the menu bar using your Apple magic mouse or trackpad.
8. Is there any way of hiding the menu bar entirely?
No, there aren't any standard or indirect ways to disable the Apple macOS menu bar entirely. There are few paid apps on the macOS app store for the menu bar, but still not any app exists to hide the Mac menu bar permanently base. In short, No menu bar on Mac, No meaning to use macOS, this type of user should buy either a Microsoft Windows machine or go with ChromeOS on Google Chromebook.