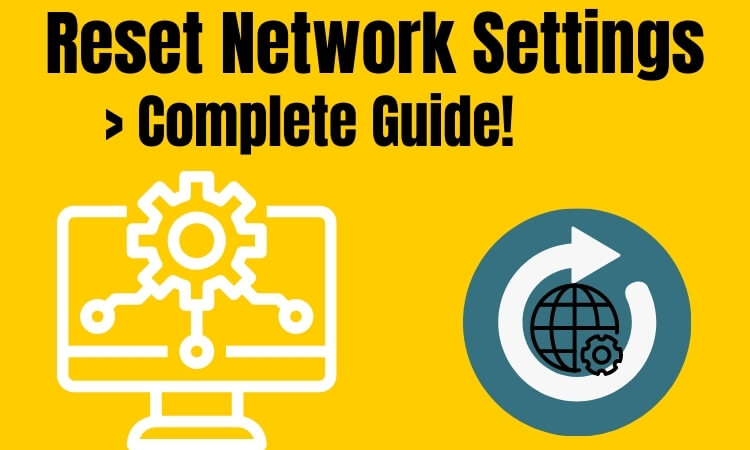 Last Updated on Feb 18, 2021
Wi-Fi and network-related problems usually create trouble for Mac users, and there are very few workarounds that could easily fix these types of problems. One of the best solutions is resetting network settings on Mac, this will definitely help you troubleshoot the network connectivity issues. Often Mac keeps disconnecting from Wi-Fi, Safari won't load websites, FaceTime doesn't connect, and many more things could appear while using the Mac, and the only worked trick is to reset network settings on MacBook, Mac, and other macOS devices.
we are happy to help you, submit this Form, if your solution is not covered in this article.
However, resetting network settings on macOS is quite different than the iOS, and bit tedious process, while iOS and iPadOS have separate options to one-click reset network settings. So follow the below two methods to reset network settings on Mac, MacBook.
How to Reset Network Settings on Mac, MacBook Pro, MacBook Air
Method 1: Wipe Wi-Fi Settings
Deleting the Wi-Fi settings from Mac is equivalent to the resetting network settings. Doing this will refresh the Wi-Fi settings, and most importantly all the supportive files that might be corrupted and causing this issue will be removed. After restarting the Mac, the same files will automatically generate.
Turn Off Wi-Fi on the Mac.
Open Finder and click on Go > Go To Folder… from the top Mac menu.
Type the following path,

/Library/Preferences/SystemConfiguration/

Click Go.
Select the following files,

com.apple.airport.preferences.plist
com.apple.network.identification.plist
com.apple.wifi.message-tracer.plist
NetworkInterfaces.plist
preferences.plist

For a backup, copy all these files on the desktop.
Next, move these files to the Trash from the SystemConfiguration Folder.
Delete all the files from Trash.
Restart the Mac, click on the Apple icon, and select Restart.
Reconnect WiFi from top WiFi Shortcut on Mac menu. Enable the Toggle after click on Wi-Fi icon, Then select WiFi name and Enter password to connect successfully.
Alternatively we can reset the network settings by Removing the WiFi internet and Re-add
Method 2: Remove and Re-Add the Wi-Fi Interface
If the above method doesn't work for you, then delete and add the Wi-Fi interface from the Mac. Here's how to do it. In this process, Your mac will generate a new connection files for WiFi.
We can create more then one WiFi interface with different service name at once and Switch any time.
Click on the Apple icon from the Top Mac Menu. Select System Preferences.
Choose the Network option.
Click on the Wi-Fi on the side panel and then click on (-) minus to delete it.
Lastly, click Apply. again click on the (+) plus button to add the Wi-Fi Interface. In the Interface, option choose Wi-Fi and then select Create.
Next, Delete old WiFi, Select WiFi from the side of the window, and click on the Minus sign to delete it completely.
Connect new WiFi from top WiFi menu or From WiFi settings,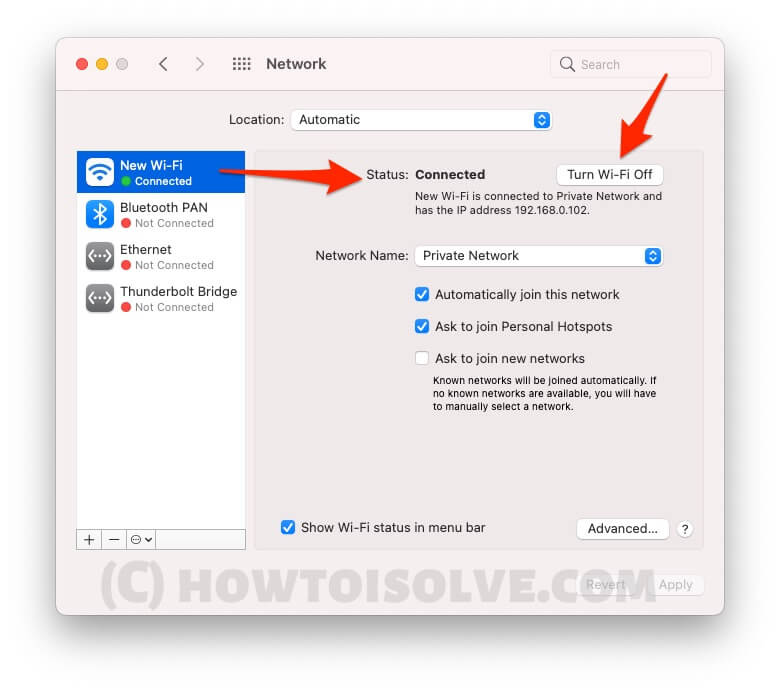 If all the above method doesn't work then try to connect WiFi from another User login. We can create multiple Administrator accounts and user account to test WiFi connection. Follow the below steps to create a new account.
Method 3: Try on Another Administrator Account
A new Administrator account will create a new File system and Delete the old Administrator account, For that we need to create another account for you with password protection. I assume that you are in an admin account, So, you can create another admin on the same mac. Follow the below steps to create another one.
Click on the Apple Logo from the Top Mac menu > Click on the System Preferences option.
Next, click on Users & Groups > Unlock the lock by clicking on it.
Click on the Plus sign and Select Account Type "Administrator".
Fill up all the details and click on Create User.
That's it.
Test your New Administrator account on Mac, Sign out your Mac, and log in again with another account. and set up the network connection.
Later on, you can delete the older administrator account completely to free up space. and Don't forget to take a backup of your Mac. And Get Advantage of Startup Disk Full on Mac.
Select the User from the left side of the window > Click on Minus sign to delete the administrator account.
Above all tricks are useful to Reset network settings on Mac and Fix all the network issues for all time. Write us for more help on comment box.