🗓️
October 12, 2023
By ✍️
Jaysukh patel
Apple fundamentally has revamped the Mac's Desktop screen through widgets in macOS Sonoma, unlike the iPhone Widgets. And now, many, including myself, were in search of the best desktop widgets for Mac. Considering this, I have created a list of the best Mac widgets that are must-haves for your device.
So whether you want to turn your Mac's Desktop into an information hub or get essential updates right on your desktop, the list below will help you. Let's get started!
Widgets That You Must Put on Your Desktop
Rather than using the various apps that we often use, download and install these widget apps to liven up your Mac Desktop and get the information at a glance.
Don't miss out, How to add Desktop Widgets to Mac. Put all of the below widgets on your Mac desktop Screen.
#1. Spotify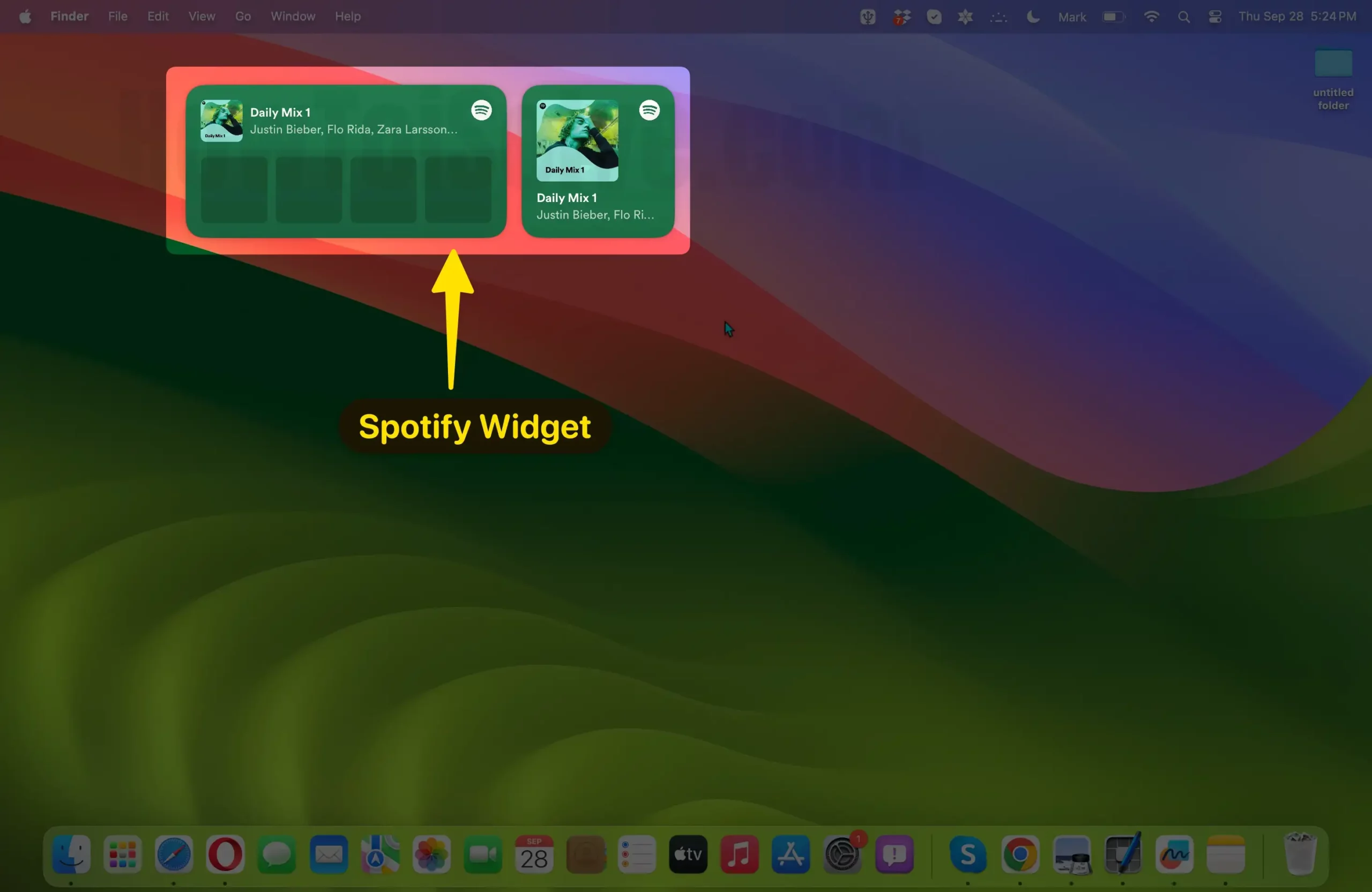 If you always like to enjoy the beats, you can add the Spotify Widget to your Mac's Desktop for quick access to your Spotify Playlist. Presently, there are two widget styles. You see at a glance whatever you have recently played and your liked music. Adding a Spotify Widget makes it a breeze to return to your favorites with just a single click. In addition, Spotify is one of the most popular music streaming services, crowded with vivid songs and podcasts worldwide.
To use this widget on Mac, Keep Open Spotify app on your iPhone.
Price:- (free & in-app purchase starts from $12.99)
#2. Apple Weather Widget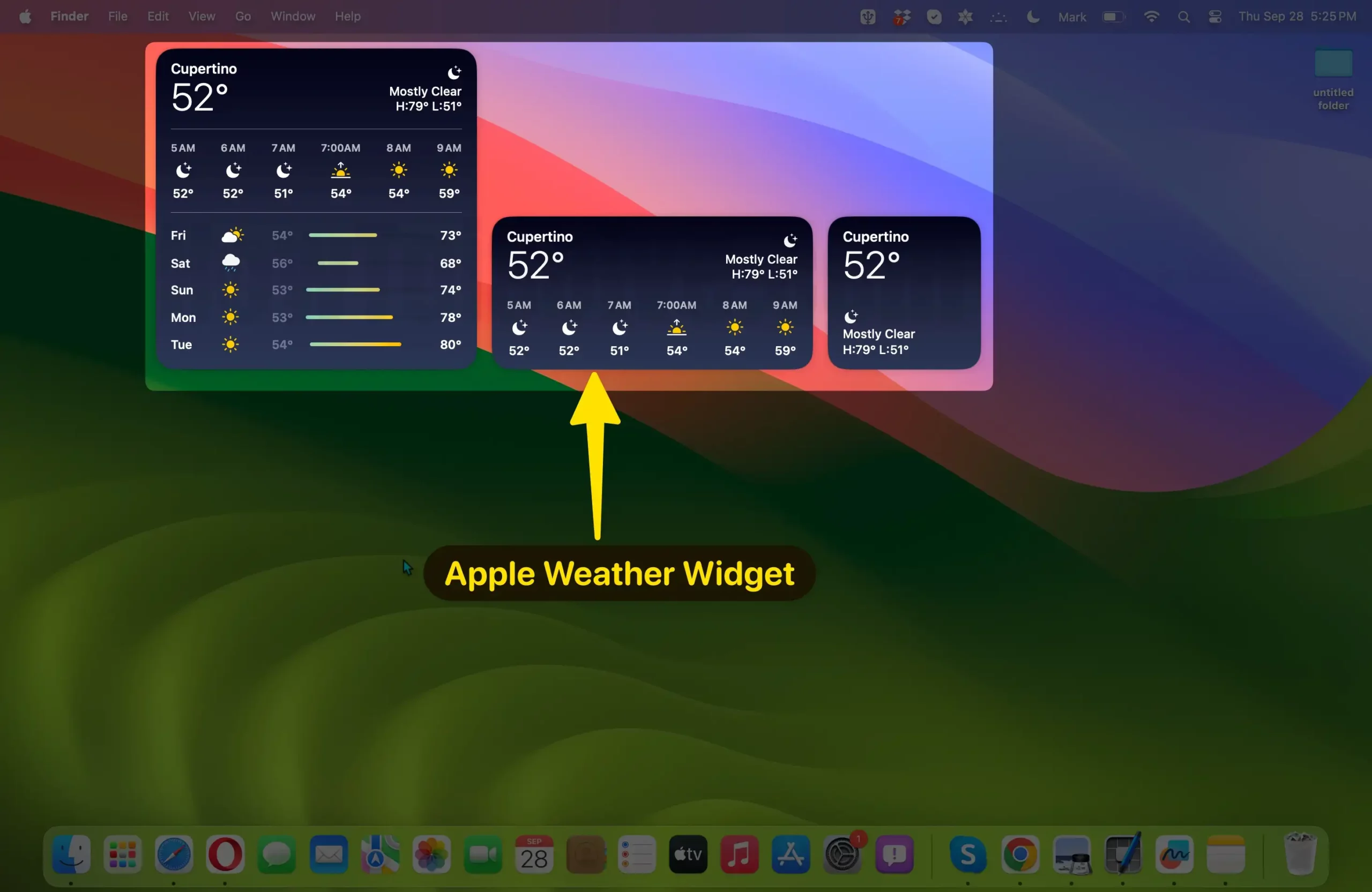 If you are searching for a reliable weather widget for your Mac that shows an accurate weather report, you should look at none other than Apple Weather Widget. It is available in three styles, small, medium, and large. You can select the Large one to monitor the weather of the upcoming ten days along with current weather conditions and forecasts. However, if you use multiple widgets on your Desktop, you can use a tiny widget size.
Comes Pre-installed
#3. Desktop Clock Live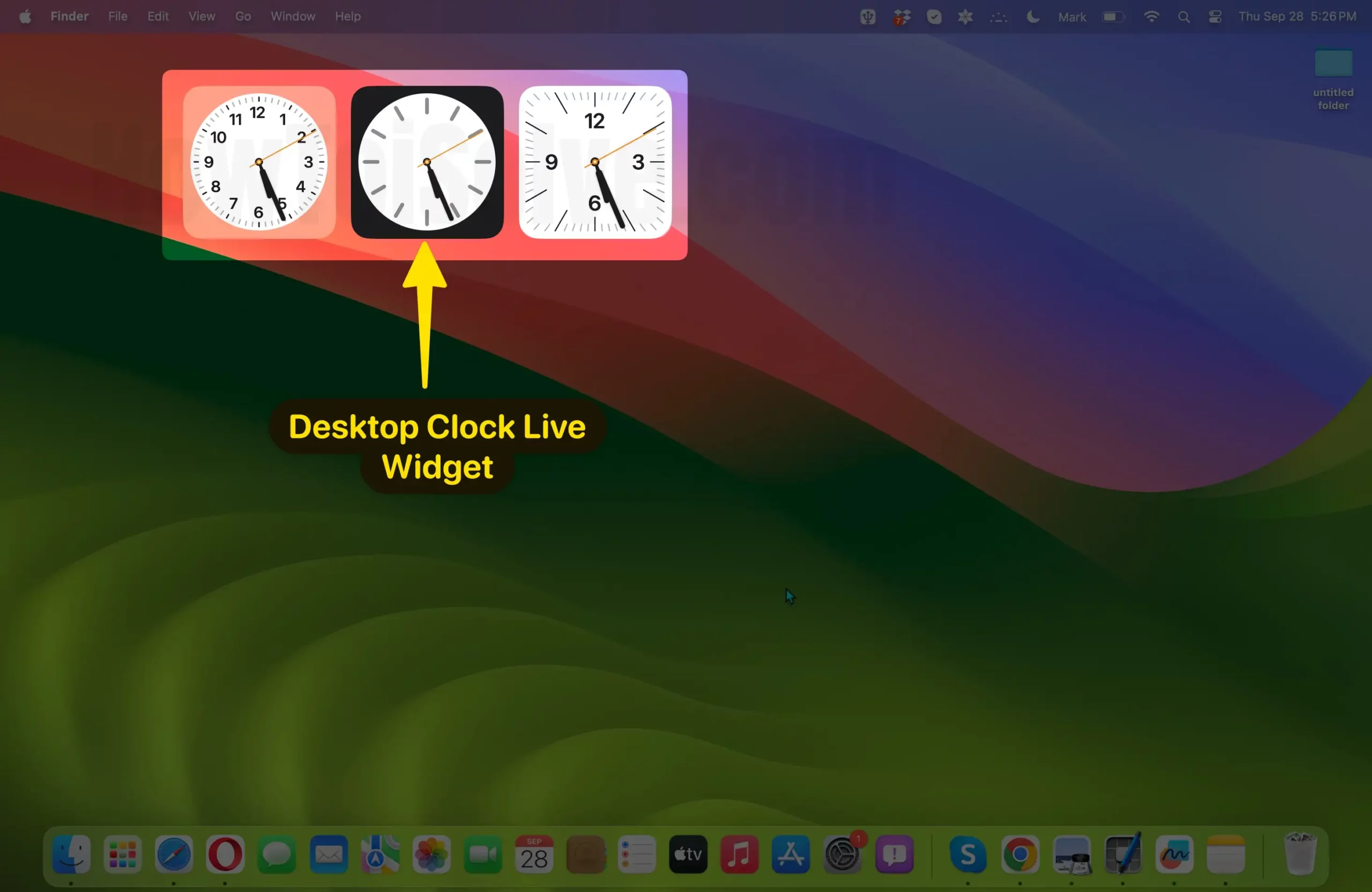 Are you a fan of Analog Clock? If yes, Desktop Clock Live is the one you should check out. The app includes several professionally designed themes to let you choose any one theme as per your desire. Moreover, it also comes with plenty of digital themes. And for convenience, you can also change its Position, Opacity, and Size from the app settings. In advance, you can use a large clock on the Mac lock screen.
Price:- (free & in-app purchase)
#4. Bears Countdown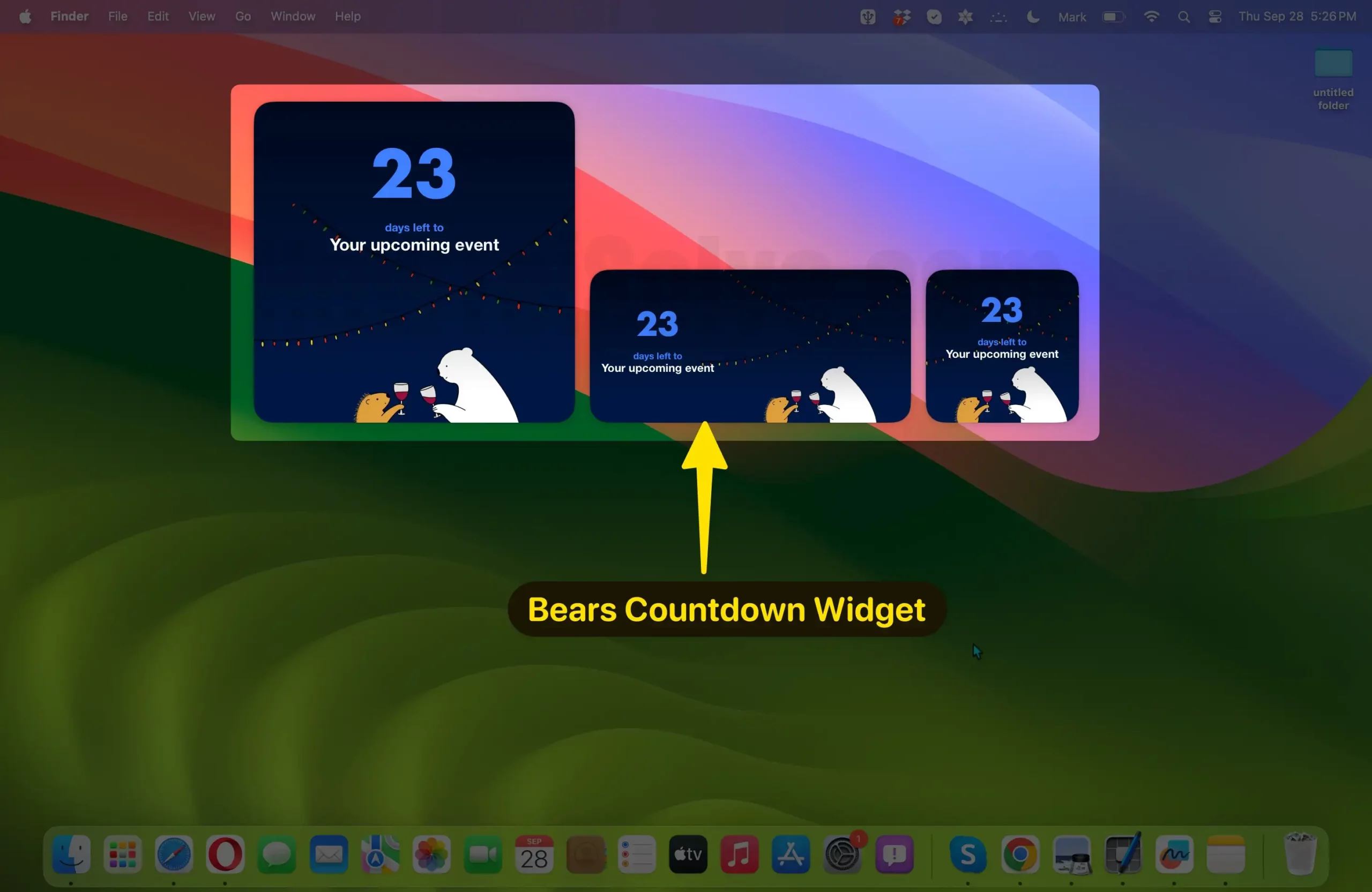 Calling distant family members and friends on their special occasions, like birthdays, anniversaries, etc., is fast becoming an obsolete tradition. But the trouble is that it is difficult to remember all these dates. And that's why you need to install Bear Countdown. This Widget displays the countdown pop-up, and you can customize it to your favorite color and bear image. Moreover, you can adjust the Widget and countdown pop-up size to your liking.
Price:- (free & in-app purchase)
#5. Apple Reminder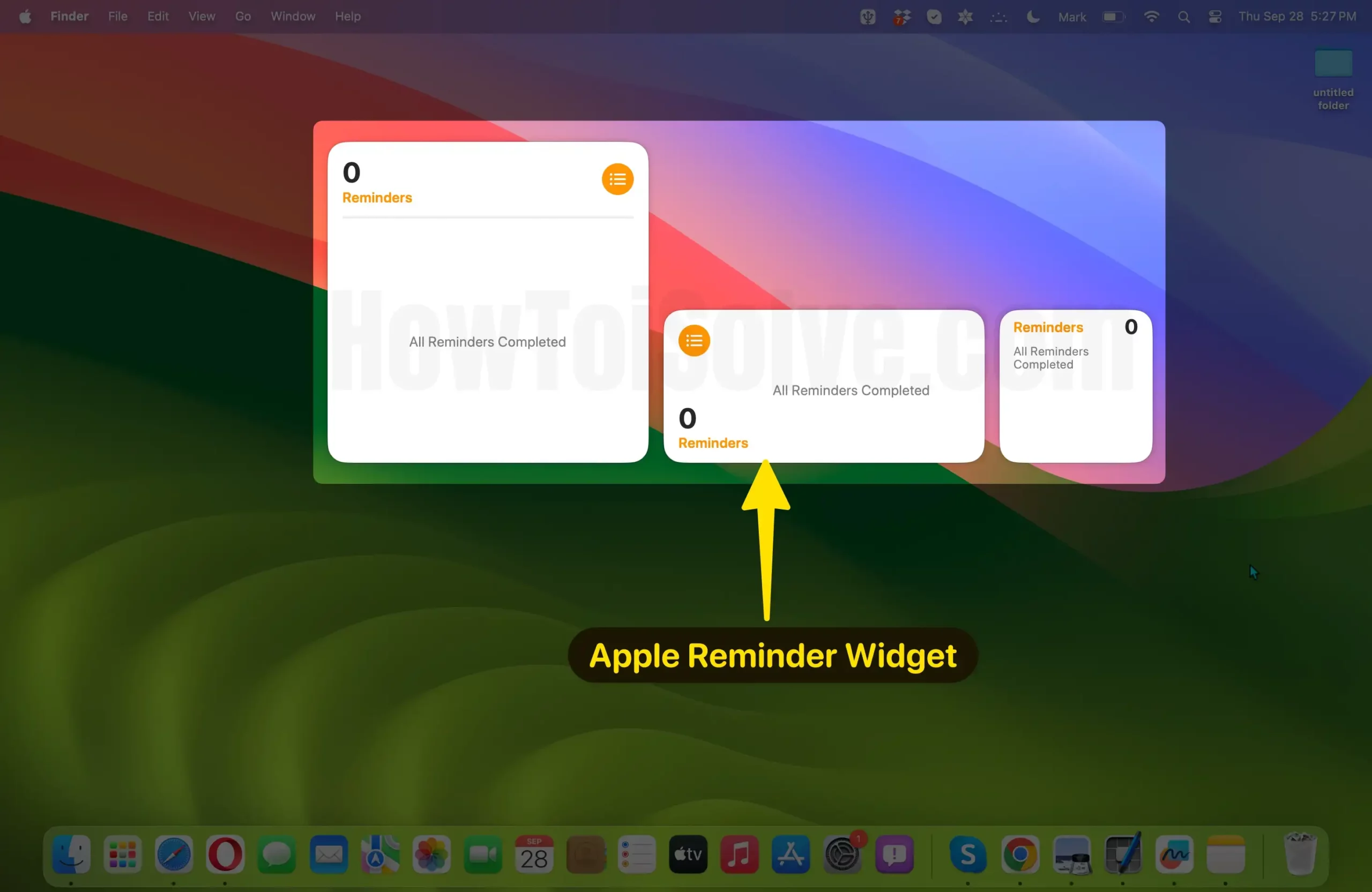 If you want an alternative option to Bears Countdown, you can consider Apple Reminder. You can add an Apple Reminder widget on your desktop, which offers a handy way to keep track of upcoming events like birthdays, anniversaries, and other time-sensitive tasks. Due to this, it is one of the must-have macOS Widget. It offers information to your regular bits and pieces right on your desktop.
Comes Pre-installed.
#6. Screen Time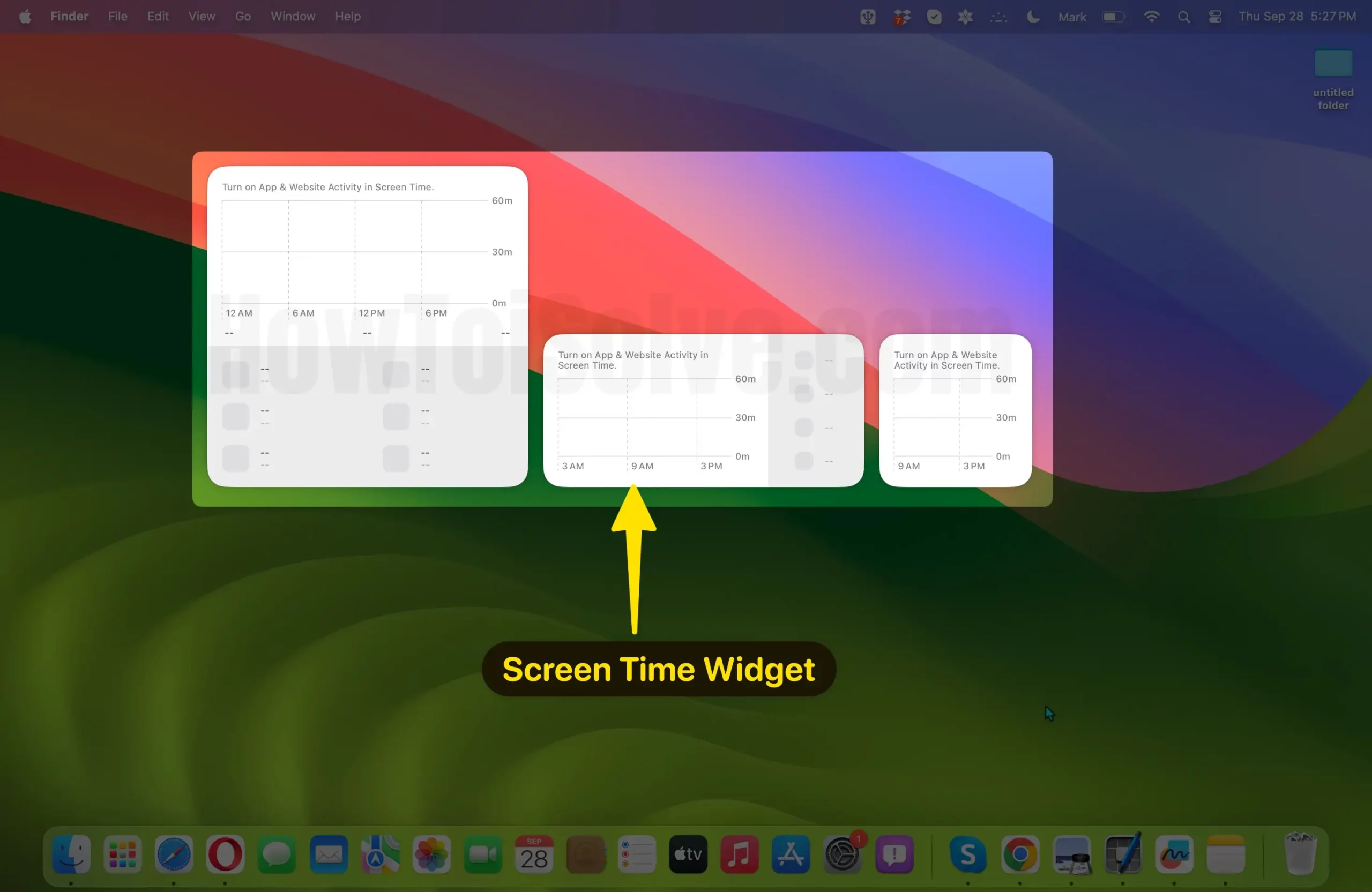 Screen Time is another must-have widget for everyone, as it lets you monitor your screen time on individual apps and total screen time. The user interface is clean and easy to understand. There are three different widget sizes. For instance, the small one shows a line graph of total hours spent, the medium one shows the line graph of hours, and the large one is categorized in two sizes. With no doubt in mind, screen time is one of the best ways to monitor your screen time activity at a glance.
Comes Pre-installed
#7. WaterMinder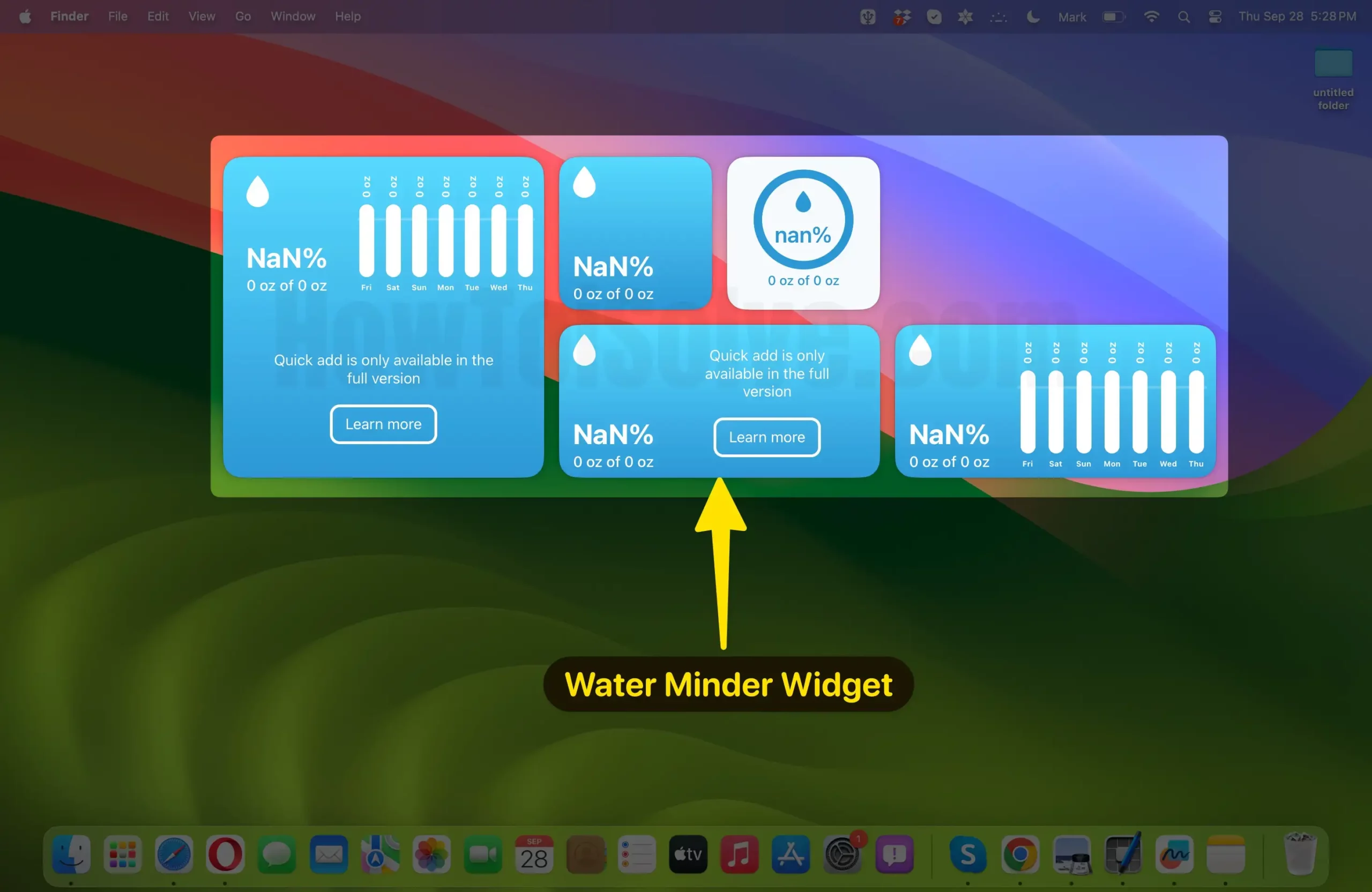 WaterMinder is one of the best Water reminder apps and deservedly takes a spot in this line-up. Using this Widget, you can easily track your daily water intake and receive timely reminders about drinking water based on your body weight. Besides ready-made cups for tracking, it also lets us create customized cups for personalizing tracking. The best part is the User interface is visually appealing; and includes a detailed graph to monitor your progress.
Price:- (Paid)
#8. Apple Note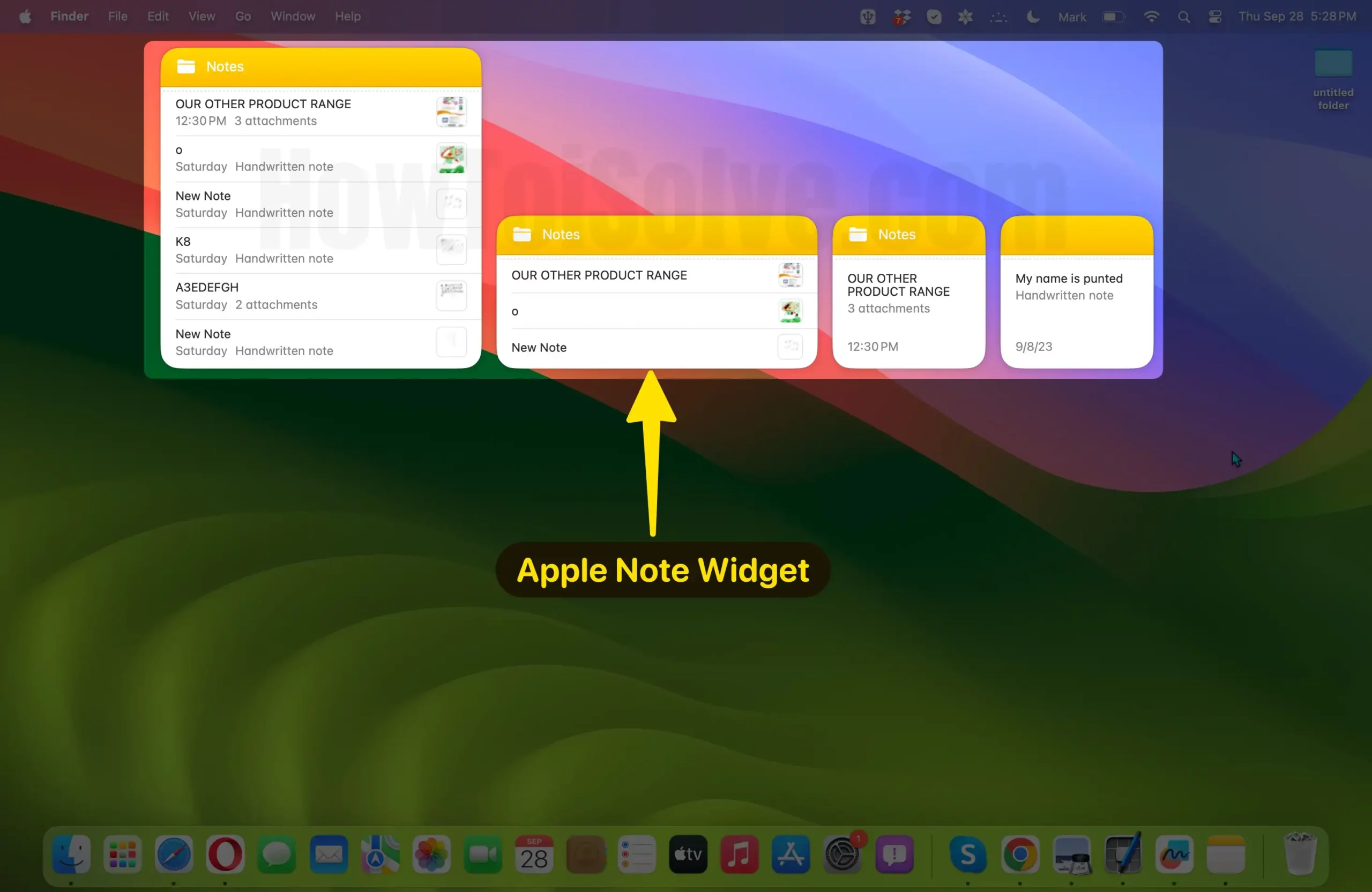 While the App Store is jam-packed with lots of not making apps for Mac, the Apple Note widget remains at the top for multiple reasons. The first and foremost reason is the Note syncs across all Apple Devices and comes with an intuitive user interface that makes it easy to get inside notes and folders right from the desktop. It comes in three widget sizes, small, medium, and large. You will really find it useful.
Comes Pre-installed
#9. Parcel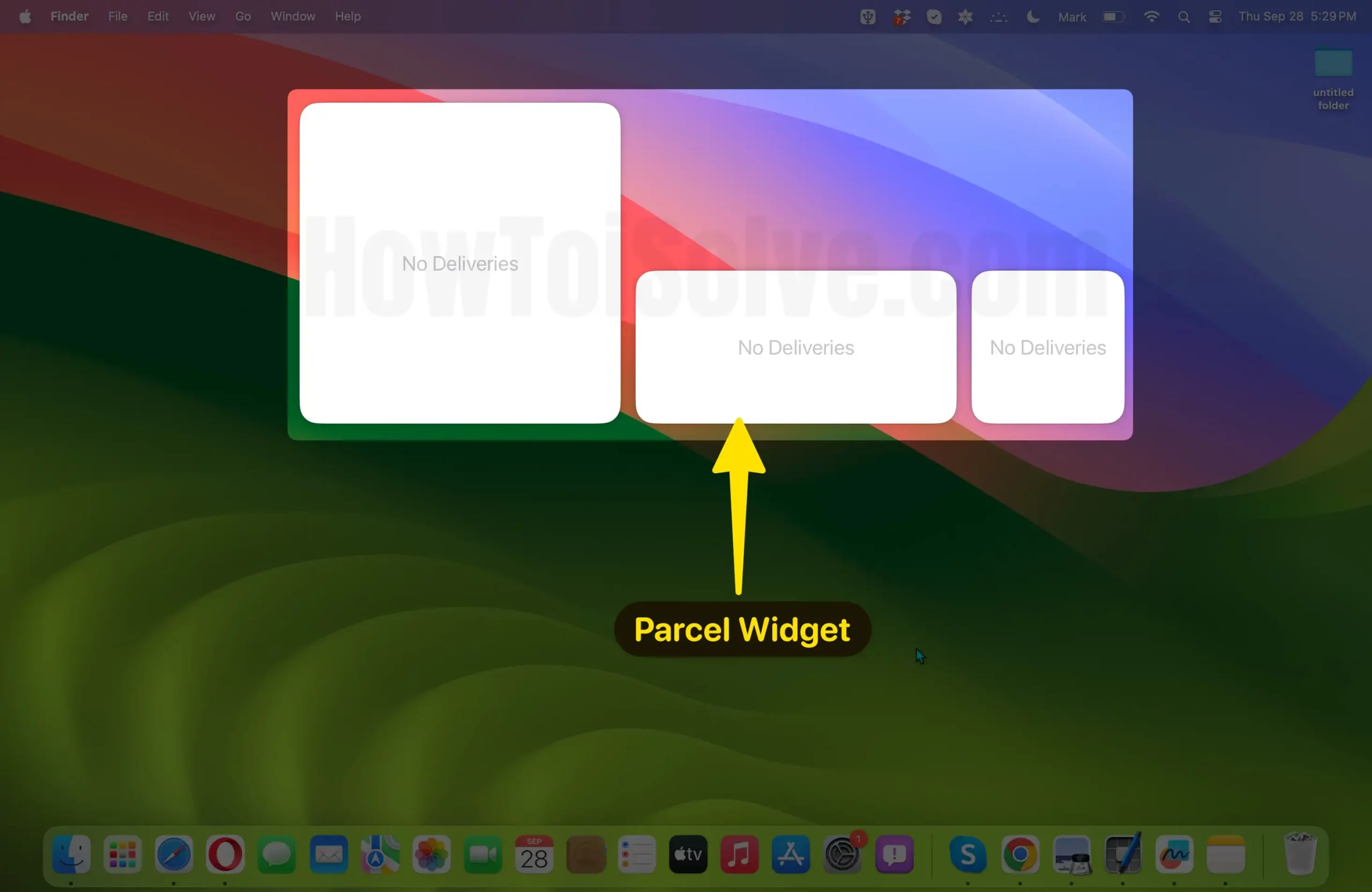 The Mac widget allows you to access the package tracking details of over 300 delivery services, including some of the famous ones like Royal Mail, DPD, Parcelforce, Hermes, TNT, FedEx, etc. You can track 3 parcels simultaneously right from your desktop screen. The best part of having a widget is that it has push notifications, enabling you to stop worrying about packages. If you often buy via the internet, this Widget comes in handy.
Price:- (Premium)
#10. Crypto-Portfolio Tracker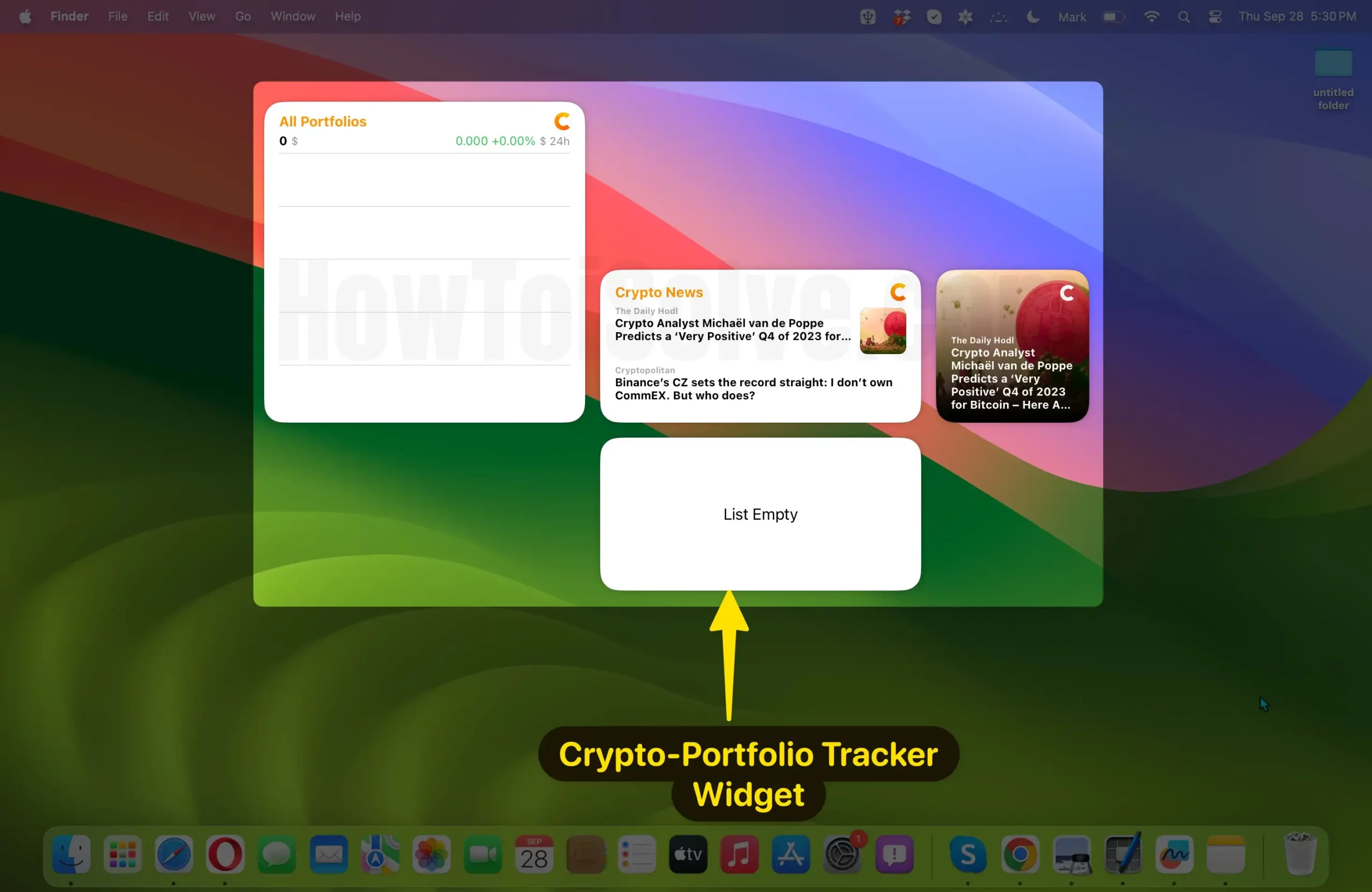 If you are a crypto investor, you should check out Crypto Pro. It lets you smartly manage your portfolio at a glance. It supports all kinds of cryptocurrencies and tokens. And with a handy Desktop Widget, it also lets you on the latest quotes, so never miss out on the opportunity. Like other widgets, the Crypto Pro comes in three sizes: small, medium, and large.
Price:- (Free & Premium Version)
#11. Apple Batteries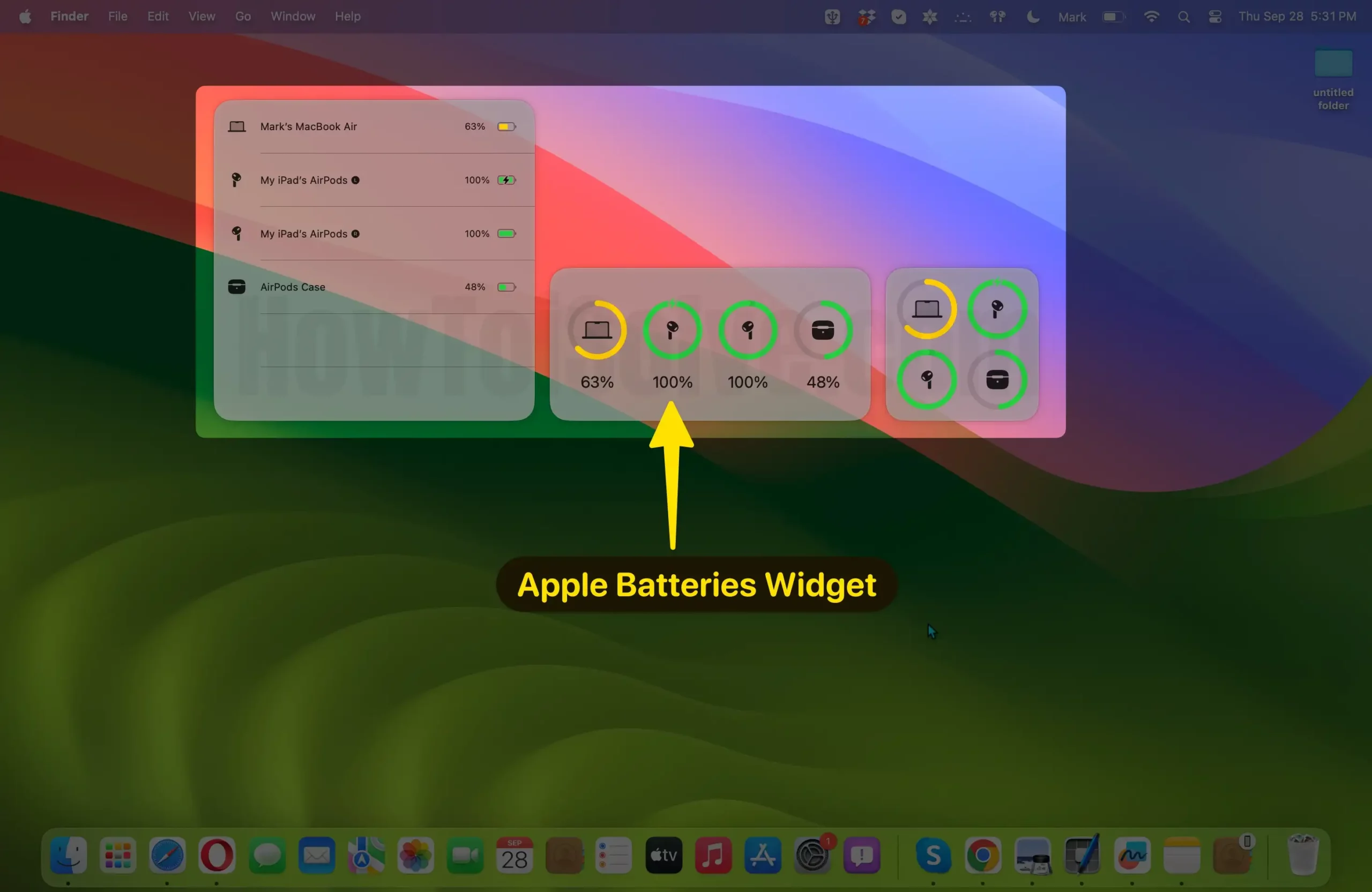 If you are an avid Apple user, you know how tough it is to keep track of the Battery usage of different devices, and this is where Apple Batteries fills the gap. With the latest macOS update, Apple has developed the Batteries Widget to make your Mac iPhonified. The Widgets keep updated with the battery status of AirPods, Apple Watch, AirPods Case, and iPhone.
Comes Pre-installed
#12. Fantastical – Calendar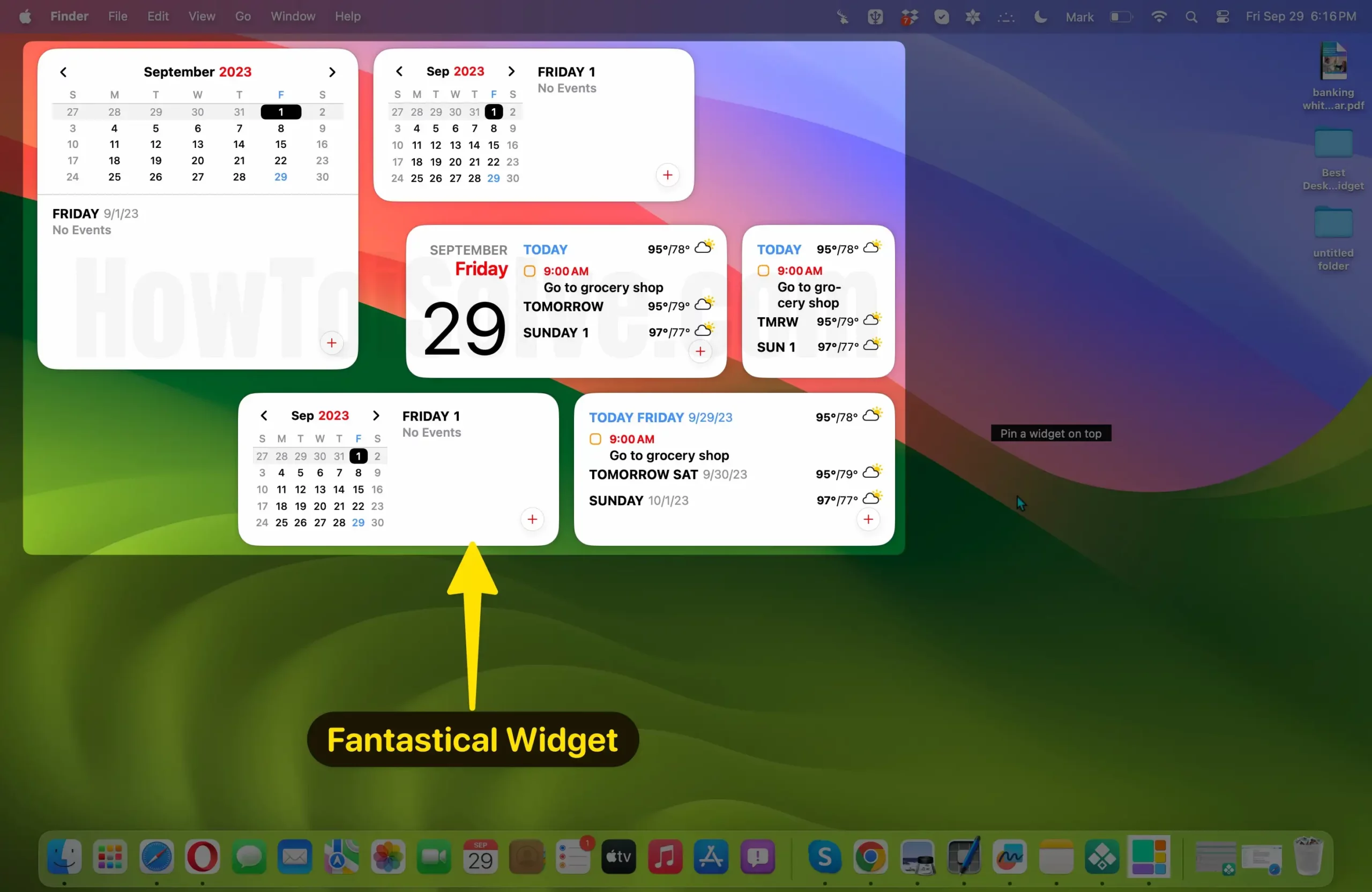 Fantastical is an award-winning calendar app that offers a feature-rich experience for efficient schedule management. It has amazing natural language text parsing, allowing you to input events easily. It has a beautifully clean interface with views of day, week, month, quarter, and year. You can activate ultra-quick access mini window via customizable keyboard shortcuts for a quick check. It includes task management time zone support and also allows to creation of alerts and alarms for crucial events. You can easily connect to popular calendar services like iCloud, Google, Exchange, Office 365, Todoist, and Yahoo. Plus, it offers a 3-day weather forecast powered by AccuWeather. You can try its 14-day free trial of Flexibits Premium for enhanced features.
Price:- (free & in-app purchase starts from $6.99- $89.99)
#13. Widgy Widgets – Create Interactive Widgets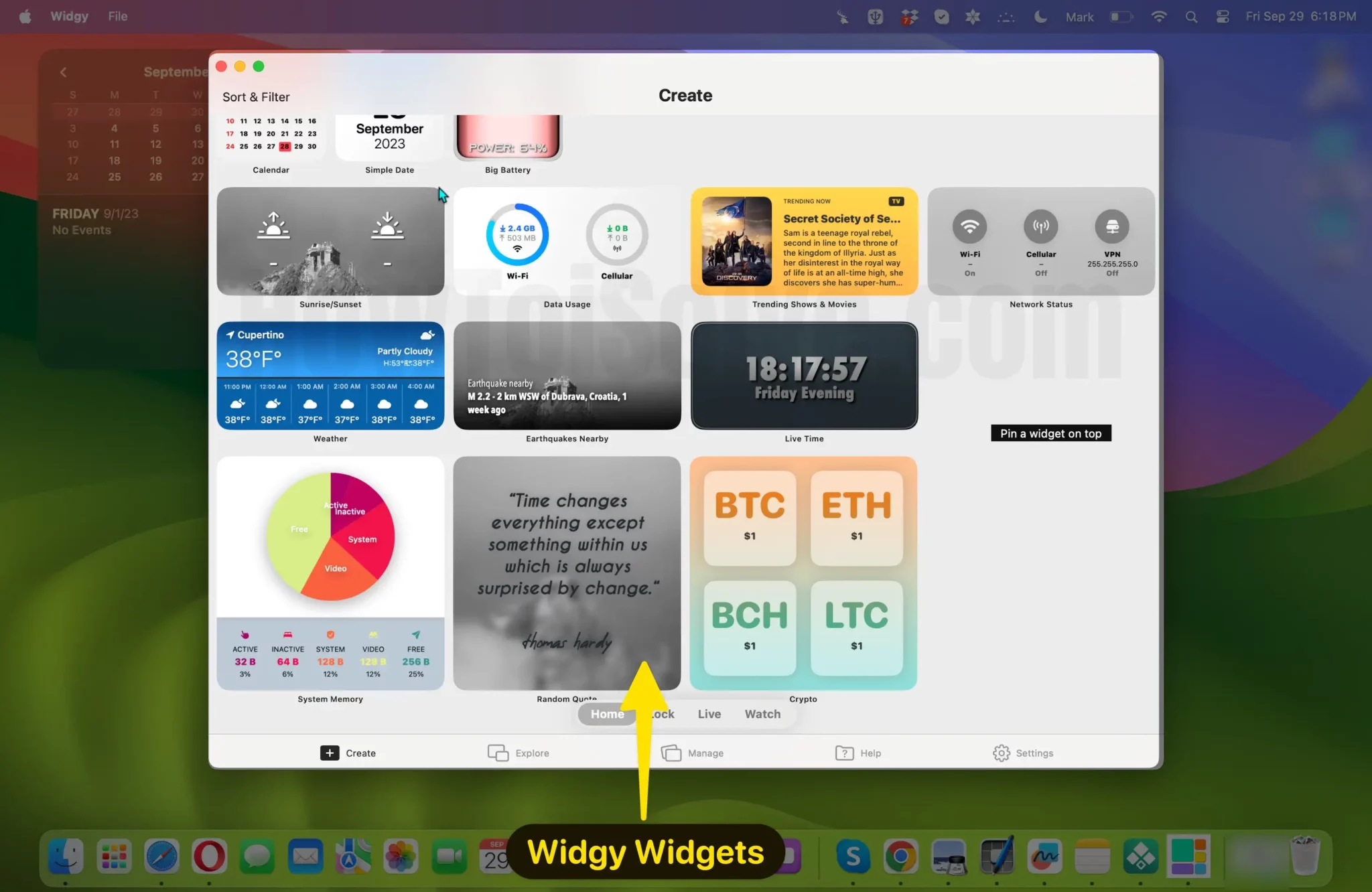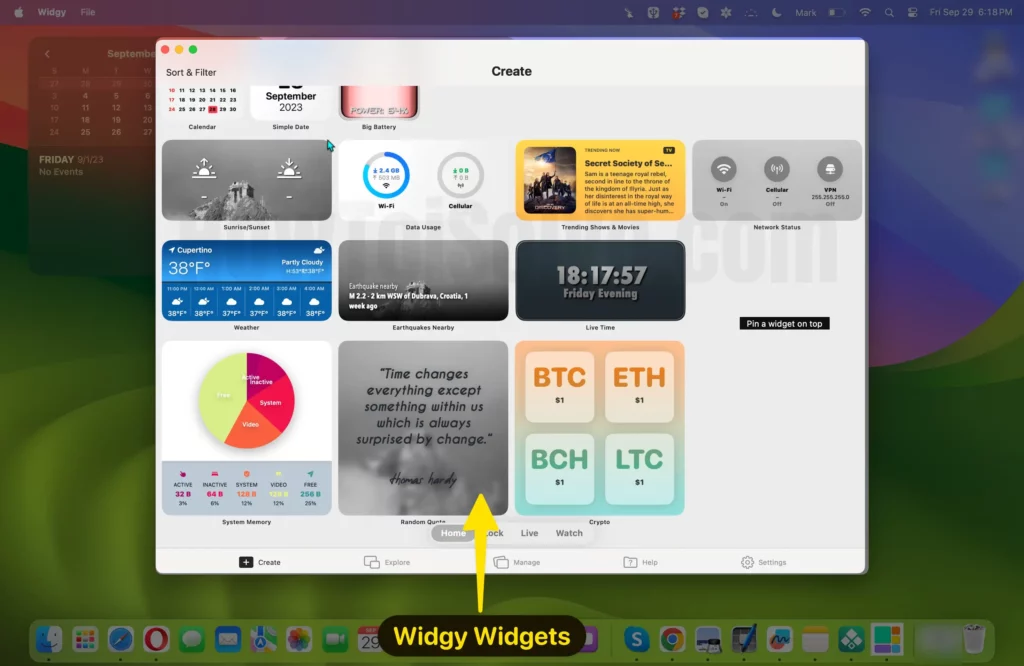 Widgy Widgets revolutionizes your home screen, making it uniquely yours. It offers limitless creative possibilities; you can craft widgets that seamlessly blend with your aesthetics, providing easy access to personalized information. It offers an extensive library of elements to customize your widgets, and it connects to diverse data sources, from system info to weather. It is fully customizable to cater to your exact preferences. You can privately share your creations with friends or make them accessible to all Widgy users through simple taps using URLs, QR codes, JSON data, or files. For health-conscious users, Widgy even integrates with Apple Health, enhancing your widget experience.
Price:- (free & in-app purchase starts from $0.99- $9.99)
#14. Color Widgets – Custom widget creation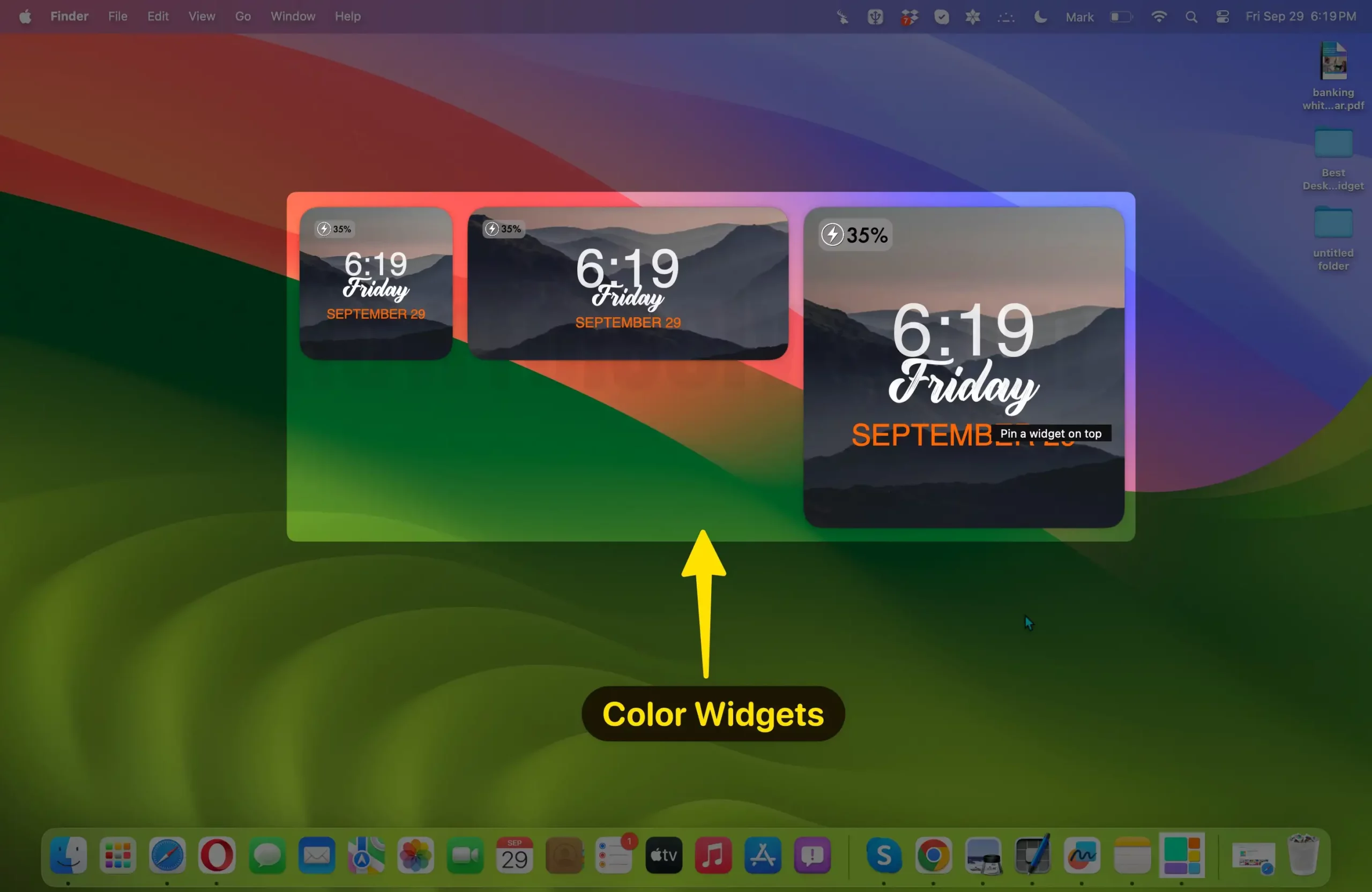 Color Widgets: Custom Widgets give you the ability to customize the Notification Centre on your Mac with a fantastic selection of widgets. You may easily improve your desktop experience with a wide variety of ready-to-use premium widgets. The widget combines simplicity with high degrees of customization, allowing you to create custom widgets for ultimate personalization. You are free to change background colors, add your own photographs or download new ones, change the date and time typefaces, and download new backdrops. Additionally, the flexibility of small, medium, and big widget sizes guarantees that your desktop widgets are precisely customized to your preferences.
Price:- (free & in-app purchase starts from $1.99- $4.99)
#15. Clock mini – World Clock Widget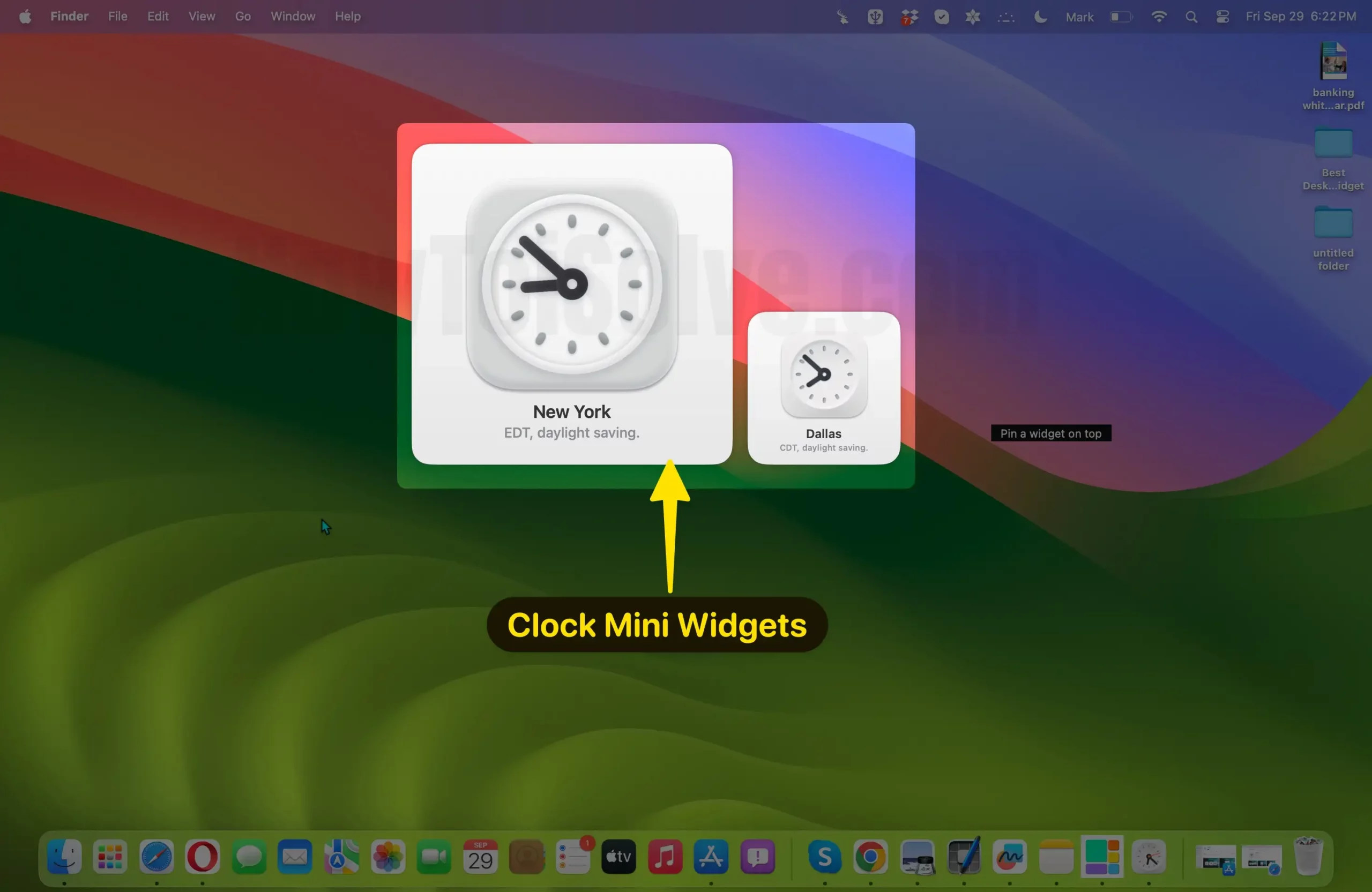 Clock Mini is an elegant live clock app seamlessly integrated into your Mac's dock, offering easy access to essential controls directly from the dock menu. It has 24-hour timer support, allowing you to set timers effortlessly. Customizable alert options are a right-click away, or you can stick to default settings via timer preferences. It also supports different time zones to search and add new cities to your world clock list. With multiple timers, desktop and fullscreen modes, customizable alert sounds, and world clock features, Clock Mini enhances your time management and global connectivity.
Price:- (free & in-app purchase starts from $0.00 – $29.99)
#16. Dash Dot Dash – Sticky Notes & Photo Widget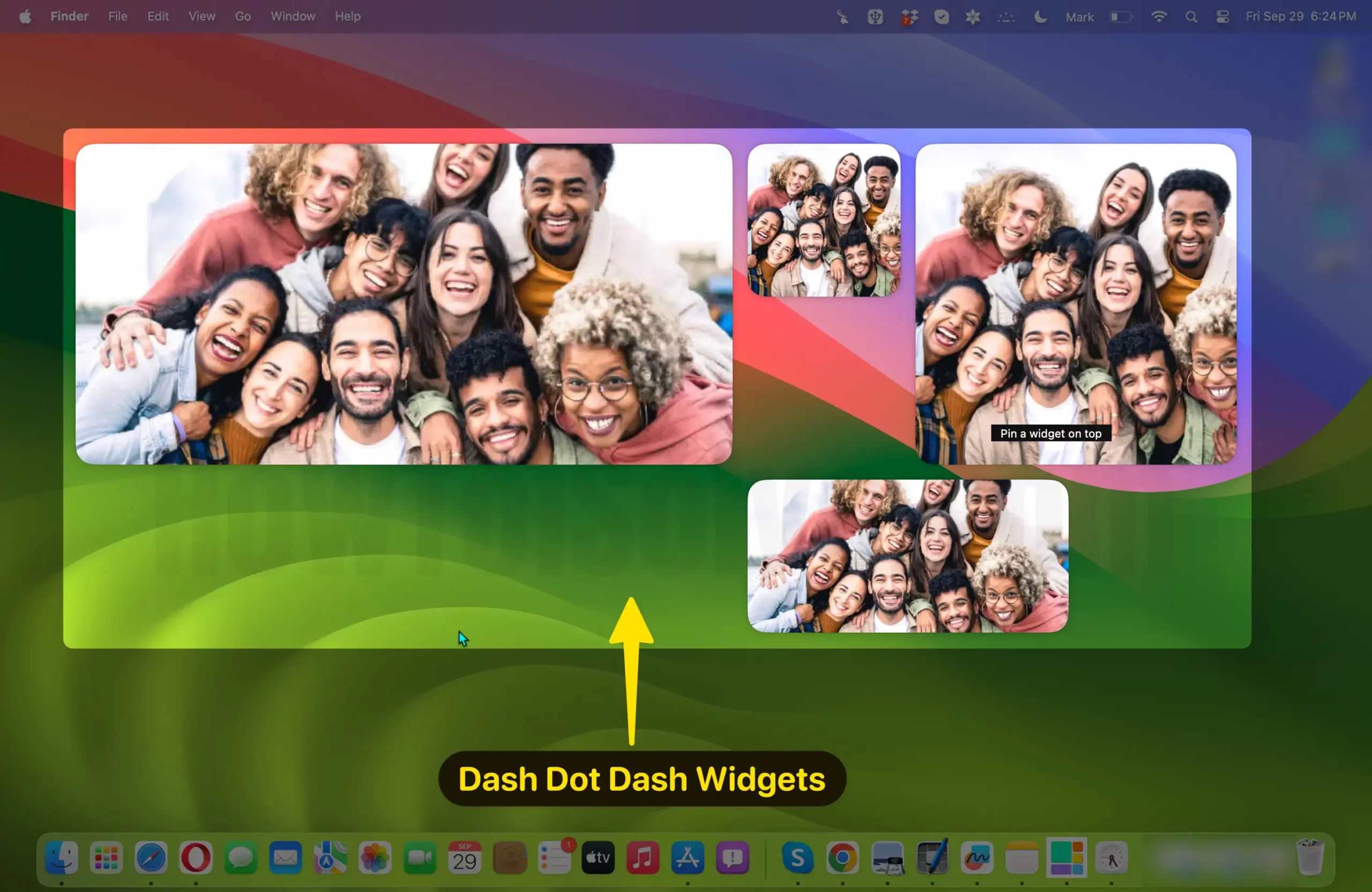 Dash Dot Dash offers a user-friendly widget creator for quick and hassle-free customization. You can effortlessly insert photos and text or even display the current date on a widget. Create unique visuals like a monthly calendar overlaid on your holiday photos, vibrant yellow sticky notes for shopping lists, or personalize photos with your comments. Moreover, it also allows you to share your creations directly with friends, placing photos on their screens. You don't have to worry about your data as it is securely stored in iCloud and shared with your friend's iCloud.
Price:- (free & in-app purchase available at $2.99)
#17. Dark Noise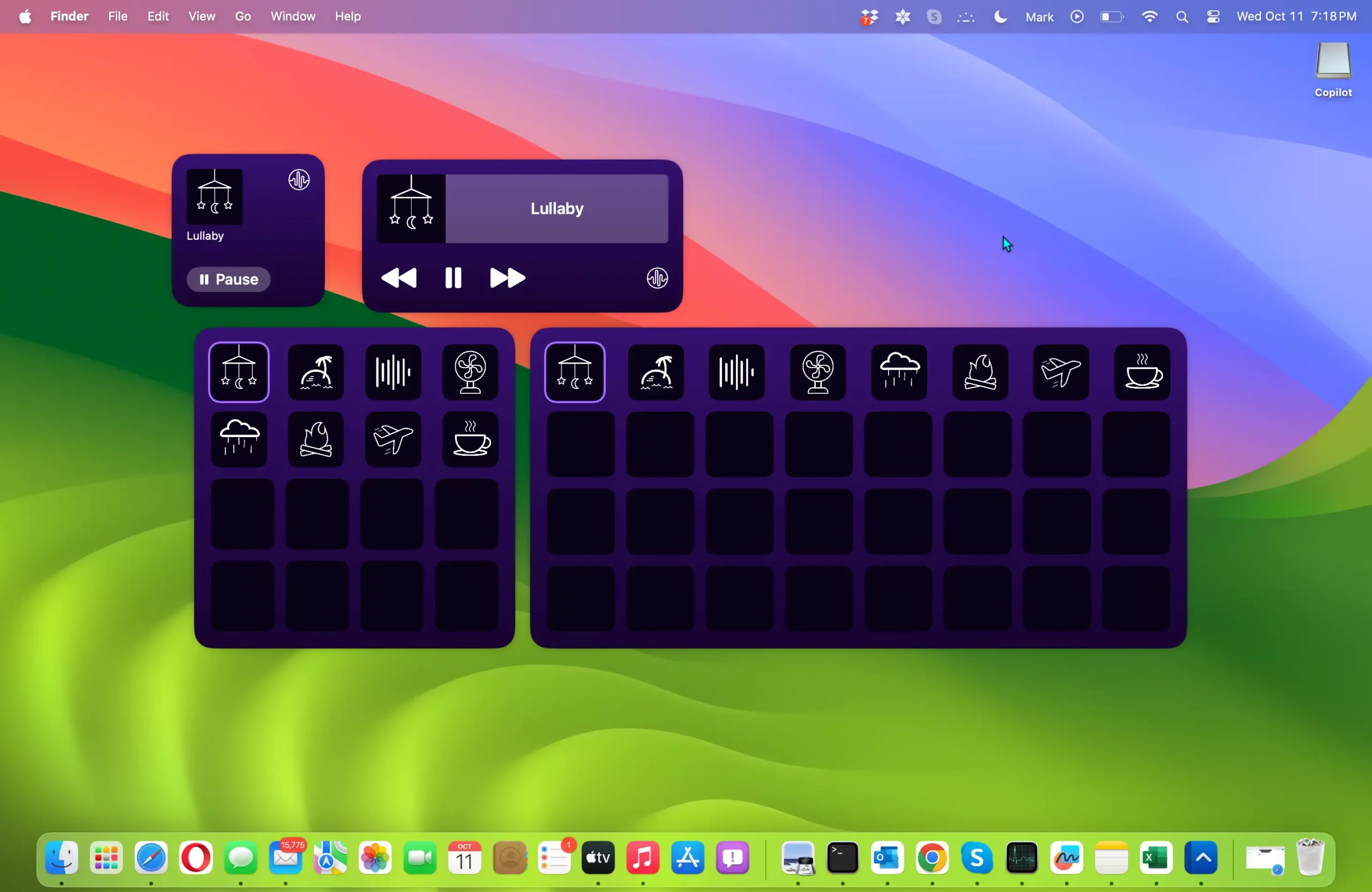 If you want better sleep, increased attention, and pure relaxation, then Dark Noise is the ultimate solution for the best sleep. The possibilities are endless, with 50 preset sounds and the option to create your own bespoke mixtures. You can access the toolbar for rapid access and change the settings as you like. It can be easily integrated with your Mac, boosting your overall experience with keyboard shortcuts, menu bar support, and several customizable widgets. You can also customize timers to gradually fade out noise before you wake up. You can customize the Dark Noise app according to your preferences with 10 themes, including True Black, making it an indispensable tool for peace and productivity.
Pros of using the Dark Noise app:
You can easily sync it with a wide range of devices
It allows you to choose your desired theme and sound
Includes multiple customizable widgets
Price = In-app purchases start from $2.99 to $49.99
#18. Copilot – financial management app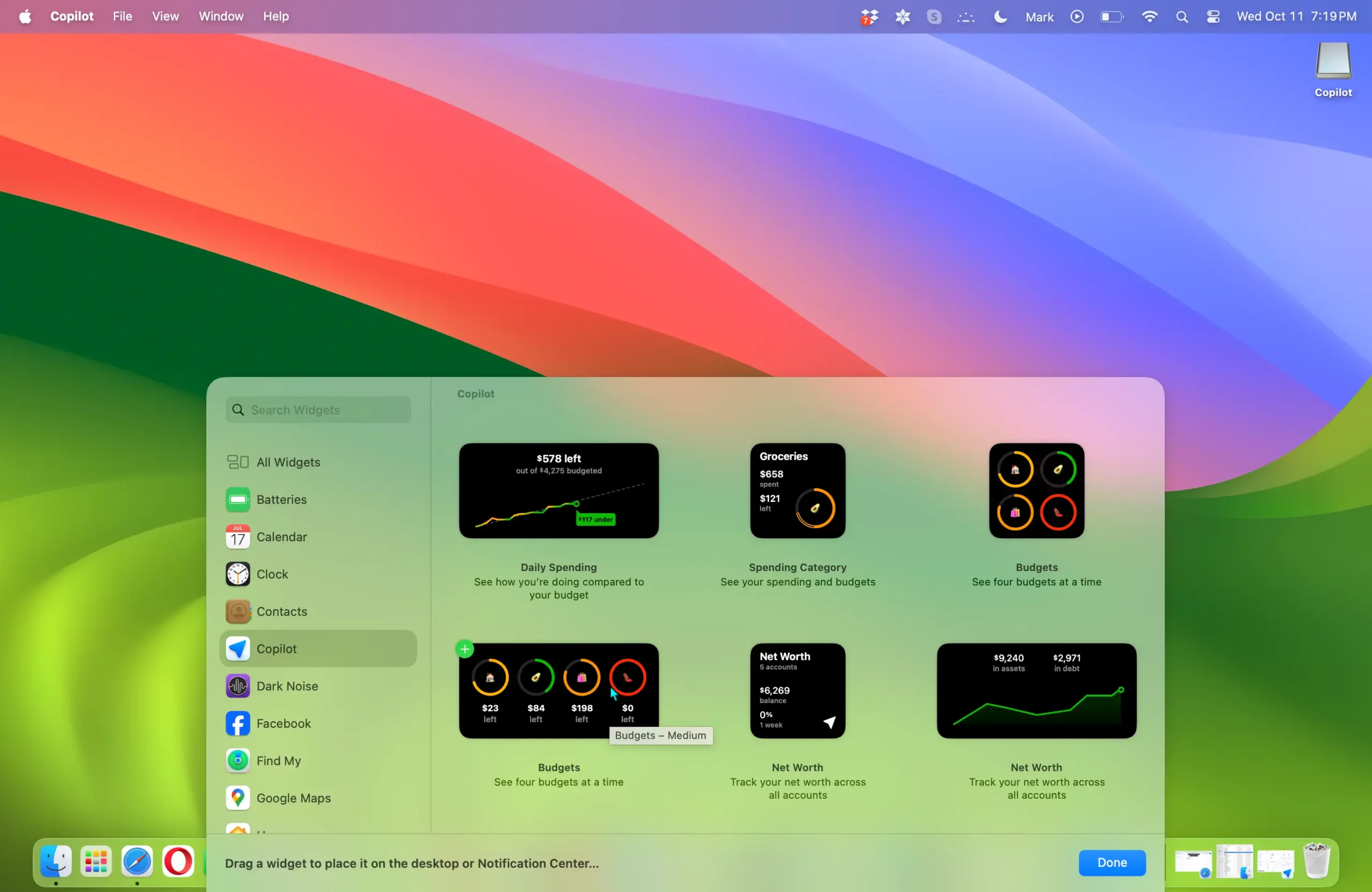 You must have the Copilot app on your Mac if you are seeking stress-free financial management. This app will help you to have comprehensive control over your financial landscape. From scrutinizing recent spending and anticipating upcoming bills to tracking investments and net worth, Copilot's functionalities are indispensable. Its smart categorization tool allows you to craft custom spending rules tailored to your financial habits while budgeting with the option to carry over balances from one month to the next ensures your financial goals are met. You can easily keep an eye on your monthly summaries with its smart adjustment recommendations feature. It allows you to create unique spending categories and rules for tricky transactions. Moreover, you can also effortlessly integrate it with platforms like Amazon and Venmo for in-depth transaction insights.
Pros of using Copilot – a financial management app:
Helps to track investments and recurring expense
You can set custom rules for complex transaction
It has smart adjustment suggestions and smart categorization for spending habits
#19. LookUp – Learn Daily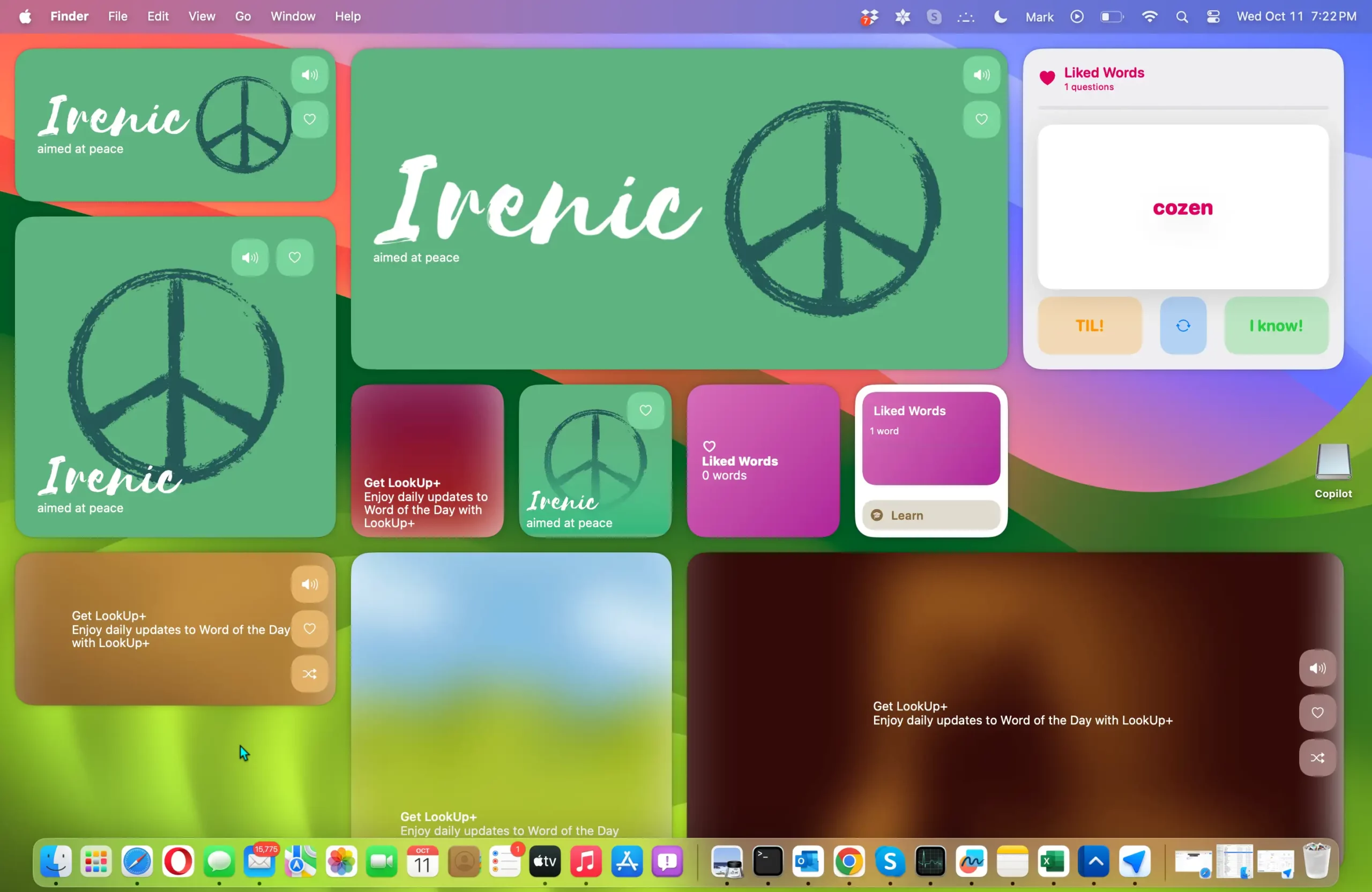 Who doesn't want to speak fluent and impressive English with proper vocabulary? Lookup is your go-to app for enhancing your English vocabulary. This well-designed app offers a comprehensive English dictionary alongside a suite of practical resources. It is perfect for GRE and SAT preparation and is equipped with the tools you need to excel. The app's daily "word-of-the-day" feature ensures a continuous learning process. Moreover, it also has an effortless translation service for more than 20 languages. It can be easily used with a range of Apple devices, including iPhone, iPad, Mac, and Apple Watch, ensuring accessibility across your tech arsenal. With the addition of interactive widgets, you can now effortlessly hear word pronunciations and create digital flashcards on the fly, all without opening the app.
Pros of using LookUp – Learn Daily app:
It is easy to use and has a user-friendly interface
It includes audio pronunciation with vocabulary-building tools.
It also supports other widgets, such as SharePlay and Shortcuts.
Price = In-app purchases start from $2.99 to $59.99
#20. Stock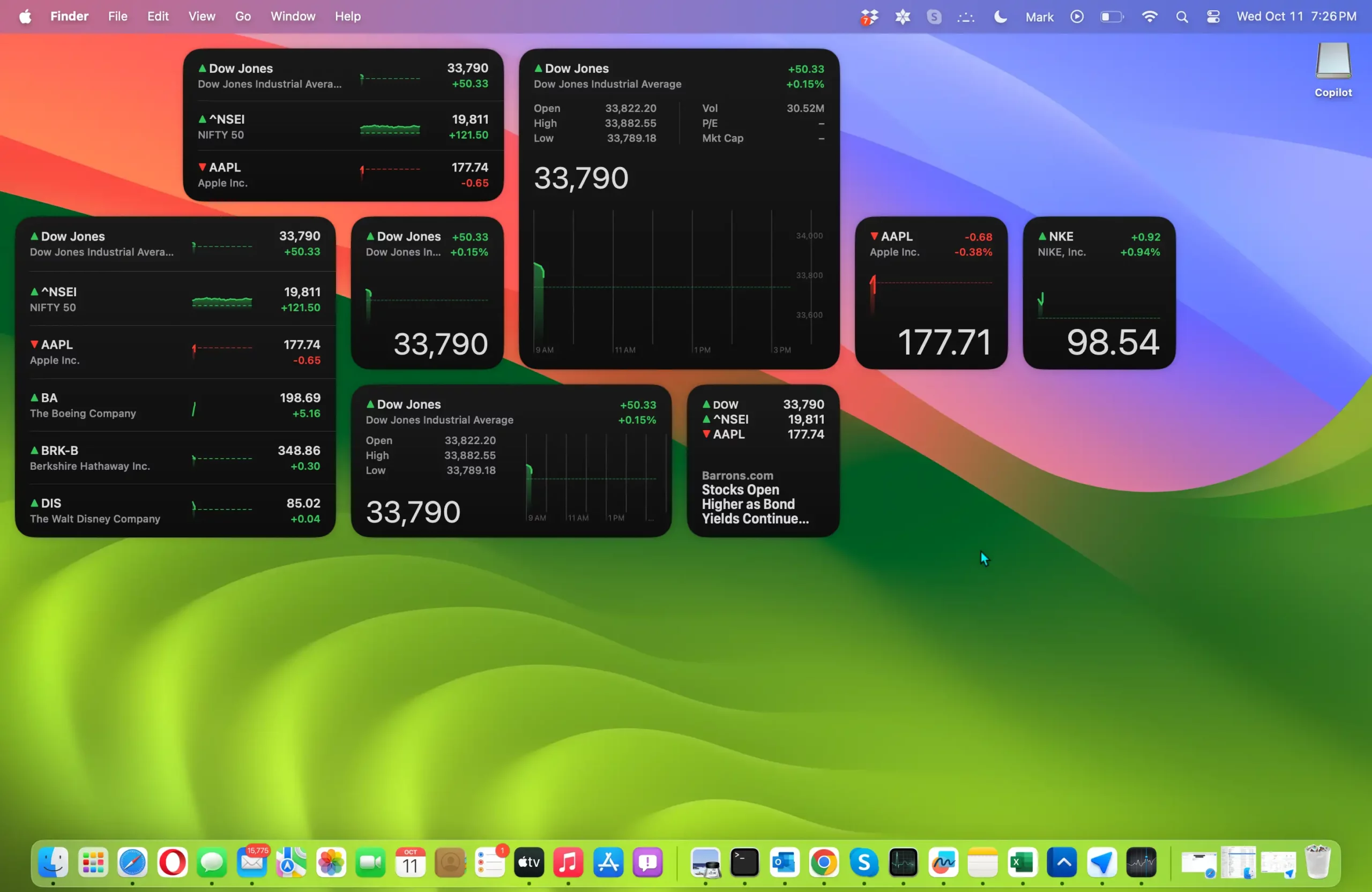 The Stock Widget is a pre-installed gem on your Mac, which offers an effortless way to stay in touch with your investments. You can customize your watchlists with your preferred ticker symbols, displayed neatly in the sidebar for quick reference. You can also explore colorful, interactive charts to understand historical data precisely for various time spans. Furthermore, the Stock Widget is your gateway to the latest business news, keeping you in the loop with real-time updates. With this widget, tracking your stocks and staying informed about market trends has never been easier, making it an indispensable tool for anyone in the world of finance.
Pros of using the Stock app:
Keep track of the latest stuff regarding the market
You can get the latest business news and other important information
It allows to customize chart symbols and display
Price = comes pre-installed
#21. Apple News App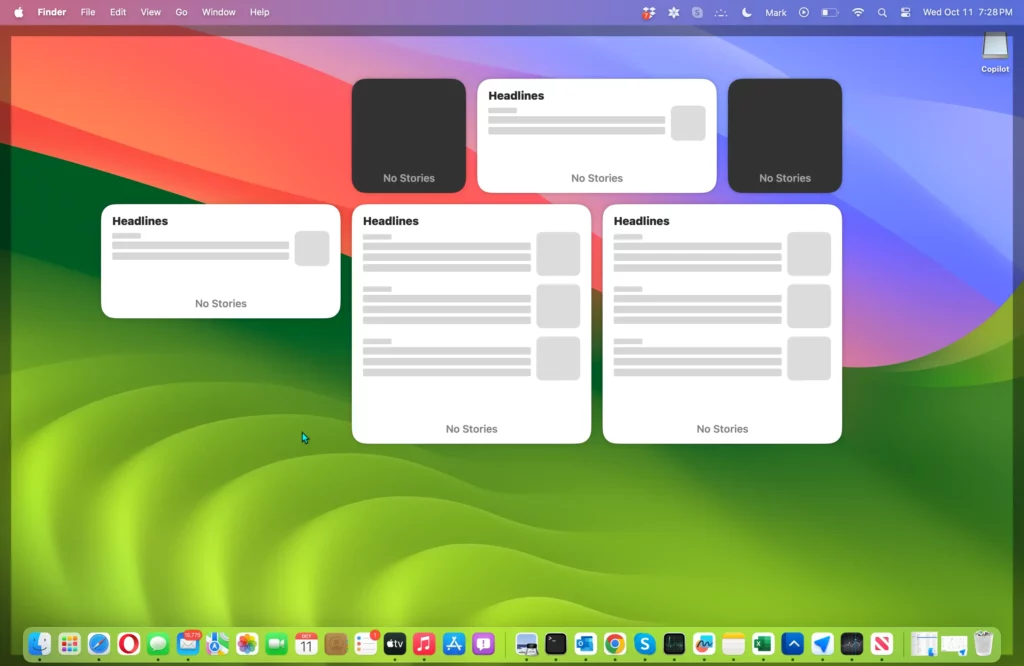 Apple News+ is your daily news companion, which will keep you informed about the world's events and trends. You can use this app hassle-free for a one-month trial at free of cost with all premium features. It provides access to a diverse array of the world's best publications, enhanced with vivid photography, rich videos, and immersive layouts that breathe life into articles. You can simply read magazines online or offline and keep up with top local, national, and international newspapers. It allows you to share your subscription with your family for free. You can also integrate it with CarPlay for on-the-go news. Your privacy is respected, as Apple News uses on-device intelligence for story recommendations without unauthorized data access, ensuring personalized content based on your interests and preferences. Add this app to your desktop today if you haven't done so yet.
Pros of using the Apple News App
Access to wider categories of news with attractive photos and videos
You can listen to the professionally narrated audio news while driving.
It also allows you to share subscriptions with your friends and family.
Price = $9.99/ month
Final Thought!
If you like experimenting with Widgets on your Mac, stay connected to this article for more, and do let me know which one you use and which you recommend me to test and use in the comment box.
Frequently Asked Questions (FAQ)
Q1. How often does a Widgy widget update?
Depending on the particular widget and its developer, Widgy widget updates can occur more frequently or less frequently. While some widgets update instantly, others might refresh once a day, once an hour, or even less frequently. Users typically have the option to adjust the update frequency or sign up for notifications when new data becomes available, providing flexibility and convenience.

You can create a tap action that updates the widget so that it updates each time you tap on it, but you cannot adjust it so that it is automatic.

Q2. Can you get more widgets for Mac?
Yes, by using the built-in Widget Gallery, which provides a variety of best widgets for Mac for functions like weather, calendar, news, and more, you may increase the range of widgets on your Mac. You may further personalize your desktop experience by downloading aesthetic widgets for Mac from the Mac App Store, which third-party developers frequently create.