Last Updated on Apr 6, 2022
Several macOS users having an issue with the Location service that isn't working on Mac that shows up error for example; Unable to determine current location at this time Mac. Some apps are not displaying any data or Wrong Information on Mac apps like Find My, Apple Maps, Weather, Voice Memo, Date & Time, Widget on Mac. in this post, we have covered location service problems on Mac computers during difference-difference situations, so what will have to do? Just find and read an exact problem and its solution through this blog post.
Here are the Important settings to Enable the Location service for all apps and customize it for selected apps only.
Mac location Services wrong location – Make sure below steps
why does my MacBook think I'm in a different city? If your mac shows a different country location, it means something to mess up but don't worry. Follow the bottom steps to disable and re-enable GPS on your mac to fix that your mac thinks I'm somewhere else.
if you are a new macOS 12 Monterey mac user and have a Private relay feature enabled, then your mac will show you the wrong location. in such a case, you should turn off the private relay on your mac to fix a fake location issue.
we are happy to help you, submit this Form, if your solution is not covered in this article.
Why does my Mac think I'm somewhere else?
Sometimes, Your geographical location is determined from an Apple database of Wi-Fi Routers that have been seen by GPS-capable devices such as your Apple iPhones and reported to Apple more than once.
Step to follow – How do I correct my location on my Mac?
Step #1. Choose Apple menu from the top menubar and Click System Preferences,
Step #2. Click Network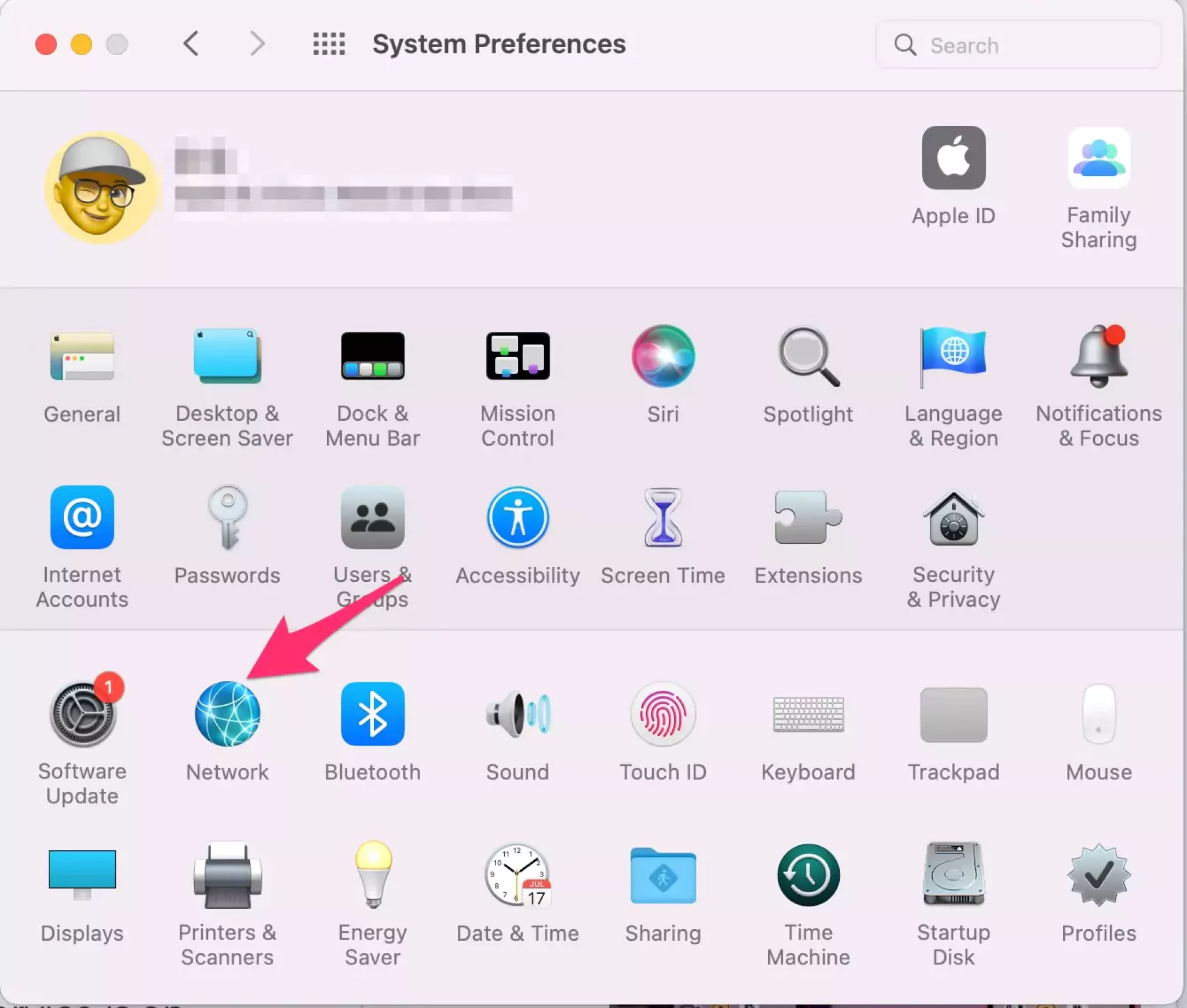 Step #3. Click the Location pop-up menu,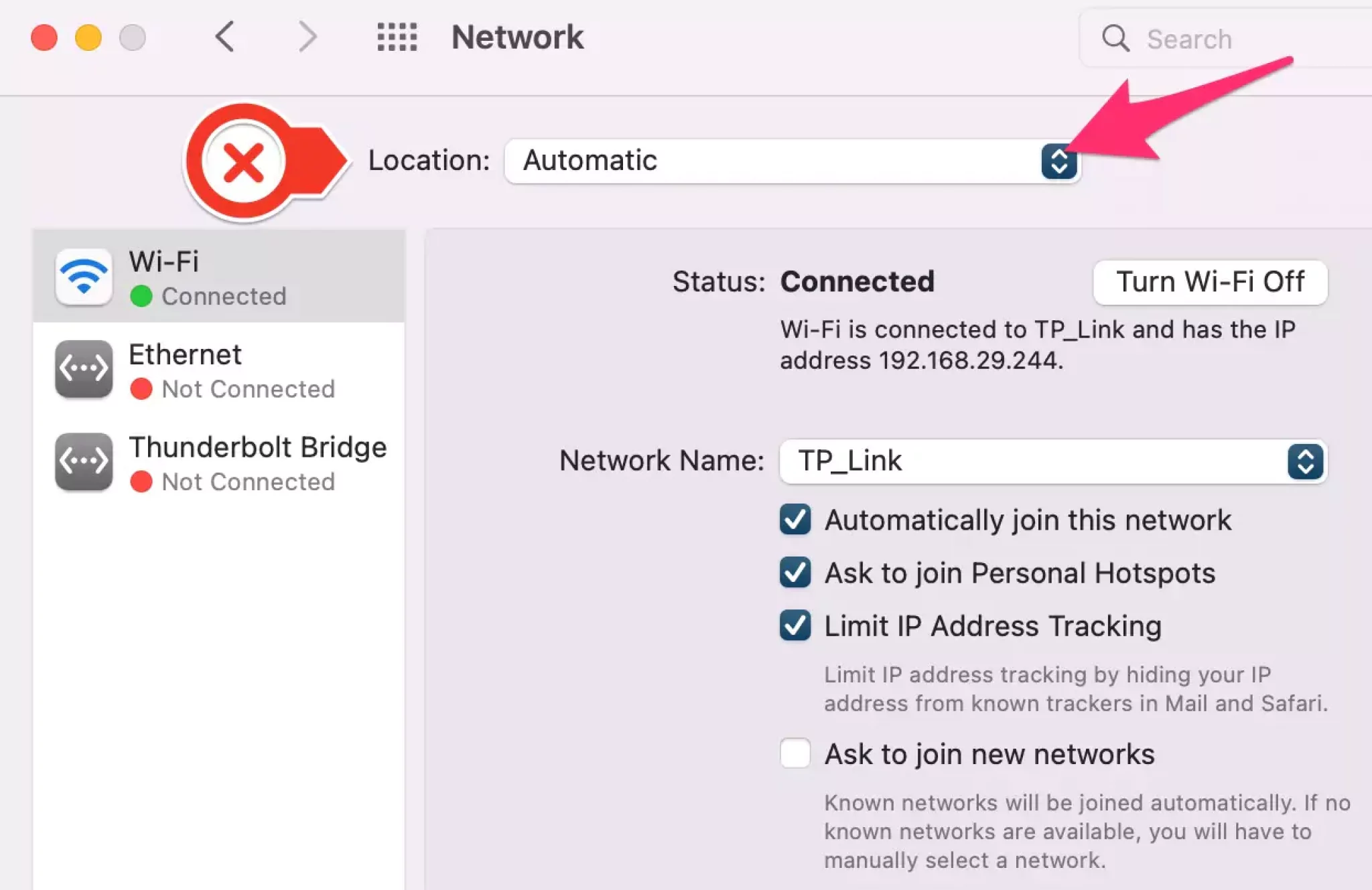 Step #4. Choose Edit Locations…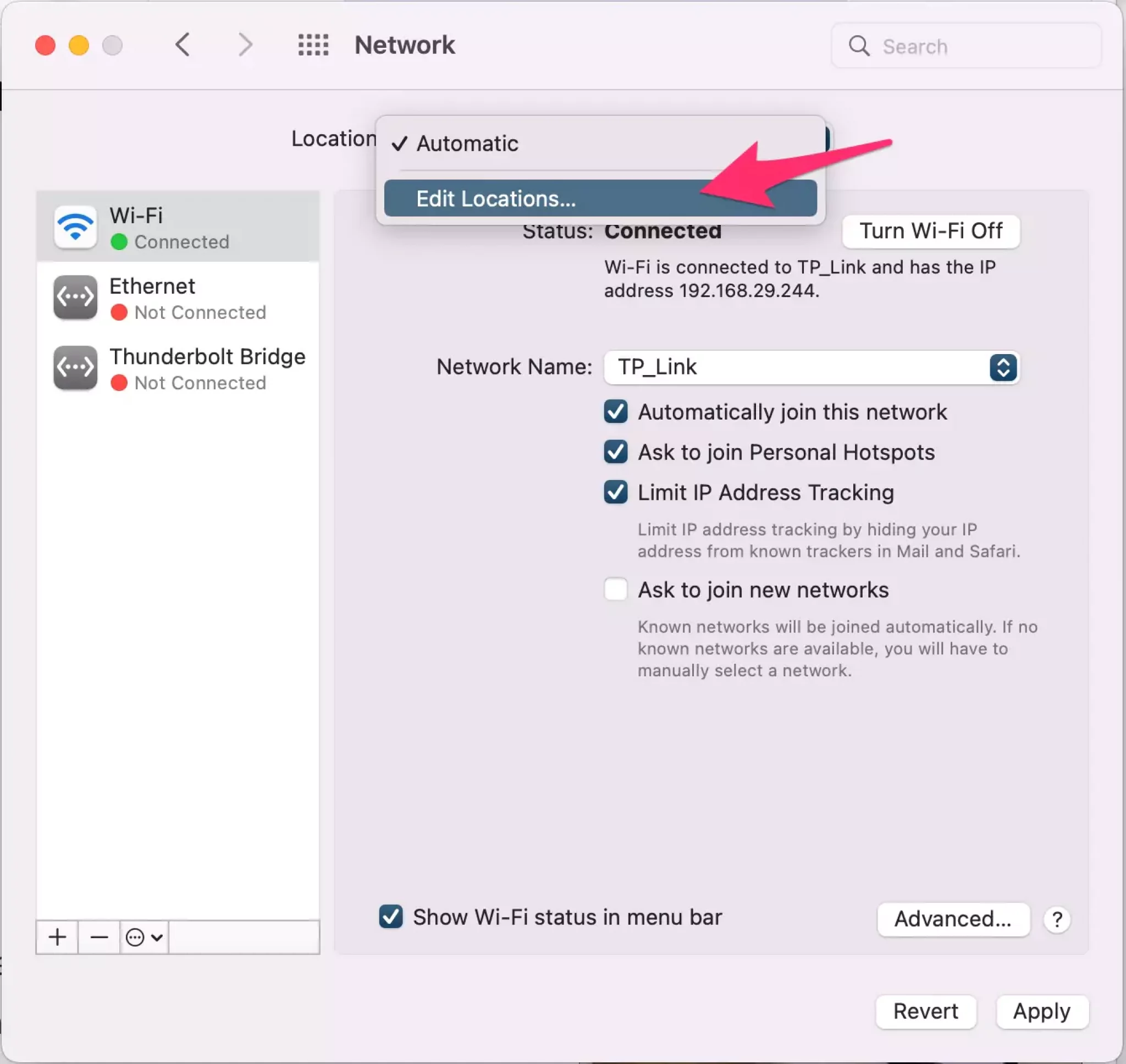 Step #5. Now click + Sign button to add a new location
Step #6. Now Enter a name for the location, for example, here I have taken USA location, because of my Mac was showing the UK location. then click Done.
Step #7. in the last click Apply button is located on-screen lower-right side corner.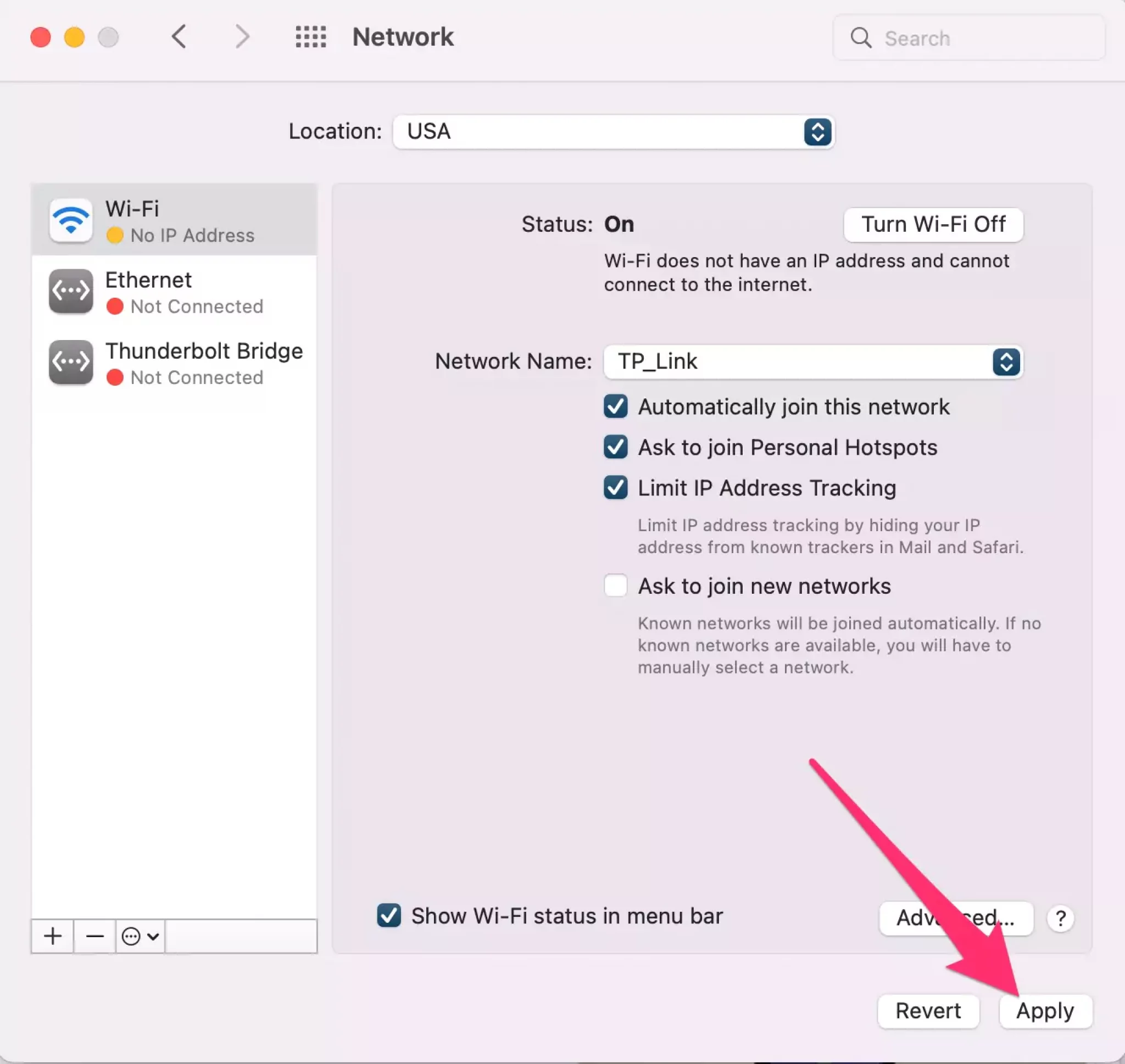 Otherwise, you will get a pop-up at system preferences closing time that will ask you Would you like to apply your changes before closing the network preferences pane? Click on Apply to save changes.
I hope, this is found helpful.
Enable Location service on Your Mac Computer
First, Make Sure the location service toggle is enabled on your Mac and allows you to use it by installing apple's native apps and Third-Party Apps. if yes, let's follow the below steps,
Click on the Apple Logo from the top Mac menu > System Preferences > Security & Privacy > Unlock the Window and Click on the lock icon.
Enter mac login password. [Location Service Option is Grayed out]
Enable the Location services to enable on your Mac.
Next, select the checkbox for Enable location service for an app installed on Mac.
And Last option details, Make sure the options are selected.
That's it.
If the location service setting doesn't work after enabling from mac settings then follow the below troubleshooting to diagnose the issue all the time.
What to do my Apple Maps isn't working on Mac
if you guys having problems concerning GPS navigation app not working on your Apple notebook or iMac computer? Generally, Maps are directly accessed by your Location service. By Reference to your Current location, you can search and Find nearby Places, Stores, Services, and more. If you are facing issues with the Mac maps app like Crashing on startup, Force Close the Maps app itself on launch. follow the below troubleshooting.
Carefully check the Below troubleshooting and get a fix Why is my location wrong on my Mac?
Allow Location Service for Maps:- Go to the Apple logo from the top Mac menu > System Preferences > Security & Privacy > Select Privacy Tab > Click on the lock icon to change the settings and Enter your Mac login password, Under the Select Location Service from sidebar > Enable Checkbox for Maps app. That's allow to show your current location on Maps app or Weather app [Default Location] as well. Relaunch the Maps app and Check it works.
Know the Apple System Status, Here's a country-wise list. if any Maintenance then waits for a fix and a Green signal.
Make sure your Mac is connected with an internet connection. Or check in your Safari Browser with speed test tools: fast.com.
Report Issue to apple: Open Maps app on Mac > From top Menu > Maps > Report an issue. Follow the instruction and submit your issue.
Fix Location services greyed out Mac/ MacBook
We see that Location Services is grayed out on Mac System Preference. Following my bottom steps will help you.
First, let's check your parental controls (Screen Time settings)
Go to Apple logo > System Preferences > Security & Privacy (Make sure the padlock is open and click)> Privacy Tab > Location Services > Check Enable Location services.
Save your settings. I hope this solved your Mac location service greyed-out issue.
Troubleshooting:-
Here's the quick solution that causes the issue with location service on Mac, MacBook Pro, MacBook Air [Intel or M1].
1: Disable VPN:-
Turn off VPN on your Mac completely or Remove VPN profile from Network System Preferences. here's a Complete guide on Manage VPN on Mac.
Open VPN program on Mac and Disconnect.
Or, Apple Logo > System Preferences > networks > Select VPN from left side of window > Disconnect.
2: Remove Antivirus:-
Sometimes antivirus blocks your Mac computer internet connection and disables the location service for privacy reasons. so you can browse the internet under Geo protection. Sometimes internal Antivirus software bugs can fix after the update. make sure your Antivirus program is updated.
Uninstall Cleaners if installed: Some Auto Mac Cleaner software delete the system file from the mac system. or Then won't allow the creation of a data file. I recommend deleting that software or uninstall Complately from Mac.
3: Safe Mode [M1 or intel]:-
Safe mode on Mac determines the issue that causing the problem on Mac startup and Load the installed software. The safe mode procedure is different for M1 Mac and Intel Mac, identify which mac [M1 or intel] you have.
Safe mode on M1 Mac:-
Shut down your Mac then Wait for 20 seconds.
Next. Press and hold the power button (Touch ID) on Mac, until you see the Startup Volume and Options [Settings icon] on the screen.
Select Startup Volume and Click on the Continue option.
Next, Press and Hold on the Shift key and click on Continue in the Safe mode option.
Release the shift key once you see the Mac login screen.
Safe Mode on Intel Mac:-
Shut down your Mac then Wait for 20 seconds.
Turn on your Mac, Next, Quickly Press and Hold on the Shift key until you see the MacOS Login screen.
Now you are in safe mode check the issue is fixed.
if the issue is fixed, then Restart your Mac and Exit from safe mode.
As a result, the Mac location service doesn't work then Follow the other solutions like creating a new File system for a new account on the same mac.
Open Keychain Access on your Mac from Spotlight Search and Search "locat" from top search, You will see Four results [in my case], Select all and Delete the file. Now, Keychain Automatically Regenerate a new file. and Your Problem will fix itself.
4: Test with New Account:-
Using this technique we can diagnose the issue with Software installed on your Mac or Corrupted files in your Account.
Go to the Apple logo from top Mac meu > System Preferences > Users & Groups > Unlock the Window [Click on lock icon] > Click on the Plus icon to add a new account > Select Administrator as a new account.
That's it.
This solution isn't helpful on the Mac Location service problem then fix all kinds of MacOS issues after reinstalling macOS.
5: Reinstall MacOS:-
Reinstallation macOS On Mac, Doesn't affect the data saved on your Mac. but install a new copy of macOS On your Mac.
Recommend: Backup your Mac in Time Machine.
Follow the below steps for Reinstall macOS In Recovery mode without USB or Disk.
M1 Mac:-
Shut down your Mac then Wait for 20 seconds.
Next. Press and hold the power button (Touch ID) on Mac, until you see the Startup Volume and Options [Settings icon] on the screen.
Click on options [Settings icon] > Reinstall MacOS.
Continue, with the on-screen setup instructions for Install a new copy of macOS from the Apple Server.
Intel Mac:-
Shut down your Mac, and Turn on your Mac.
Quickly Press and Hold on the Command + Option + R until you see the "macOS Utilities" window on the screen.
Next, Select reinstall macOS Option > Continue.
Follow the on-screen macOS installation process and That's it.
6: Contact Support:-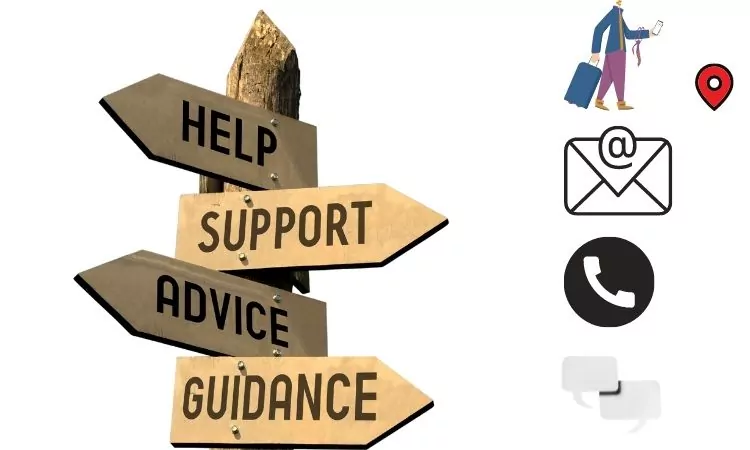 if none of the solutions is helpful to fix the important location service feature on your Mac, then you can diagnose with the apple support team online or Book Reservation at apple genius bar.