There is nothing to guide more about the clubhouse Audio Social app because now you people are very familiar with this application. Still, we are always available to help you with small guides. Hopefully, it`s not required, but still, it is important to be well informed and that`s why this article is being written.
So, there is a very common question from the individuals who are into the clubhouse app and that is how can they mute themselves?
Well, now it`s not easy to answer this question that why an individual needs to mute themselves? It`s their choice.
Okay, so better go-ahead for the solution.
How Can I Mute Yourself on Clubhouse Room: Phone App
After Startup or Joined room in Clubhouse…You have different options like Raise hand, Comment, and more…
See Active Room Player on the bottom of the Phone screen, there is an icon of the microphone. [Your Can Mute from microphone from Bottom Room Player or Within Room].
Tap on the icon to mute yourself, and No worries about your backgroud noise or around the atmosphere. Unmute any time to say something in the room. Without knowing others in the Room you can Mute and unmute.
How Can i Unmute Yourself on Clubhouse Room: Phone App
While you unmute yourself in the Clubhouse Room, Other Joined People in Clubhouse can see your Microphone status with Highlighted Profile With Gray Border that I showing in below screen, That means Other joined Users can easily identify what is the Speaker right now in a room and How to Respond if you are the listener.
Directly tap on Microphone icon to unmute from bottom Clubhouse player or Within room.
Also Read, Clubhouse App Mic not working
How to Unmute & Mute as a Listener in ROOM and More Watch Video?
Moderator or Room Create can Mute any speaker in the Room on the Clubhouse app. By Tap on Photo on any in the room, Mute or Remove from Speaker list.
if you are a listener then you will be muted by default, but you have a chance to participate in a discussion after raise hand and Moderator's approval. Here's a full video tutorial on how to go? Can I mute anyone in the Room?
Microphone Not Working on Clubhouse App on iPhone
Follow these steps to check your Device's microphone is not restricted for the app like clubhouse, Open Settings app on iPhone > Privacy > Microphone and Enable to toggle for Clubhouse app.
For More Troubleshoot, also check Restriction is disabled from screen time for Clubhouse app, Open Settings app on iPhone > Screen Time > Content & Privacy Restrictions > Microphone > Select Allow Changes and Enable Toggle for Clubhouse app from the list of app.
To get the precious sound quality on the Clubhouse app, Use your iPhone's microphone if the sound is not coming good on Third-Party Bluetooth Headphone. or Use must Use External Microphone that has a Noise cancellation feature, Here's the top Best Bluetooth Headphone for iPhone.
How to Mute Clubhouse App?
Clubhouse app is annoying while playing audio in Backgroud even locked screen or Not Showing on Control center. Force close this app from Backgroud in App Switcher screen will mute the audio coming out from clubhouse app after close app from the screen.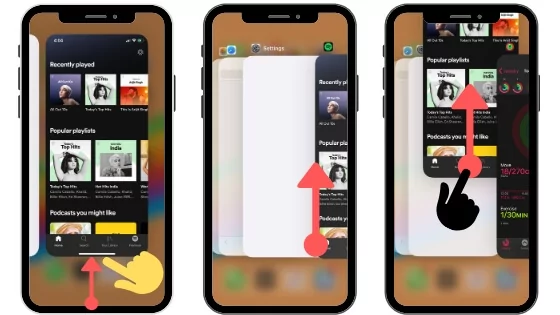 Get Help from Clubhouse Support!
If the solution is not covered in this article then write us your issue in the comment box. also Get Feedback or Get Account-Related Technical Support from Clubhouse Support Team. To Connect Clubhouse, Here are the Best Possible Ways to Contact Clubhouse Support and Get Free help step by step.
Look, here you got the quick solution. Whenever you want to mute or unmute yourself, this is the quick way for the same.