🗓️
November 29, 2023
By ✍️
Jaysukh patel
"What Cellular data not working iOS 17? While no Wi-Fi around you or iOS 17 Wi-Fi won't work issue and even if you don't know the Wi-Fi password that time mobile/ Cellular Data provides fuel to access the internet on your iOS device. For that, you should have the best data plan. So you can understand the value of cellular data and data roaming.
But sometimes, after updating software, many folks report on Reddit that Cellular data won't work. This is so strange Still, the same thing happens after iOS update iOS 17 iPhone cellular data not working or might lagging speed. If you have the same annoying issue, Don't worry. This thread covered all tactics that will help you to repair Cellular data functions.
No SIM is inserted on iPhone, then can't get Cellular data on iPhone. And sometimes in a remote area – due to a weak signal your phone maybe drop the LTE and 4G Voice and data speed compared to the metro area. Probably happens due to switching a new Phone to an old Smartphone.
Latest Update– You should check out your device running the newest iOS. Still, recent iOS bug fix updates available to download and install. Therefore, don't miss out to install the latest iOS.
In case, you have the latest iOS device, however, Mobile data not working on your iDevice, then go with the following guide.
Related Articles:
Could not activate cellular data network
Save battery life
7 Fixes to solve iOS Wi-Fi problems
Guide to Fix Unable to Connect Cellular Data on iPhone or iPad
Reder's suggestions on Fix Cellular Data Stopped Working – No Internet,
Gary Anson suggests fixing these issues in this way, He only Disables and Re-Enabled toggle for VoLTE under the settings app on iPhone.
here's the way to do,
Settings-> Cellular ->Cellular Data options ->Voice & Data ->LTE, VoLTE Off That's turn off.
Now Turn on using, Settings->Cellular->Cellular Data options->Voice & Data->LTE, VoLTE On.
This happens because some time stuck on network connectivity after an update or Reset the settings. Turn off and Turn on the Prebuilt new connection between your iPhone and your Carrier company. To restart the network service and refresh it.
Solution #1. Make Sure the Cellular/Mobile Data toggle is turned ON
You should check out that your Cellular data toggle is turned On. If it's Enable/green, however, won't work, then turn Cellular data off, Now wait for a second and again turn ON. Still, Cellular data not working on iPhone/Cellular iPad then keep continuing steps.
Solution #2. Turn On Airplane Mode On and Turn off
Did you try to enable/disable Airplane mode? At least turn toggle Airplane Mode ON/Green and wait for at least five seconds. You'll appear the Airplane icon on the top status bar instead of the carrier signals.
Now, again turn toggle Airplane mode off/white. Your iPhone is searching for the network, after available the network (AT& t, T-mobile, Verizon, Sprint, O2, Vodafone, and all international carriers, etc.) hope, now you can connect to the internet with your iPhone running iOS 17 or later.
Open Settings – Turn Airplane Mode ON/Green. Or you can also do this by swiping up the menu (Customize Control center iOS).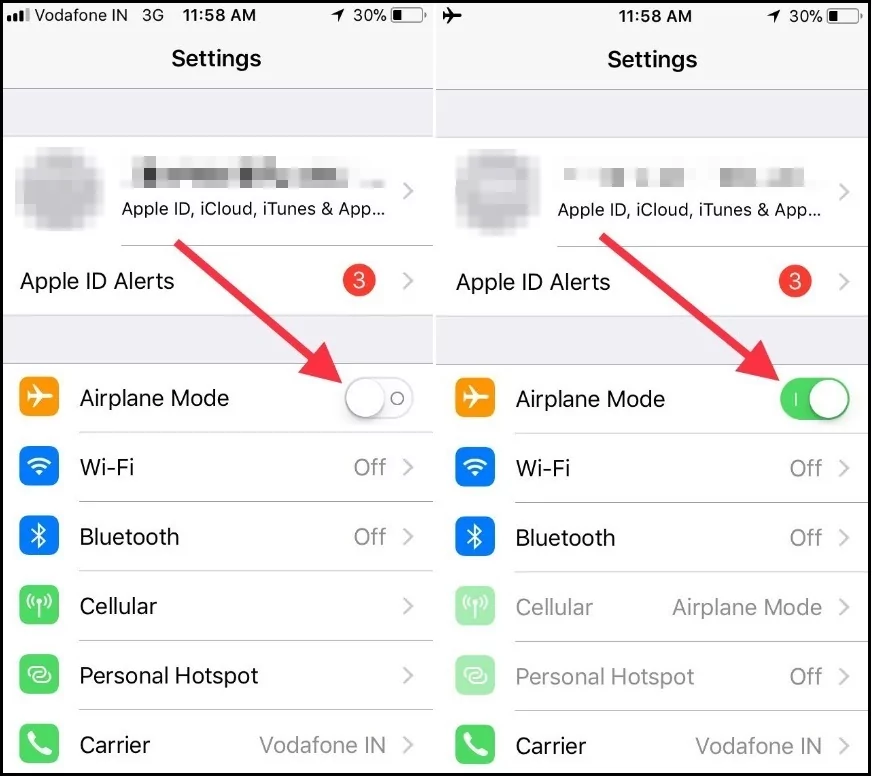 Solution #3. Check for Carrier Update on your iPhone
You can manually check the carrier for and install carrier settings update on your iPhone or iPad with the help of the given below steps.
Go to the Settings App → Tap General → About. So, if any update is available, you will see an option to update your carrier settings.
While you insert a new SIM card into your iPhone or cellular iPad, you need to download the carrier settings for your original or brand new Carrier.
Please note: some of the folks ignore the carrier update, I suggest please keep your carrier version up to date. Otherwise, you won't get impeccable Carrier side services like Wi-Fi calling, VoLTE, iMessage, Facetime, etc.
Solution Fix #4. Restart your iPhone, Cellular iPad
I also have the same problem after update iOS, but I did restart my iPhone 8 Plus, and everything was fine. So you should reboot your iPhone. If you have an old iPhone, then press the power button until you get the slide to power off the switch.
Then turn off and after waiting for five seconds again start your iPhone by pressing and holding on to the power button. Now let's check out cellular data for an app.
In case, soft restart won't work then try to reboot hard (Don't worry it not erase your data). Follow the bottom steps to force restart your iPhone.
For iPhone 8 Plus/8 Plus/ iPhone X/ XS Max/ XS/ XR/ 11 Pro Max:
1: Press and Quickly Release Volume Up button, then
2: Press and Quickly Release Volume Down Button, then
3: Press and hold the Side Button until you see the Apple logo on Screen.
For iPhone 7/7 Plus: Sleep/Wake + Volume Down button simultaneously at least 10 seconds
iPhone 6S and Earlier: Sleep/Wake + Home button both button same time at least 10 seconds
To Start iPhone, Again press the Side (Power) button until the startup apple logo is on the screen.
Steps to Reset Network Settings iOS 16 and Later Version
Step #1: Open up "Settings".
Step #2: Open "General" and then scroll the screen till the end and tap "Transfer or Reset iPhone".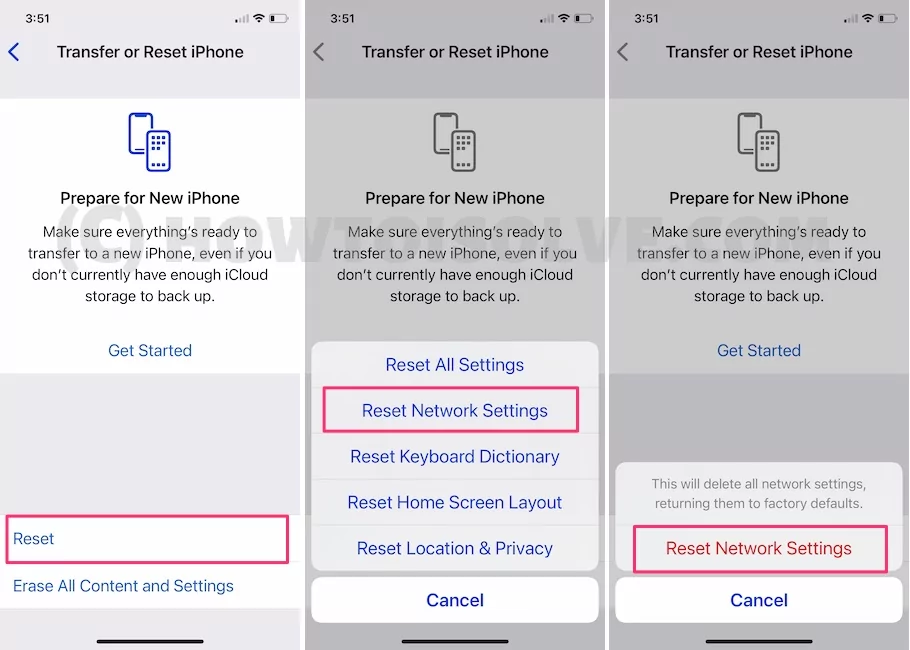 Step #3: Lastly, tap "Reset" > "Reset Network Settings" > Enter your iPhone Lock passcode and Try after Reboot once. This Process won't erase other important settings, Media, Messages, and more.
Solution #5. Reset Network Settings to Fix all
Resetting network settings will help you to get rid of LTE, 4G cellular data that cannot work on your iPhone. You will have to redo your Wi-Fi password, but this tactic could help.
We have seen most of the guys who applied this clue to fix the cellular data problems quickly. In iOS, you can also get the Wi-Fi password back using a brand new share Wi-Fi password feature.
Settings → General → scroll down the screen until the end Reset option above the Shut Down→ Tap on Reset Network Settings.
Solution #6. Cellular Data not working iOS for an individual App or Apps won't Stay On
If having trouble that cellular data won't stay on apps or for a particular App, for instance, safari web browsing is not working.
At this moment, you must have to check the safari toggle on/green under the cellular/mobile data settings screen. If it is off, please quickly turn it on. Then test again. Hope this would work for you.
Here's in deep – Fix Can't Turn Cellular Data on for Individual Apps on iPhone
Just dial 1-1800-CALL-ATT, an excellent way to make a call toll-free for any query and operator assistance for AT&T users.
For T-Mobile users, dial 611 from the T-mobile phone or call 1-877-453-1304.
If you have a Verizon Wireless carrier phone – open the dialer and dial *611 from your Verizon wireless mobile phone or call 1-800-922-0204.
For Sprint users– to contact the customer support service center and to talk about Sprint care representative, call on 00 1 817-698-4199 and tell you cellular problems them.
I hope, your SIM carrier customer care representative will assist you best rather than your nearby local carrier store or Apple Support.
Solution #7: Back up and perform a Factory Reset and Restore without iTunes and Computer Screen
You should take a backup of your iPhone or iPad. Otherwise, you lose your data. So back up first using iTunes or directly in iCloud.
Hmm it will take time depends on the size of your data and documents then perform the factory reset on the iOS device by going to
Steps for iOS 15 and Later versions:-
Open Settings App> Tap General > Scroll the screen Tap "Transfer or Reset iPhone"
> Click on Erase All Content & Settings > Screen appear to Erase This iPhone Screen (you can read on-screen, what item will be deleted after completing this process at your end) – tap Continue
> Enter Your Phone Unlock passcode> Next your phone will ask you Enter your Apple ID password to turn off Find My And Activation Lock > Then Follow on-screen instructions.
Next up, you will have to tap on restoring your old back up to get all settings as it is.
Why does my Cellular Data keep Turning off iOS? – Get Fix
In Case, on your iPhone – the mobile data plan keeps turning off after an iOS update. Then you should apply the following solution. Most of our readers fixed this kind of cellular data issue using my bottom guide.
First, unlock your iPhone screen, then
Go to the Settings App –
Tap General
Next, tap on Restrictions and put your Restriction pin,
then enabled restrictions and scroll down to cellular data.
Now Click to don't allow changes. So far, so good.
---
Extra Tidbits
If you get an extra point from your Carrier technical team to fix, cellular data stopped working iOS 17 on Safari web browsing, for text iMessage, Whatsapp, and Facebook. Please share it with us in the comments.
You can also send us issues like cellular data settings missing or can't be found on your iPhone. We'll suggest it to you ASAP. Thanks for reading us!