🗓️
September 27, 2023
By ✍️
Jaysukh patel
Are you facing your Macbook freezing while watching a video on youtube (youtube keeps pausing) or Netflix (Netflix pause screen) in both Safari and Chrome browsers? At the same time, the Audio continues playing, and everything unfreezes. Let's see in this article why this happens and find problems with your Mac, or internet, or due to something else. Here we tried to cover all ideas to resolve your pretty frustrating problems.
Most of the time, this issue is only temporary and will resolve itself if you pause the video for a few seconds. Other times, the video would repeatedly freeze when you are trying to watch it. The issues in not unique to you. But other new Mac customers have been facing. Did you check All video streaming apps having the same issue? So we can say that the problem is only with your Mac system.
This post will send you a walkthrough guide on fixing your YouTube video freezing problem.
YouTube keeps pausing on MacBook (Solved)
You can experience issues such as MacBook crashing, Safari unable to play YouTube, slow downloading, or interruption during buffering when trying to watch YouTube or other online videos. Most of the time, determining the true cause of an issue is difficult. Your macOS or browser is likely out of date.
1: Update Your Mac
If you can't determine what's causing the issue, you'll be stuck with it and your videos won't function. But in any case, don't give up; it's possible that the macOS needs to be updated. It is important to keep the framework updated.
Follow the steps below to get started:
1→ Click the Apple Logo on the left-upper side menu bar. And Choose System Settings… or ( System Preferences… – for macOS Monterey and earlier)
2→ Select General > Click on the Software Update tab.
3→ if any update is available, Please click the Update Now button to download and install them immediately.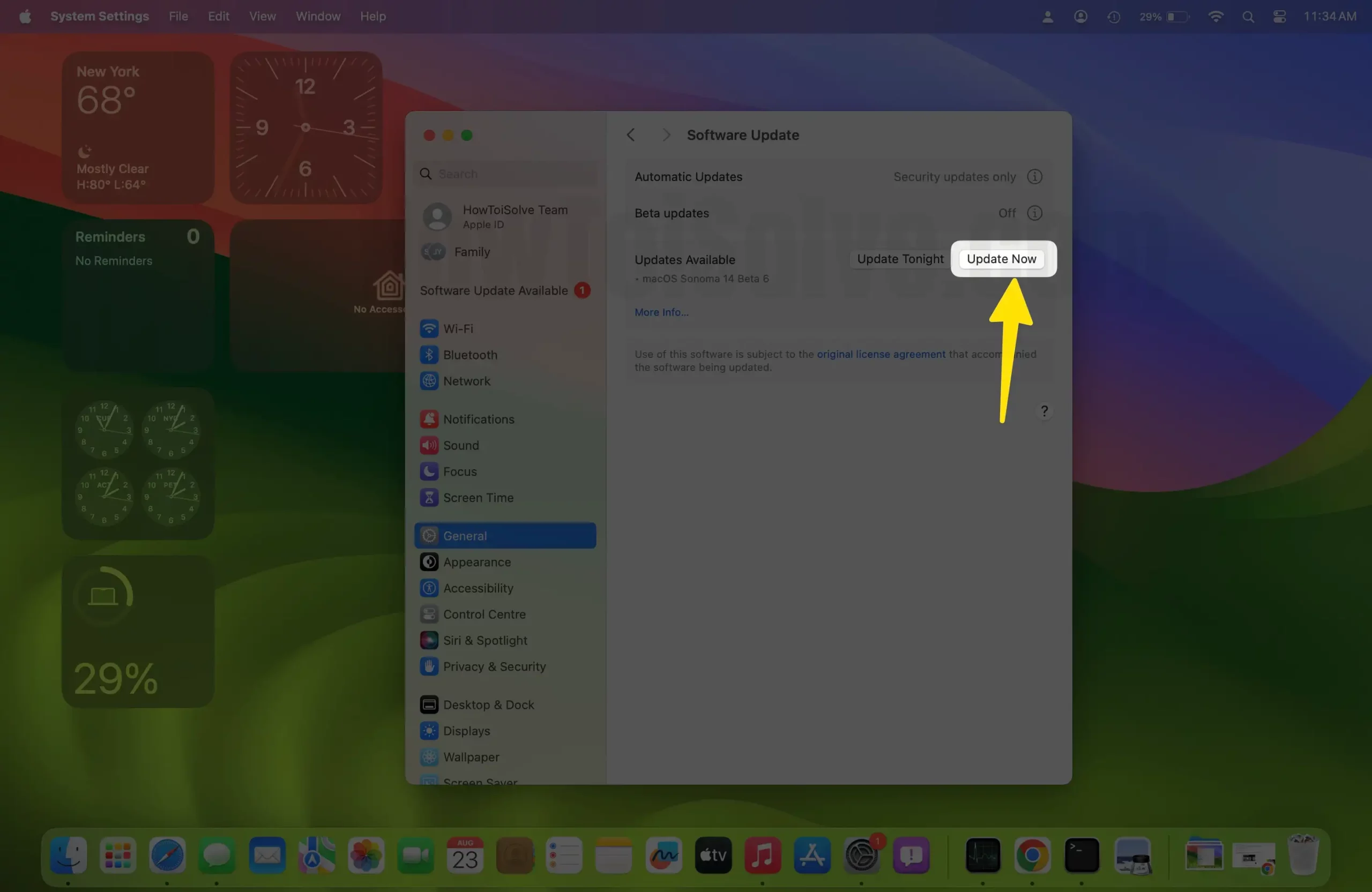 You can gather information about the upgrade in the More Info section and update the framework selectively.
Ensure that all of your Mac's essential applications, such as iTunes, Safari, Photos, and other apps, are current.
You may also set up an auto-update Mac for the device to ensure it is modified as soon as possible.
[Note: Always do a backup of your Mac. So that, in the unlikely case that the update amplifies the problem, you can revert it back to the old version]
For those users whose Mac shows, Your Mac is up to update. It means Netflix or youtube video frozen Mac problem is not with your macOS system, but it could be a Wi-Fi internet connection or with a particular App streaming service related.
At this point, your Mac's "YouTube videos will not freeze." If it's still freezing, use the methods mentioned below to help alleviate the problem.
Quick Help! All Mac Models
2: Clear all Mac Saved Data and Cookies:
Cookies can be cleared in various ways, depending on your browser. You'll have to sign in again after clearing your cookies. Ensure you have the correct login credentials to access personal data and website subscriptions.
Safari
Step 1: Keep down the Command and comma keys simultaneously (Command+,) or choose Preferences from the Safari menu.
Step 2: Go to the Privacy tab of your browser. To deduce any stored website data, click the Manage website data button.
Step 3: Wait until you see "Loading Website Data…". To confirm, click Remove All Now. Note, Safari warns you that this can log you out of sites and maybe change how they work. For example, you will be served generic ads rather than tailored ads on the website.
Step 4: Click the Details button to delete stored data by site. Choose the pages that have saved data that you want to delete. To pick several locations, hold down the Command key.
Step 5: Remove the item by clicking on it. After that, click Done.
Google Chrome:
Step 1: Go to the menu bar on your Mac and choose Chrome (top left corner). Select "Clear Browsing Data."
Step 2: Choose a time period or "All time."
With the checkboxes, you can choose which data to delete.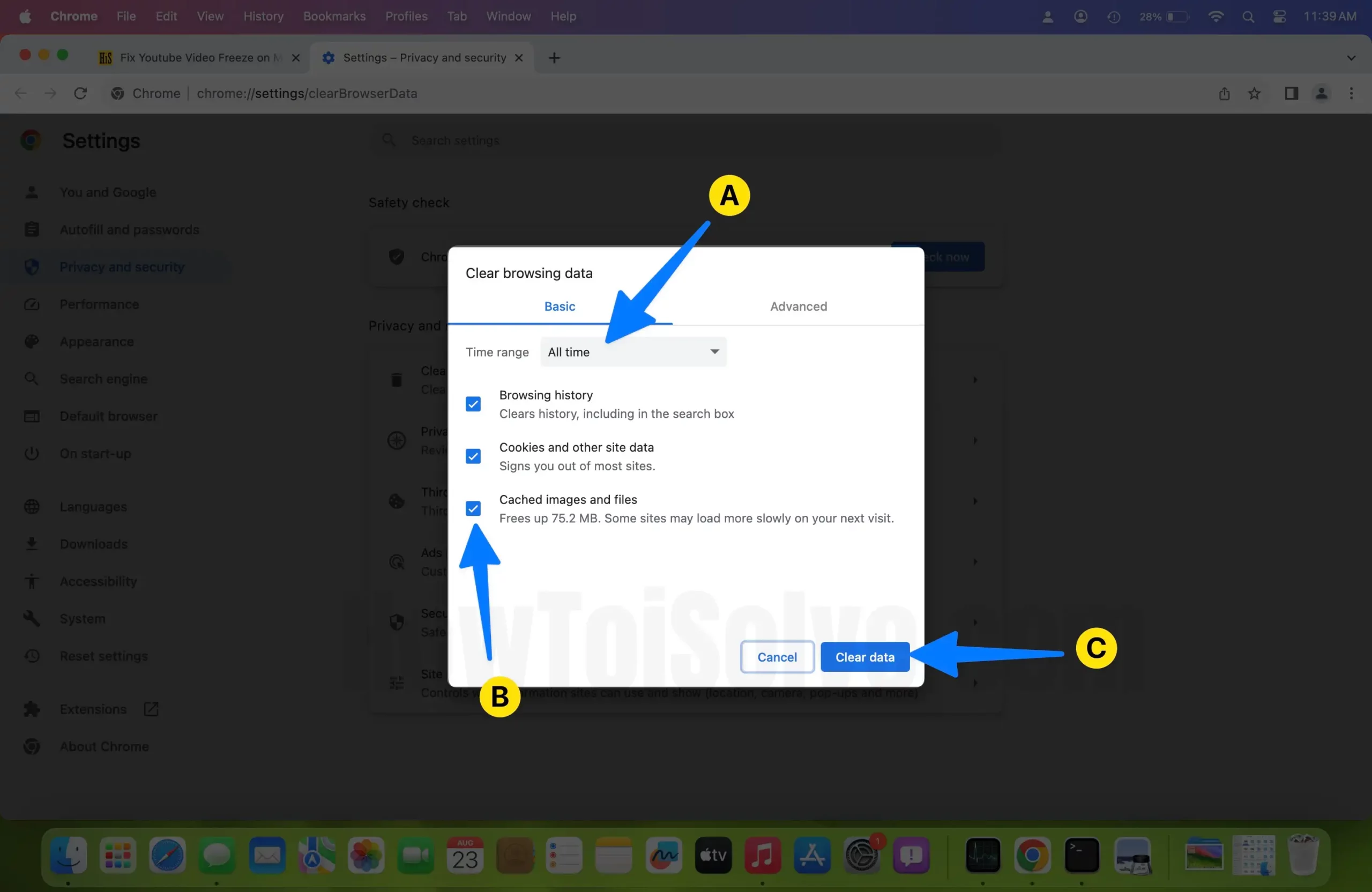 Clear data by clicking the button.
Firefox Browser:
On a Mac, go to the menu bar and choose "History" (top left of your screen). Select "Clear Recent History…" from the drop-down menu.
Change the timeframe to what you want (Everything). Select which data to delete.
Click the "OK" button.
3: Reboot Your Wi-Fi Modem/Router
If you think your network isn't malfunctioning, reboot your router and modem. Perhaps web pages aren't loading, YouTube is freezing in the middle of a video or movie, or your intelligent speakers have stopped playing music. It's possible that restarting your modem and router would help.
Reboot Your modem Manually
Follow these steps to reboot your modem manually:
Remove the power cord from the modem's back. Check that you've unplugged the right cable by turning off all of the modem's lights.
Wait for a minute for the best performance, be patient, and wait for at least one minute.
Reconnect the power cord and wait for the power and internet lights to turn green.
You should be able to use the internet from now.
[Note: It's important to remember that when your modem reboots, all connected devices will lose internet access. After rebooting, you'll need to reconnect those devices to WiFi physically.]
Reboot Your Modem from your Mac
Follow these steps to reboot your modem from your Mac:
Go to your web browser and open it. Almost every web browser would work.
Clear the address bar of your homepage's URL.
Click the "Enter" key after typing "192.168.0.1" without the quotes.
If that doesn't work, try the following two addresses, "192.168.1.1" or "192.168.1.01,"
Search for an "Administration link" or "Configuration link"
Select "Reset" or "Reboot" from the menu.
4: Examine the Browser Extensions/Add-ons.
Another possibility for the issue may be that one of your browser extensions is misbehaving or purposefully blocking the videos.
It's a good idea to double-check your extensions if you haven't done so recently. In Safari, you can:
Step 1: Reopen the Preferences window [Open Safari > Choose Safari from the top Menu > Preferences > Extensions].
Step 2: Select the Extensions option from the drop-down menu. Disable all extensions on your browser.
Check to see if YouTube works after restarting Safari.
If the issue is resolved, we know it relates to your extensions. Rep the method, but this time allow extensions one by one to find out what's causing the issues. And either disable the extension when watching videos or request the extension's programmers for an upgrade.
Or Use Safari Private Browser (Can Private Browsing Be Traced on Mac?) From the Top menu, File > New Private Window.
5: Update Date & Time
In the event that the date and time on your Mac need to be changed, the browser will not function. It also causes YouTube videos to stop playing or freeze. So, all you have to do now is adjust the date and time, and the issue will be resolved.
The date and time are usually set from the internet, but they can also be set physically.
See how:-
On MacOS Ventura, Sonoma
Step 1: Go to the Apple Logo () from the top menu > System Settings > General > Date & Time > Set time and date automatically. That's it.
Step 2: Enter your Mac Login password to Verify or Use Touch if Enabled.
On MacOS Monterey & Earlier
Select the Date / Time choice in System Preferences. If you are linked to the internet, the Set date and time choice will be selected automatically.
If not, log in using the admin username and password by clicking the Lock button at the bottom of the page.
Deselect the option to "Set date and time automatically," and then use the calendar to select a date. Drag the clock's hand to the proper time, then save the data. See Time on Top Right Mac Menu.
This will fix the problem with your Mac's browser.
6: YouTube Won't Play, Screen Time Restriction
Screen Time Restrictions able to Block Websites on Mac System Settings. This type of content & Privacy Restrictions completely disable the Adult website or Allow limited websites only. Follow the below steps to remove Screen Time Restrictions for Clocked Website URLs like youtube, Netflix, or other Entertainment channels.
On MacOS Ventura & Sonoma,
Step 1: Go to the Apple Logo from the top menu > System Settings.
Step 2: Next, Select Screen Time > Content & Privacy.
Step 3: Now, Under the Content Restrictions > Keep Selected Access to Web Content > Unrestricted Access > Ok.
On macOS Monterey & Earlier
Go to the Apple Logo from the Top Mac menu > System Preferences > Screen Time.
Content & Privacy > Select unrestricted Access checkbox. [We can also apply change Family Sharing Member, You added Family member in your apple account].
That's it. Your Mac will ask to enter the Screen Time passcode if the Passcode is enabled. If you have done that, and still are You won't able to open YouTube on your Mac then Try after Restart your Mac.
7: Use Another Browser
For Now, we have the Best Browsers for Mac. If you feel something Not working or incompatible with YouTube videos, Especially after the Update.
Use the Best one as of your needs. And Get the Temporary fix with the YouTube Unresponsive on Mac.
Conclusion:
You shouldn't be concerned if youtube keeps pausing or the YouTube app keeps freezing while playing videos. Problems like this one have very simple solutions. All you have to do is know where to look. We've included a comprehensive list of options for resolving the issue. Also, You should have to check Speed Up Mac tips.
What is your preferred method of viewing video content? Please tell us about your experience in the comments section below.